They say there are too many repeats on TV these days and Sunday's Il Lombardia had an air of déjà vu as Joaquim Rodriguez attacked in the same place on the Villa Vergnano climb as last year to win solo. This was the moment the race was won.
But as repeats go this was still worth watching thanks to a cameo role from Thomas Voeckler and the ongoing rivalry between Rodriguez and Alejandro Valverde whilst a cast of new names like Dan Martin, Rafał Majka made the race happen.

Ill Lombardia
The race got off to a traditional start with a new world champion in white, an early breakaway and Andy Schleck abandoning. But Schleck wasn't the only one out. Chris Froome was a withdrawal the previous day with back pain, lombalgia instead of lombardia. Michał Kwiatkowski was a non-starter with illness and Peter Sagan quit the race early too. Meanwhile Vincenzo Nibali crashed out with 90km to go when several fell at a pinch point in town. He was limping and this time the only vehicular assistance he got was from an ambulance as he left the race.
Muro di Sore Legs
The Sormano climb achieved the first big selection of the day. It's a fearsome climb with the Muro or "wall" section that has been decorated with official graffiti as part of an architectural project to promote the climb but it comes early in the race and the flat sections after can allow for things to regroup. But Saxo-Tinkoff had a plan and Nicolas Roche was set to work. Then came Movistar with Nairo Quintana, his upright dancing style giving the impression of someone riding an invisible Stairmaster machine.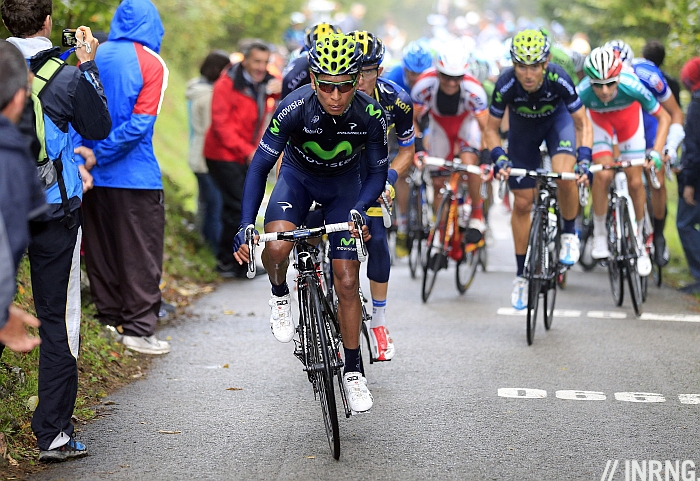 Many were dropped by the pace including Rigoberto Uran and Rui Costa. But a long descent followed, it had more hairpins than a Broadway dressing room and allowed several who'd exited the stage to get back in the show. Amongst them Thomas Voeckler, the new world champion Rui Costa and old world champion Philippe Gilbert, now in his ordinary red jersey but an improvement as this time last year he crashed out.
Le Voeckler Show
Following the descent a few riders were off the front and Thomas Voeckler sprang out of the bunch to chase them. He caught the group and promptly attacked them to go solo with 60km to go. It was, well, pure Voeckler: madness but entertaining. It was good to watch but he was enjoying himself too, pulling out time on the way to Bellagio and then up and over the Ghisallo climb with a lead of three minutes.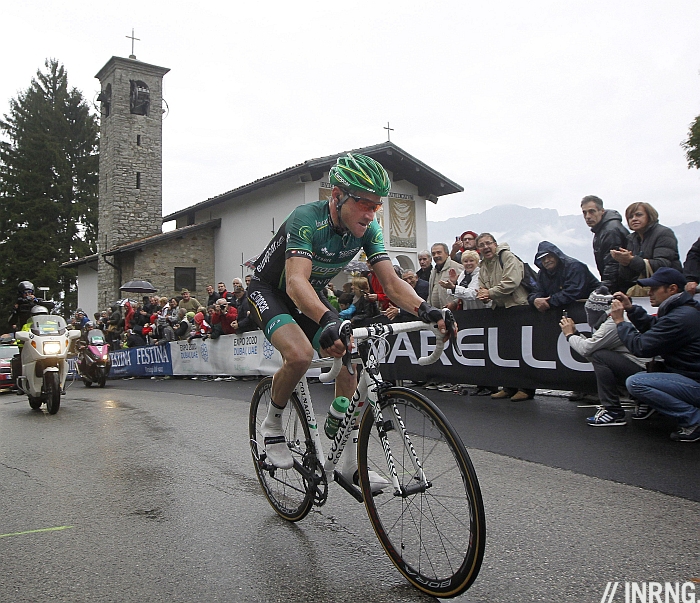 If there's a fault with the race route it is the flat section between the descent off the Ghisallo and the start of the climb to Villa Vergano, 17km of flat roads. But this year the chase was on and Voeckler was trying to fend off 40-strong group behind. He's no slouch – remember he's won a time trial this year – but as the rain began to fall so did his lead. Think of a duck gliding across a pond, it looks elegant and streamlined but its feet are paddling furiously underwater. Stylistically Voeckler is the opposite, his legs turn so smooth but his upper body resembles a boxer as he ducks and dives. Only by now Voeckler's legs were betraying him and you could see the usual fluency was gone. Behind Movistar, Saxo and Katusha had men to spare for the chase.
Ello and Goodbye
The proper name of the Villa Vergano climb is the Salita di Ello but it was on this climb that Joaquim Rodriguez said goodbye to everyone. Ag2r's Mickaël Cherel set the pace but it was another Frenchman Thibaut Pinot who put in the first attack. He's still 23 and showed the rain and slippery roads were no problem. But he was reeled in and Domenico Pozzovivo attacked. His move was sharp but the other climbers were able to follow. He kept up the pace but then Rodriguez accelerated. It was so obvious that he'd go but nobody could match his move. Alejandro Valverde, Rafał Majka and Dan Martin could only watch and within no time Purito had ten seconds, it sounds small but on the twisting roads he was getting out of sight.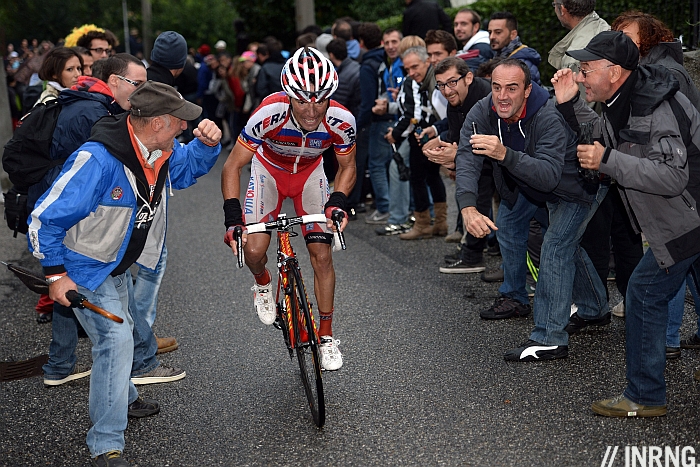 Valverde started the descent with Martin and Majka for company but distanced them. But up ahead Rodriguez was away and perhaps more determined to thwart Valverde than to win the race, the frosty body language on the podium would later testify to this.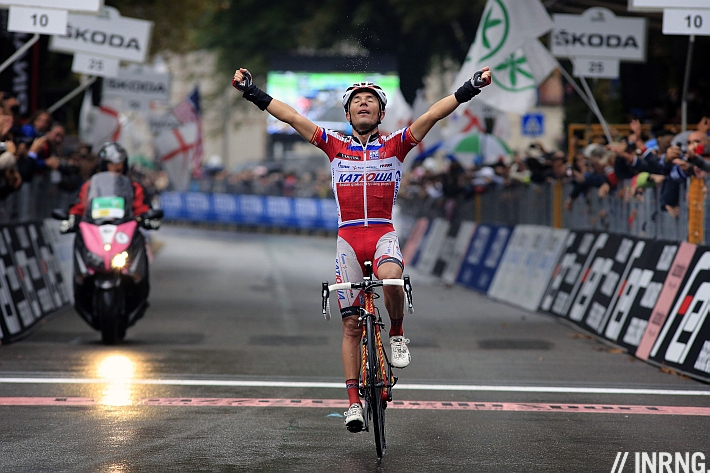 So it was that Rodriguez rode solo into Lecco and won the race with Valverde behind and the relief on Rodriguez's face was obvious. As they approached the finish Martin slipped and leaving Majka to freewheel to the final podium spot. But these two should be back to contest the race in the future, along with Pinot and OPQS's 24 year-old Pieter Serry.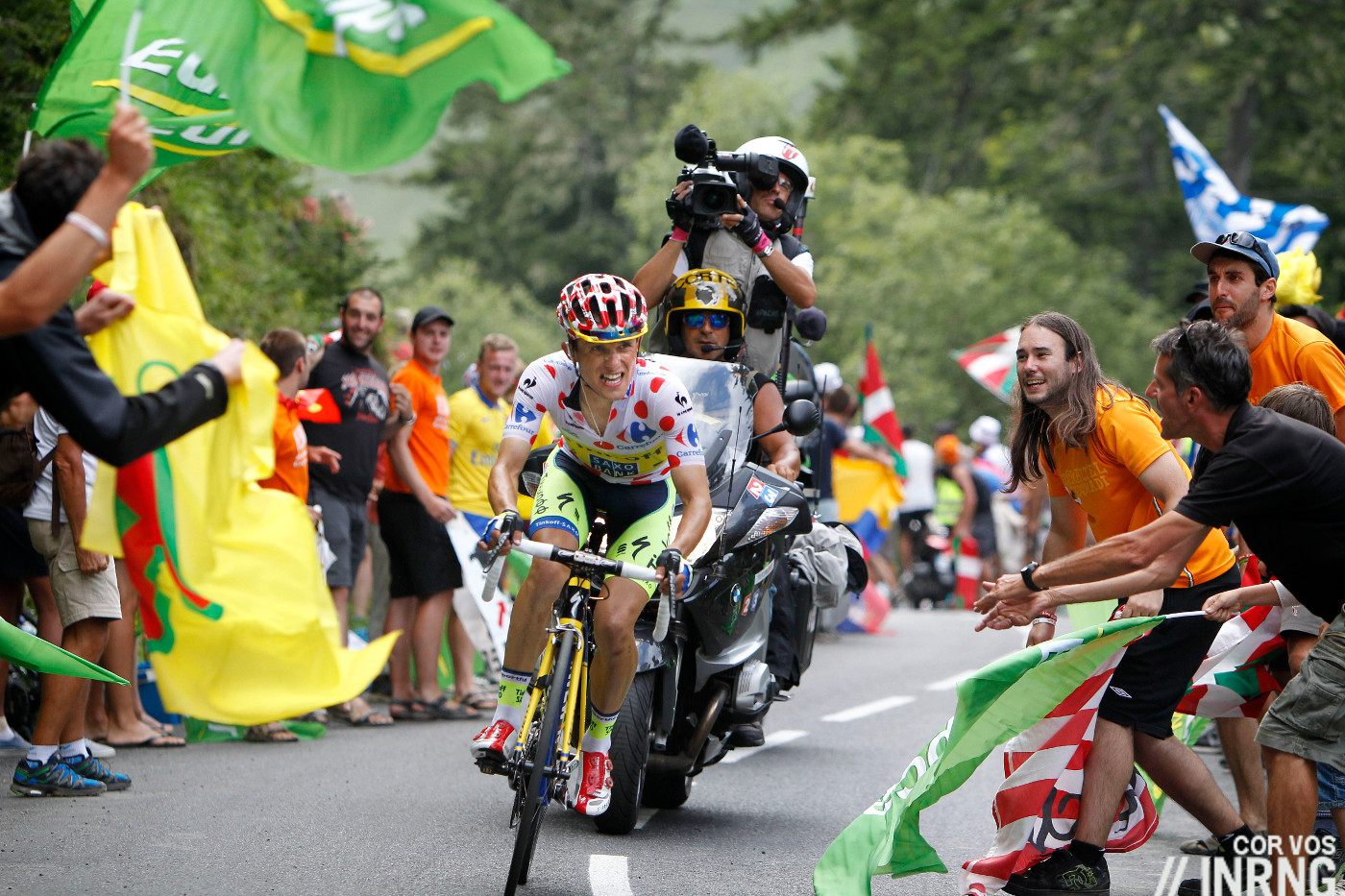 History Repeating
Talking of repeats, Rodriguez wins again after his 2012 win. Here's the list of recent winners via Wikipedia.
| | | | |
| --- | --- | --- | --- |
| 2002 | | Michele Bartoli (ITA) | Fassa Bortolo |
| 2003 | | Michele Bartoli (ITA) | Fassa Bortolo |
| 2004 | | Damiano Cunego (ITA) | Saeco Macchine per Caffè |
| 2005 | | Paolo Bettini (ITA) | Quick Step-Innergetic |
| 2006 | | Paolo Bettini (ITA) | Quick Step-Innergetic |
| 2007 | | Damiano Cunego (ITA) | Lampre-Fondital |
| 2008 | | Damiano Cunego (ITA) | Lampre |
| 2009 | | Philippe Gilbert (BEL) | Silence-Lotto |
| 2010 | | Philippe Gilbert (BEL) | Omega Pharma-Lotto |
| 2011 | | Oliver Zaugg (SUI) | Leopard Trek |
| 2012 | | Joaquim Rodríguez (ESP) | Team Katusha |
| 2013 | | Joaquim Rodríguez (ESP) | Team Katusha |
Il Sorpasso
If you care it means Rodriguez surpasses ahead of Chris Froome in the UCI World Tour rankings with only the Tour of Beijing remaining.
The Verdict
The TV production was lacking although still an improvement on last year's washout. But it's hanks to Thomas Voeckler for putting on a show for 50km, his solo lead was brave stuff and for a moment you could imagine him winning. It created the suspense on the flat section of the race when otherwise there might have been none.
Joaquim Rodriguez's move was so obvious there could have been a hazard sign on the road warning of a Rodriguez attack but when it happened nobody could follow. Nobody could chase him down on the finish either so there's no doubting the winner and it's saved his season. After podium places in the Tour de France, Liège-Bastogne-Liège and the Volta a Catalunya today saw his biggest win of the year.