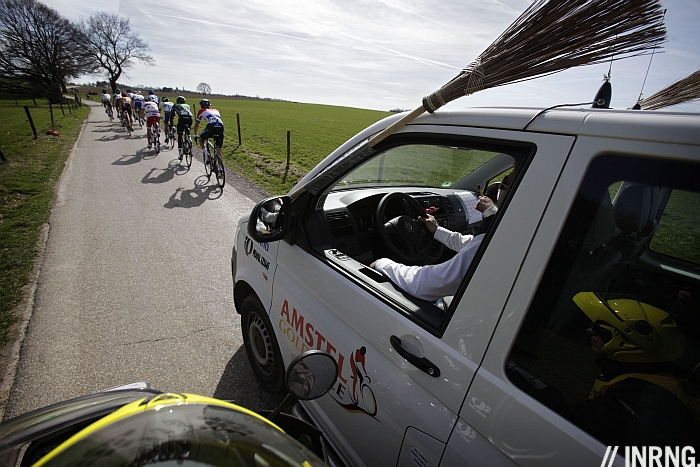 There's plenty of news of rider transfers with several teams making a series of announcements, signing new riders to strengthen the team. It's exciting and it's the future.
But what of the others, the riders who are not making the headlines, those who are likely to be out of contract? They'll quietly leave the sport by the back door.
In = Out
Teams are capped at a maximum of thirty riders so every new signing means another rider has to leave. For each new young talent recruited, an old dog is shown the door. A decade ago they were the future.
Of course the direction can change, out can equal in. If a rider is leaving they'll inform their team and this can free up space and cash to recruit new riders. Typically a star of the European U-23 amateur cohort can be signed for less than the cost of a departing mountain lieutenant. For example Peter Stetina is leaving Garmin-Sharp for BMC Racing and his departure frees up cash and space for the likes of Lasse Hansen, the 2012 Olympic champion in the velodrome.
Late Notice
Pro contracts run the length of a calendar year and many can be more than a year long but if a contract is due to expire at the end of the year a team has to inform the rider before the end of September whether they will get a ride for the following year. The contract can be renewed or adjusted or it could lapse and leave the rider out of a job.
The September deadline is beneficial to team owners ahead of riders. An mean manager could string a rider along with talk of the possibility of contract extensions only to send a written notice that the rider is no longer required just before the end of September. This leaves the rider looking for a job but by now most teams have built their rosters for the next year and it's very late to find a job.
See the case of Linus Gerdemann, who – believe it or not – says he didn't learn he was out of contract until much later in 2012 or Matt Brammeier who first read OPQS would not extend his contract… in a newspaper.
Like all jobs it pays to take charge of your career. A rider sitting back waiting for news to arrive by September is almost being neglectful. Instead they need to get busy much earlier in the year. Most riders have agents and they'll be busy during the summer on behalf of their clients. A sideways move to another team is likely, think of Samuel Dumoulin moving from Cofidis to Ag2r La Mondiale last winter. Sometimes riders have to take a step down but this can be just the spur to rediscover old talents in a new environment, see how Gerald Ciolek's departure from OPQS to MTN-Qhubeka turned out, giving the African team a huge win whilst OPQS had a poor classics season by their high standards.
No contracts for old men

The chart above might look like a stage profile but it shows the distribution of World Tour and Pro Continental pros for by age, from two 19 year olds Jasper de Buyst and Andrei Strelkov to one 42 year old in Davide Rebellin. The average age of a pro is 28.2 years although note the peak at 89 24 year olds.
The point with the chart is to demonstrate that once a rider goes beyond 32 their chances of employment go downhill quite quickly and a lot of riders are leaving the pro ranks before they turn 30. Jens Voigt and Chris Horner get attention precisely because they're the exception. Riders are like wines in that they can improve with age but the improvements in ability, tactical awareness and experience are generally banked by the time a rider is 30.
See it coming
Of course most riders know their time is up. A few will chose to retire at the height of their powers – Bernard Hinault and Lance Armstrong before his ruinous comeback are examples – and many carry on for longer until the motivation is not there or they're finding it harder to do the job. Retirement can seem a cruel word for someone in their thirties but it typically signifies the end of a long spell in the peloton and hopefully means the rider has had time to build up a pension pot.
What's harder is when many in their twenties find their contract's up and nobody is offering them a role in the pro peloton. The promise of talent hasn't worked out, maybe injury and bad luck have played a part.
Signing that neo-pro contract for the first time is one thing but the real deal is extending it and maintaining a career, either through wins or most often as a valuable helper on the team. For many a contract extension is the norm but plenty of riders are non conservé or out of contract and hunting for a job and time is running out to find a place for 2014.
Some can stay in the sport, take a pay cut and ride with a lower level team, squads like Vini Fantini, United Healthcare and Champion System often pick up valuable riders this way. Some Euro pros end up doing US races or go further, see Spaniard Óscar Pujol who won Indonesia's Tour of Singkarak in 2012 and rode with the Iranian Azad team. Others drop down to the amateur ranks, Mathieu Perget was 24th overall in the 2011 Vuelta but didn't get a contract for this year and rode as an amateur before winning a few races and riding for the CMI-Greenover team and now with the UCI Continental team Rietumu-Delfin of Latvia, presumably on a lot less than the World Tour minimum wage.
"When Dave (Brailsford) offered me the job I thought it was a joke, some kind of British humour"
A few take up team jobs, think Nicolas Portal who saw his contract up with Sky and thought the offer to become a manager wasn't real. But most go back to what they knew before signing a pro contract, resuming studies or putting apprenticeship skills to use and rejoin the real world where "whereabouts" means the workshop or office from 9 to 5, Monday to Friday.
Conclusion
We see the new signings and read of exciting talent being signed but the riders they replace become a footnote, casualties in the war for future talent. Every year a bunch of riders will quietly leave the peloton by the back door, careers swept up by the broom wagon of time.