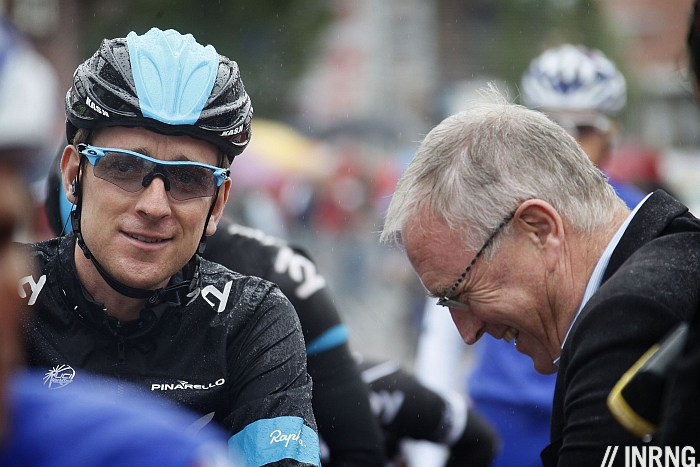 Confronted with a challenger who was once a colleague, he's looking for ways to stay in the job and keep his lucrative salary. Is this Bradley Wiggins or Pat McQuaid?
This and more, including Sylvain Chavanel's possible new bike for 2014. And why do track and field athletes in Moscow often wear such unaerodyanamic clothing?
Wiggins Goes for Gold
Bradley Wiggins is staying at Sky and no wonder since he's on a very good contract with the British team, he can bank the salary of a Tour winner whilst targeting the track. It's unprecedented to step back from road racing in order to concentrate on track racing. Of course hour record attempts have seen riders try this on a temporary basis but not across an Olympic cycle. Time will tell, after all if he's struggling for motivation to replicate a grand tour win, will he be hungry for another Olympic medal, he's already got four. That's for him but it might work out well for everyone. Wiggins turned down an altitude camp before the Giro to spend the time training at home to be near to his family so now he can use the local Manchester velodrome rather than spend weeks at a time in a high altitude hotel in Tenerife. A happier family life should bring a better rider. It's refreshing to see a rider pick the objectives they want rather than trying to chase shadows. And if it feels like Wiggins is turning his back on the road, that's probably not the case. After all he wants to win gold in Florence although toppling Tony Martin is going to be a tough task.
Sylvain Chavanel leaving OPQS?
If Wiggins is staying put, one rider likely to be on the move is Sylvain Chavanel. The Frenchman's been a useful rider for OPQS but his wins in the last two years have been down solely to his own work as he's taken time trial victories. In road races he's struggled to impose himself in the team, the Eneco Tour last weekend seemed to show him lacking team support on the stage around La Redoute. The destination is not certain but there's a good chance he'll be on a Pinarello or a Scott for 2014. He's likely to move with Jérôme Pineau too.
Eneco's Belgium Resources
Talking of the Eneco Tour the race came alive with the use of familiar roads from the spring classics. Last weekend saw the use of La Redoute and the Kapelmuur above Geraardsbergen. The race has to tour the area but using these famous roads brought an extra touch of excitement to the race and proof perhaps that a race needs to exploit the local geography and history to increase its appeal.
Linus Gerdemann to MTN-Qhubeka
Probably the most leftfield signing is Linus Gerdemann to MTN-Qhubeka. He's been out of contract all year but training all the time and I've been tipping the move to the African team, especially after reading Daniel Friebe's contribution to Cycling Anthology. It could be a great signing, the team gets a climber and GC contender and the rider has to be hungrier than he was in the past.
Vuelta on Saturday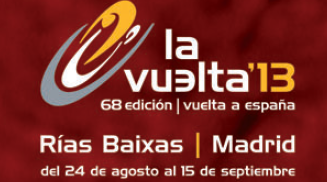 You probably know that the Vuelta is starting on Saturday. Only there's not much of a build-up to it, is there? I can see teams announcing their nine riders but the race still feels like the sport's third grand tour and not just because of it's position on the calendar but the third in terms of interest and importance.
A full preview will appear on here shortly though plus a few pieces on the race and Spanish cycling as well as daily stage previews too.
Athletics World Championships


The Inner Ring is about cycling but the cyclist can't help notice the athletes in Moscow. Why do runners wear such loose fitting clothing and have long hair when world records can come down to fractions of a second? Surely some lycra could help save time? If aero helmets are out of the question, can runners use hats or even a bandana to make their heads more aero? Romain Bardet has been asking the same thing too…
Finale du 100m et une interrogation, sur une discipline se jouant au centième certains portent des vêtements/dossards amples. Incongru non?

— Romain Bardet (@romainbardet) August 11, 2013
Take Usain Bolt who runs in a top that a cyclist would say is a size too big. Or his fellow Jamaican Nesta Carter who sprints with an untucked shirt. It's not just the short distance and high speed events, see the 5,000m where Britain's Mohamed Farah led the field home in a loose top and shorts. In cycling air resistance is more important given the higher speeds but surely every legal advantage counts in running too?