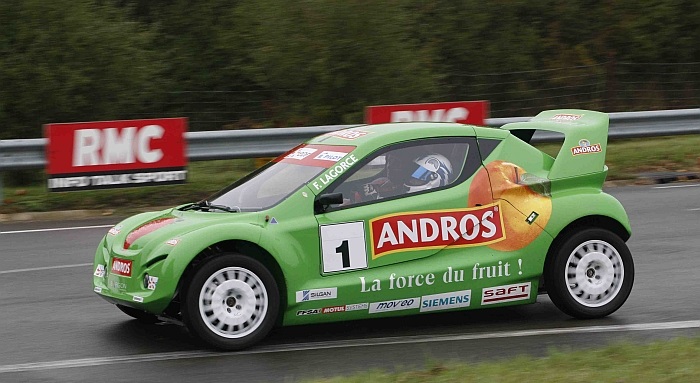 Tom Boonen's in the Belgian press today with his new Ferrari but Thibaut Pinot will be driving one of these soon. It's an Exagon race car that's unusual because it's got an electric engine powered by a lithium ion battery. A change of career for the climber?
No, instead it's one solution to help him become more at ease with speed. Much has been made of his discomfort going downhill but the problem is not cornering ability but the pure fear of speed, something he experiences when a passenger in a car too.
So in October he'll be lapping the Magny Cours race track as part of plans to make him more at ease with speed. L'Equipe reported yesterday that it's the idea of Max Mamers, a former racing driver in France who is a sports promoter and has worked in cycling, notably with Laurent Fignon. Mamers organises a series of races on ice during the winter featuring celebrity drivers that tours the ski resorts of France with these electric cars.
More practically FDJ have also got Julien Pinot as a DS during the Vuelta. Thibaut's elder brother was knocking on the door of the pros but a heart condition stopped him and he's a coach and sports scientist who has been working for FDJ and now he's on the race to help the team and lend moral support to his brother. For all of this of fear, it's relative and Pinot is sitting 29th overall in the Vuelta after some tricky racing so far and would be higher were it not for the team time trial and FDJ finishing 16th.
Let's hope the race track works and that that Pinot doesn't mimic Boonen's Lamborghini and Audi adventures.
OPQS rememdy for "heavy legs"
Omega Pharma boss Marc Couke is in Bordeaux for a sales conference with his French staff. Despite the name, Omega Pharma doesn't really sell pharmaceuticals but instead has a range of para-pharmaceutical products like vitamins, antiseptic creams and other over-the-counter products. France is Europe's largest pharmaceutical market with larger sales than Germany despite having a population of 65 million versus 82 million and being slightly less wealthy so it's a vital market for Coucke and one big reason for him to invest in pro cycling, aside from being a big fan of the sport of course.
One reason for the sizeable French market is over-prescription, almost a borderline national hypochondria but also a tendency to pathologize everyday things. For example "heavy legs" has long been a common condition, visit a pharmacy and a range of products are on offer with creams, oils and ointments available. One of the biggest products on the market is Jouvence de L'Abbé Soury, a gel with some herbal ingredients to be rubbed into the legs. It's a brand owned by Omega Pharma. Here's their ad campaign and not a cyclist in site as a know-it-all mother lectures her daughter with constant "I told you so" advice.
Basque Climbers
OPQS has been known for heavy legs of another kind with the tree-trunk limbs of Tom Boonen and Tony Martin. But they're out to hire some stick-thin Spaniards to ride in support of Rigoberto Uran. This seems to be the plan with the likes of Mikel Nieve, Igor Anton and Mikel Landa all being linked with a move to the Belgian squad. It's either that or Astana it seems. But there's no word on Samuel Sanchez, the 34 year old is still winning races like a stage in the Dauphiné this year but retirement could beckon.
Ag2r La Mondiale
The French team is quietly improving and has hired classics specialists Sébastien Turgot and Damien Gaudin, both visible in Paris-Roubaix in recent years. The pair come from Europcar who have had to find the money to retain Pierre Rolland and Thomas Voeckler and offer sprint sensation Bryan Coquard a new contract. Gaudin had been linked to Saxo-Tinkoff but the vanishing roubles of Oleg Tinkov put an end to that.
As explained on here the other day, for every new signing there are riders leading and there's also a clear out with several being given notice their contracts won't be renewed. John Gadret, Manuel Belletti and Anthony Ravard are amongst those being told they only way they'll wear brown shorts in 2014 is to get a job as a courier with parcel company UPS.
Going Global
Unlike UPS, the UCI's venture into race promotion has yet to deliver the goods. Cyclingnews.com has an interview with Alain Rumpf, the boss of Global Cycling Promotions, the UCI's business sideline. Rumpf seems a good guy tasked with a hard task and certainly the UCI's venture into event promotion has yet to pay off. Collapsed races, funding shortfalls and more mean the business has had to siphon cash from the UCI's "Pro Tour reserve fund" although this is based on the approved accounts of 2011 which were published in September 2012. Now we'll get the figures for 2012 but obviously we're well into 2013 so all this retrospection means it's hard to know what's happening and the interview doesn't explain much with this important activity in the UCI.
Why is the UCI going into the business of race promotion. Well here's UCI President Pat McQuaid in an interview on the website of the Association of Summer Olympic Federations:
"we're always in need of more money. It's why we set up Global Cycling Promotions. The first event is the Tour of Beijing, which will bring in funds to the UCI."
Worlds Course


The UCI is on safer financial grounds with the world championships. The worlds are the single largest source of income for the UCI and the men's road race accounts for most of this. This year's course in Tuscany for the time trial is flat as you can see above. But the road race is hilly with the repeated combo of the long climb to Fiesole and the steep wall on the Via Salviati.
You can see a video of the course courtesy of worldscourse.com where the website lists extra info from maps to Strava links and more.