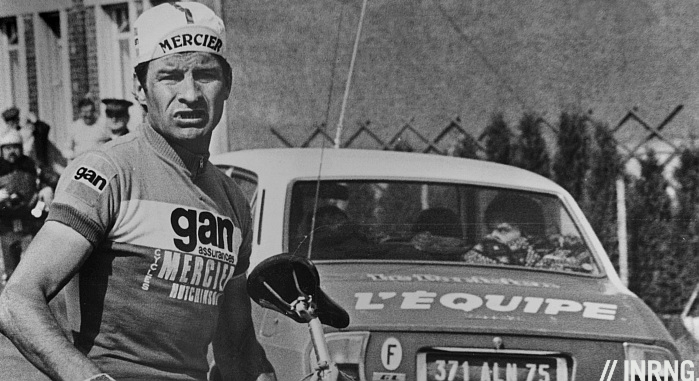 Raymond Poulidor is 77 today. The Frenchman has two nicknames "Poupou" and "The Eternal Second" and each name is linked, as Poupou was an affectionate diminutive term for an underdog, a rider who finished second so often that he won fame and fortune for losing.
But the more I read about him, the more he seems to be a misunderstood rider whose myths and simple labels mask the truth of an efficient and calculating rider.
Eternal Palmarès
Often portrayed as a loser his list of wins is impressive with the Vuelta, Milan-Sanremo, double wins in Paris-Nice and the Dauphiné, the now defunct Grand Prix du Midi Libre, 11 stage wins in the Tour. He stood on the Tour de France podium in Paris eight times. But the distribution of his results does stand out, a series of podium places without a win. Here's 1963:
Wins: Flèche wallonne, GP des Nations, GP de Lugano, stage in Critérium National, stage in Paris-Luxembourg.
Placings: 2nd Tour du Sud-Est, 2nd Critérium national, 2nd Grand Prix de Cannes, 2nd Trophée Baracchi (with Jacques Anquetil), 2nd de Gênes-Nice, 2nd Prestige Pernod, 3rd Paris-Tours, 3rd Paris-Luxembourg, 5th World Championships, 5th Liège-Bastogne-Liège, 6th Paris-Roubaix, 9th Tour of Flanders
This was repeated throughout his career. He lost plenty of races but built a list of results that almost anyone would take today. But the pattern is improbable, for example he holds the record for the most podium finishes in the Tour de France but he never once wore the yellow jersey, once falling 0.008 seconds short in the 1973 prologue. Similarly he stood on the podium of the world championships four times but never on the top step. In "The Sweat of the Gods" Benjo Maso suggests Poulidor brought bad luck on himself:
"Cyclists ride many thousands of kilometres annually, and if one falls more frequently or has more flat tyres than another, this cannot be coincidence. It is a well-known phenomenon that a good cyclist rarely has mechanical breakdowns."
Sometimes Poulidor was robbed but other times the bad luck was Poulidor's sometimes making as Benjo Maso suggests. Poulidor himself admitted mistakes during his career. But this was the making of him as a popular icon. He became the "moral victor" of many races, wildly popular with the crowds who found Jacques Anquetil's winning ways too clinical, too cold, too economical. Writer Antoine Blondin once likened Anquetil to a diner who hurries out of a restaurant without leaving a tip. It was this rivalry with Jacques Anquetil that saw the two ride side by side up the Puy de Dome volcano, a moment caught on camera forever.
Raymond Poule aux Oeufs d'Or
Poulidor came from rural France, a place itself venerated in myth. He often played on his bumpkin image but tales suggest he a sharp side. Yes he grew up on a farm but for Poulidor swapped the soil for an angular concrete house with bourgeois comforts. Often portrayed as a paysan, Poulidor deployed his winning to buy a lot of property. Cyrille Guimard's biography (Dans Les Secrets du Tour de France) claims Poulidor was a shrewd investor, accumulating wealth outside the sport whilst his contemporaries didn't know where to put their money.
Guimard also says Poulidor was a handy card player. Each year he'd book a team training camp in the south of France but in those days the riders paid for their board. In the evenings Poulidor would challenge team mates and others to a card game and won, accumulating enough cash to pay the hotel bill by the end of the week. There's a steely edge to the man that crossed into greed with tales of him selling races for money, his "eternal second" image sometimes came from selling races and the irony is that in finishing second he became yet more popular, pocketing the cash for the sale and then more again from criteriums, product endorsement and more.
Yet it's said the same tight-fisted attitude cost Poulidor some races. He did not want to deploy his money to buy races, the old practice of hiring another team for the day to ride in surreptitious support was expensive and Poulidor kept his wallet closed when greater generosity might have changed things. One anecdote: he bought a Mercedes on retirement and kept driving it until it had 500,000 kilometres on the clock by which point Mercedes discovered this and made a small publicity event and awarded him a brand new car.
Today Poulidor's name reaches well beyond cycling. To finish second in other sports is to "do a Poulidor" whilst politicians who are frequent losers in votes are also labelled "the Poulidor of parliament" and so on.
Conclusion
A birthday today but a lesson in mythology too. Poulidor's list of wins is impressive but his list of losses is astonishing. Eight times on the podium in Paris but he never once wore the yellow jersey is unique.
He remains a popular figure and can be seen at the Tour de France or on television chat shows where the crowds gently mock his valiant loser image. Yet behind the image of a peasant and the embodiment of La France profonde is a man seemingly at ease calculating the odds in a card game or investing hundreds of thousands of francs.
Finally if he retired long ago his daughter married Adrie Van der Poel, a successful Dutch pro from the late 80s. Mathieu Van der Poel is the grandson of Poulidor and someone who did not finish second once during the last cyclo-cross season… he won every single race he finished, including the junior national, European and World Championships titles.