With 7km to go Roman Kreuziger ditches his breakaway companions to ride away for a solo win in the Amstel Gold Race. We expected a Slovak and got a Czech.
In a season of classics so far dominated by the favourites, this was a surprise result and a reward for attacking riding.
The course might have changed but traditions don't. As usual an early breakaway went and it broke apart over time as the distance and speed took their toll. Tim De Troyer (Accent Jobs-Wanty), Alexandre Pliuschin (IAM), Mikel Astarloza (Euskaltel), Arthur Van Overberghe (Topsport Vlaanderen) and Johan Vansummeren (Garmin-Sharp) got away first with Nicolas Vogondy (Accent Jobs) and Klaas Sys (Crelan-Euphony) bridging across. They took 11 minutes' lead at one point.
But in time only Astarloza, Vansummeren and Pliuschin made it to the final 50km and soon Astarloza took off solo. Vansummeren and Pliuschin tried to chase, Pliuschin had a broken front mech and was could only use the 39T inner ring. Vansummeren's efforts won him the Herman Krott trophy as the day's most aggressive rider.
The race sped through Gulpen, the right kind of name for a race sponsored by a brewery no? By now the riders were gulping for air. The Amstel is a race where the maths is simple: 34 climbs in 390 minutes means one climb every 11 minutes. For sure each effort isn't long and not every climb is a sprint but this is a hill rep session with as many vertical metres as an Alpine stage of the Tour or Giro.
As ever selection in this race often happens via the back with riders dropped on the climbs and the less fortunate crashing out. Andy Schleck was down and out. Thomas Voeckler got a broken collarbone meaning he'll be pulling faces at home for some time. Philippe Gilbert was involved but escaped injury. Later Joaquim Rodriguez went offroad and was out with injuries that could cost him in the days to come. This is just to list a few big names, many others crashed.
But for the intense effort and chaotic crashes the landscape looked so tidy. At times the course resembled a municipal version of the Ikea catalogue, orderly roads packed with neat street furniture designed to contain untidy motorists. But the bunch was immune to the traffic calming measures.
With 37km to go Pieter Weening (Orica-Greenedge) took off on the Eyserbosweg and was soon joined Andrey Grivko (Astana) and Blanco pair David Tanner and Petter Nordhaug. It meant we had a Dutchman on an Australian team and two non-Dutchmen on a Dutch team in the lead along with Astarloza dressed in orange, the Dutch national colour. Just who did the big crowds cheer?
Talking of colour a brief effort by Damiano Cunego (Lampre-Merida) saw a flash of pink, blue and lime green. The TV producers helpfully beamed up an on-screen graphic to remind us who the Italian was. But Cunego was stuck between the break and the bunch and reeled in. Onto the Cauberg and Weening and Co. had 27 seconds with Cannondale leading the bunch. It was here that Roman Kreuziger (Team Saxo-Tinkoff) jumped, taking Damiano Caruso (Katusha) and Marco Marcato (Vacansoleil-DCM). The trio joined the four up the road to make seven although Astarloza was cooked. Behind what looked like Peter Velits (OPQS) had sat up and so his OPQS team started to chase.
The breakaway rode up the Bemelerberg and Grivko was the first to attack, he was chased by Nordhaug and… dropped, with Marcato going out of the back door too. This showed how disparate the group was and it Kreuziger who did the damage. A strong climber, powerful in time trials, this was not a speculative move but a purposeful attack and he left the others in the break trailing.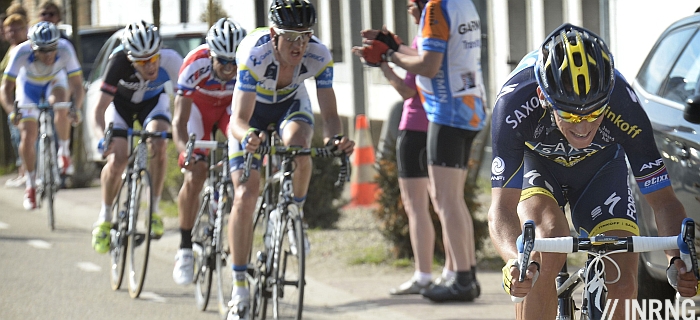 You can see from the photo above that Kreuziger is in a tuck and turning on the power. Behind Weening is chasing but upright style, his head above his shoulders, his jersey open and his hands on the hoods. Caruso's pain is visible via the white teethed grimace whilst Nordhaugg is one of those riders who turns his head to the side when things get painful.
Further back the bunch was not working as hard. OPQS were leading but the pace allowed Ryder Hesjedal to take a flyer. The Giro winner bridged across to the group up the road. The Canadian is looking strong but with Kreuziger further ahead, this was no more than a demonstration of strength. Because if it was one thing to bridge across to the group up the road, it would be another to pass them and catch Kreuziger.
But what if Hesjedal didn't know what was going up the road? Certainly TV commentators weren't getting much information from race radio. It looked as if the producers had bought a high speed camera earlier this week and were proudly showing it off with all sorts of high speed shots. Look a cyclist cornering! A rider sweating! In fact these production techniques were being used to mask problems with the outside broadcast and lost signals, a way to fill time until the moto cameras were working again.
Into the final corner before the Cauberg and the televisual uncertainty was still there. Kreuziger was away… but by how much? When the bunch the gap could be timed and the Czech had just 25 seconds, far from a decisive lead. Until this race Sagan had finished no lower than second place in a one day race this year. But the Slovak had no reply to Gilbert's searing acceleration on the Cauberg. The Belgian went earlier than his winning move in the Valkenberg Worlds last year and left many hesitating. Simon Gerrans and Alejandro Valverde both jumped with him. Over the top of the climb the world champion persisted solo before realising he could not repeat last year's efforts. Was Gilbert's move too early? Perhaps it was too confident but it was the only solution possible. Ahead Roman Kreuizger had won.
Kreuziger Part II
The 26 year old has been touted as a champion since his junior years but hasn't lived up to the expectations reflected in the gold of his junior world champion medal. A win in the 2008 Tour de Suisse, a stage of the Giro last year, he's had other wins and placings too but hasn't emerged into the threat many suspected after his early years. There have been lows, for example he was the USADA investigation published testimony by Leonardo Bertagnolli as a client of Dr Ferrari in the past. It's probably something he wants to forget… but do those who follow the sport also forget this?
If you want to "move on", let's lighten the tone with talk of beer. Kreuziget got to sample some Amstel on the podium. He is from the Czech Republic and hails, appropriately for this beer-sponsored race, from near Plzeň, the place that gave the world Pilsener beer. But these days home is Bardolino on the shores of Lake Garda. Still, he retains a taste for beer, even during the season:
The czech beer,max for relax of legs.I had find my dad w/t family to 2km to arrived. http://twitpic.com/24f7y1

— Roman Kreuziger (@Roman86_K) July 11, 2010
A new cast of characters
Just as the sun came out to warm the race, we got to see the riders who will be shining from spring into summer. Kreuziger's landed a big win here and won't get so much room for manoeuvre in Liège-Bastogne-Liège next week, but he's looking strong for the Ardennes and beyond into the Alps, whether the Tour de Romandie or the Giro.
Was the new circuit any better?
We got an attacking race and the win came from a breakaway, what more do you want? But whether this was the circuit or the riders is less obvious. In the last 15km we saw Cannondale, BMC and OPQS try to chase but they ran out of manpower. By contrast there were no shortage of fans and the crowd on the Cauberg got to see Kreuziger attack and, a lap later, ride solo on his way to the finish line. What was telling is that the "sprint" finish saw a range of riders in the mix, meaning this finish seems to suit an all-rounder rather than a sprinter. Next year's too far away but for now the course change works.
1 Roman Kreuziger, Team Saxo – Tinkoff CZE 6:35:21
2 Alejandro Valverde, Movistar Team ESP + 0:00:22
3 Simon GerransOrica – Greenedge AUS s.t.
4 Michał Kwiatkowski, Omega Pharma – Quick Step POL s.t.
5 Philippe Gilbert, BMC Racing Team BEL s.t.
6 Sergio Henao, Sky Pro Cycling COL s.t.
7 Bjorn Leukemans, Vacansoleil – DCM Pro Cycling Team BEL s.t.
8 Pieter Weening, Orica – Greenedge NED s.t.
9 Enrico Gasparotto, Astana Pro Team ITA s.t.
10 Bauke Mollema, Blanco Pro Cycling NED s.t.
…
36 Peter Sagan, Cannondale, + 0:00:57
It was a lively race but only came alive in the final 40kms with Weening's move. But that's the TV perspective, inside the bunch riders were fighting for place, climbing, descending and turning all the time.