Think of a pro cyclist and who you think of? Alberto Contador, Philippe Gilbert or Mark Cavendish? Well they're amongst the obvious picks. But if you wanted to pick the typical pro, think of a 27 year old Frenchman instead because that's what the numbers say.
Having looked at the World Tour stats across 18 teams, now it's time to take a broader view across all the 38 teams in the World Tour and the Pro Continental circuit plus to look at the differences between these two groups.
Overall there are currently 914 riders with an average age of 27.7 years. France just beats Italy as the largest supplier of professional cyclists but there are some surprising results from some countries, for example did you know Colombia has more pros than Britain or Denmark? Or that the US has more pros than Germany?
Oldest and youngest riders
Davide Rebellin is the peloton's oldest pro. The Italian was born in August 1971 and now rides for Polish team CCC Polsat. At the other end, Andrei Strelkov of Team Novo Nordisk-Type 1 is the youngest registered rider. Such is the gulf in age between these two that Rebellin had already turned pro and was racking up results like a fifth place in the 1994 Amstel Gold Race before Strelkov was even born.
Oldest and youngest teams
The average pro is aged 27.7 years, an age shared by a few riders including Chris Froome, Mark Cavendish, Greg Van Avermaet and Tony Martin. I covered how Team Saxo-Tinkoff is the oldest team with an average age of over 30. Meanwhile Giro wildcard winners Bardiani Valvole-CSF Inox average under 24, so young that the team's "veteran" rider is Stefano Pirazzi who is just 25. The Italian team are younger than Flemish development squad Topsport Vlaanderen and their 24.2 years.
National rankings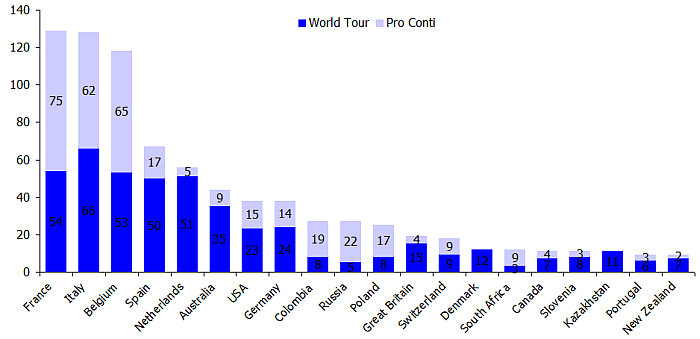 The chart shows each nation ranked by the number of pro cyclists. France is the biggest provider of pros, beating Italy by one rider. Belgium, Spain and the Netherlands come next. But note the presence next of Australia and the US. Colombia has several top pros with Sky, Movistar and Ag2r but also its own quasi-national team Colombia. Thanks to Rusvelo's registration Russia gets a lot more pros but we are still missing Katusha for now. Note Britain has 19 pros but if cycling is flourishing there, it has fewer pros than Poland. And note the Netherlands has three World Tour teams which means a big demand for Dutchmen, so much so that of the 56 pros, only five ride for Pro Conti squads.
Off the chart, note Norway and Eritrea share six cyclists each. Clearly the likes of Boasson Hagen, Hushovd, Nordhaug count for more in the rankings but it shows the spread of the sport and as much as Norway provides quality, it's a small nation for men's road cycling. Similarly Slovakia has only four pros and two names: the Velits twins Martin and Peter and the Sagan brothers, Peter and Juraj. Four pros is the same sum as China. Peter Sagan alone outranks the entire Chinese nation for now.
Still for all the talk of globalisation the sport is firmly rooted in Europe with over three quarters of riders coming from Western and Central Europe, effectively the European Union nations plus Norway and Switzerland. The pie chart below shows each region: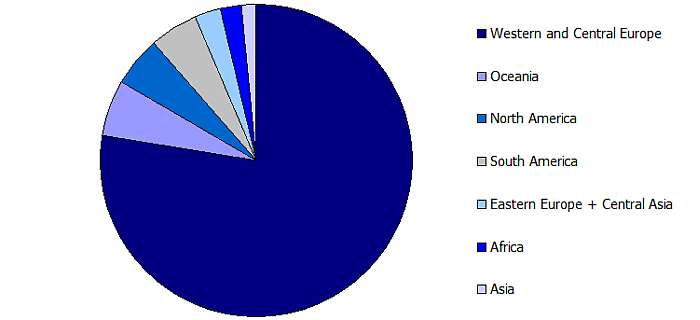 World Tour vs Pro Conti
The World Tour is older, riders average 28.2 years whilst Pro Conti riders average 26.3 but it's hard to read much into this as the second division has several teams with a developmental vocation and therefore you'd expect a lower age.
The mix of nations is reasonably similar with 43 nations in the World Tour and 45 in the Pro Conti ranks. We are left with a few oddities: 12 Danes and 11 Kazakhs in the World Tour but not one in the second division.
Meet Cedric
If we had a pick an average rider it would be Cédric Pineau, pictured at the top. He is both 27.7 years old and French, in fact the only rider with this label. He is therefore, in a statistical sense, Mr Average. If it's mean… it's mean as in average and no more. Pineau is a valuable worker for his team and finished the Tour de France last summer, an above-average achievement.
Photo by Laurie Beylier.
Finally a quick word on methodology. These are the World Tour and Pro Continental riders. There are many professional cyclists earning a living at the third tier, known as "UCI Continental" but these ranks also include a lot of part-time riders and feeder teams so I've not counted them.