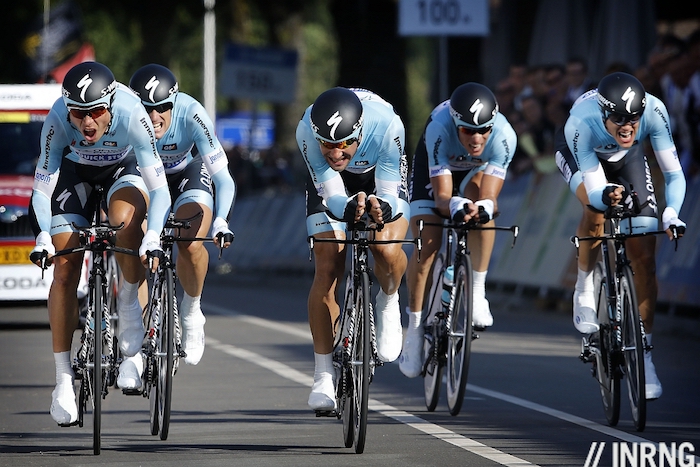 It was a close contest for the men and women. Look at the faces of the victorious Omega Pharma-Quickstep team as the picture says plenty although maybe the €100,000 prize pot had something to do with it (the women got a more modest €30,000).
In a brief "the moment the race was won" analysis, when BMC went up the Cauberg we saw gaps start to appear as Tejay van Garderen surged ahead and the others, notably Alessandro Ballan and Taylor Phinney, were in trouble and had to regroup. The extra effort, the briefest confusion and then the acceleration was probably worth more than three seconds, the margin of victory on the day.
It seems odd having the world championships whilst other races are happening although given the intensity of the effort, it might be hard to cram it into the week. For example Team Sky's best performance was Mark Cavendish's stage win in the Tour of Britain today whilst Argos-Shimano will be pleased with their win in the GP d'Isbergues thanks to John Degenkolb.
Tour of Britain success
A home winner in a national Tour is always a useful story. When it was announced that Bradley Wiggins would ride the Tour of Britain I wondered how the local media would view it if he "lost" to someone else, since cycling is a sport where winning is infrequent but the reports of Wiggins during the Tour and the Olympics had gotten Briton used to him winning. But they have a home winner to celebrate in Jonathan Tiernan-Locke of Endura Racing. He's even joining Team Sky next year. We saw Mark Cavendish win the final stage, his last win in the rainbow jersey and probably with Sky too?
Transfer News
We know Tiernan-Locke is off to Team Sky. Want to know which rider is going to which team? Someone asked if I could create a list of rider transfers but this is a giant task. Luckily though the excellent cyclingfever website offers just this. You can even sort the transfers by "rumour", "negotiation", "confirmed" and other options.
Tour News
Talking of a giant task, the 2013 Tour de France route is almost fixed and will be unveiled in a month's time. The local media on Saturday claimed an exclusive with a tale of a time trial around the Lac de Serre-Ponçon, a large artificial lake in the mountains that counts as a kitesurfing spot as it is often windy. They say we will also get the return on Mont Ventoux on 14 July, it's a Sunday and the French national holiday meaning the mountain will be packed. The local media are often first with these things but the trouble is keeping track of it all.
But one blog does and it's Velowire.com that gives all the tips and suggestions for the upcoming route. Blogger Thomas Vergouwen even double-checks things, using the sneaky technique of phoning hotels in the area where he suspects the race will be, pretending he wants to making a booking for a conference in July and thereby discovering if they are already booked up. Normally only the Tour makes corporate bookings this far in advance for one or two nights at a time. Velowire is usually the best reference. All is revealed on 23 October.
Lampre Turns French
The Tour is so big that it's not just fans projecting themselves forward nine months but teams are also working hard to make sure they are on the start line. This time last year Ag2r boss Vincent Lavenu was busy recruiting riders from as far as Iran so long as they had enough UCI ranking points to help him keep his team ranked amongst the top tier. It worked as the team kept its licence. But once the season started the brown short brigade were struggling and they've won just four races this year. Fortunately Lavenu has done the mother of management U-turns and will start next year with the likes of Domenico Pozzovivo, Carlos Betancur, Yauhueni Hutarovich and neo-pro Julian Kern, the 2011 Euro U-23 champ.
Now it seems Lampre-ISD are hunting for points. They've won just seven pro races this year… embarrassingly that's one less than their ISD-Lampre development squad. Obviously the team's status is in doubt and so the Italian squad has signed Miguel Ubeto from Androni-Giocattoli. A Venezuelan, Ubeto leads the UCI America Tour and so comes with plenty of points thanks to wins in his home Vuelta a Tachira and Vuelta a Venezuela. But he's 36. Hardly the future and in blunt terms, probably doesn't need to turn a pedal in 2013 as he's hired for the points.
The Secret Is Out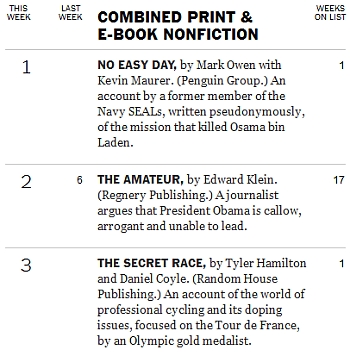 Finally, on the subject of valuable commodities, Tyler Hamilton and Daniel Coyle's book "The Secret Race" has jumped in at Number 3 on the New York Times Best Seller List. It's strange to think this book is up there with books on Osama Bin Laden and President Obama. Cycling books don't usually have that reach.
Judging by Twitter the book seems to leave an impact on those who read it, the detail of blood doping is laid out as  as chilling as Dr Fuentes' refrigetator. But if it leaves you feeling down about the sport I've got a review of another book which might just be the remedy to the cynicism, scandal and dirt. More next week.