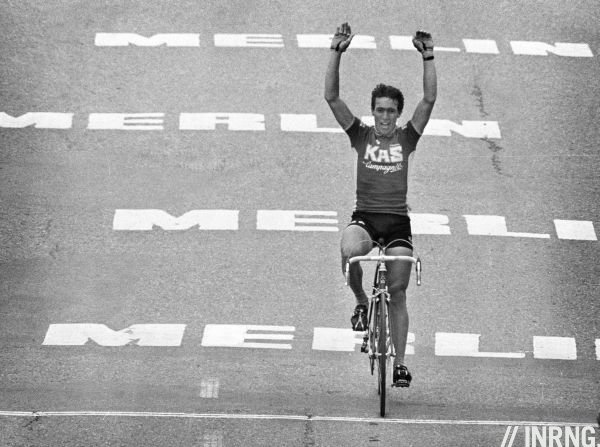 The victory salute is universal. The rider crosses the line and lifts their arms in triumph. But what lies behind this movement, is it something we do in imitation of others or is it a primal form of expression? Why punch the air or wave your hands?
There are some amusing galleries of victory salutes out there. There's no history of the victory salute because it is not something unique to road cycling, it a primitive form of celebration.
In ancient times victorious gladiators would salute the crowd with an arm aloft. The bronze statue above is from ancient Greece. It goes beyond sport, look at anyone getting good news and the same gestures and traits can be spotted. Whether it's someone getting good news over the telephone or a politician working the crowd the air is often punched.
The victory salute is an outward physical display but to analyse this let's first peer into the mind of the rider, to assess the internal emotions. What does a rider feel when they cross the finish line? If you say joy and the adrenal thrill of victory then perhaps you have never won a race. No, for clues we can look at the face of many riders, it is actually rare to see a full smile. In many instances the rider looks stoic, sometimes there is a look of relief and when there is a smile, it is often gentle with only a small curl to the edges of the mouth curl. This suggests feelings of relief, satisfaction and above all, pride. Of course some riders do go beserk with joy but actually many have been winning races since their teenage days and so satisfaction and pride often top pure happiness and joy.
Pride is a complicated emotion. Psychologists list two types of pride, hubristic pride and authentic pride. Hubristic pride is where somebody gives a display of pride but in a situation where there's little basis, imagine someone giving a high-five after ordering a takeaway pizza on the phone ("yay, here comes dinner!") and it is more a feeling than scenario but nevertheless a genuine emotion. Authentic pride comes after a real achievement, for example winning a competitive sports event or, in times past, hunting an animal. It is inbuilt and not just feeling but displayed via body language. Research suggests primates display pride in their social group.
Some nonhuman primates—especially those with an evidenced capacity for a least minimal self-awareness likely experience a proto-pride-like emotion. This animal display seems related to the position in a group. Anecdotal evidence suggests the alpha male gorilla in a group will raise its arms in a gesture to make itself look bigger. The expanded posture and outstretched arms associated with pride may have originated as a way of appearing larger, allowing for the assertion of dominance and attracting attention.
Sounds a bit like a victory salute, no? Human body language has been analysed extensively and this includes gestures of pride and shame. In a winning situation somebody usually tilts the head back, smiles, puts their arms out, punches the air and puffs up their chest. Note this research is not related to cycling but can be found in many places. For example one cleverly-timed paper that coincided with the 2008 Olympics analysed photos taken in a judo tournament. A photographer shot the athletes during and immediately after each match, repeatedly for approximately 15 seconds, allowing for a series of images to capture each behavioural response. The researchers coded the athletes' head, arms and body positions. They found that winning athletes, both sighted and blind and across all cultures, tended to raise their arms, tilt their head up and puff out their chest.
Perhaps most interesting is the conclusion that after analysing a blind judo tournament we saw similar behaviour. Some had thought that the body language of the victory salute was a socialised ritual, acquired through observation from the group. In other words we mimic what we see. However this study puts forward the hypothesis that it is instinctive rather than learned given the blind athletes imitate the sighted ones.
Instinctive or cultural, these outward displays of pride do play a role in the group. If you watch a race and the winner simply rides across the line with no celebration or acknowledgement then this detachment can prove almost disturbing to watch for others, suggesting that there's almost something wrong with the rider.
There is however a less instinctive element to the cycling victory salute. Photographers and TV cameras await and this is the moment the sponsors have been waiting for. So if possible the rider will zip up the jersey because lifting the arms up into the air turns the jersey into a prime billboard for the sponsor.
Summary
Winning isn't just crossing the finish line, the salute matters. It might suit the sponsor but the salute is an ancient tradition, perhaps even a primal instinct.