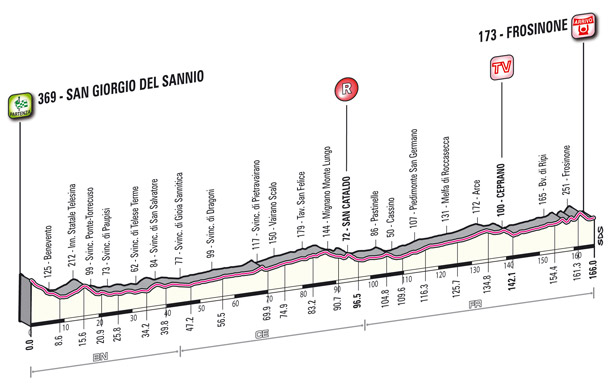 It looks flat but look again. The last 10km have a series of short hills that could ruin the hopes of the sprinters or allow a crafty rider to get away whilst the sprint trains try get their wagons back on track.
In particular there are three short ramps and the profile above does not go them justice, the last one is 1.2km long with a gradient of 6%. That's enough to make the sprinters worry.
Can Mark Cavendish survive the final climb? We'll have to wait and find out as the slopes are just about enough for a rider to benefit from the slipstream of team mates. But it could be a safer bet to think of riders like Matthew Goss or Francisco Ventoso although you write off Mark Cavendish at your peril.
Either way today's stage marks a change, the race has finished its southwards journey and now bends north, although Milan is still almost two weeks away. If the racing won't be too dramatic, the race will pass tobacco fields and buffalo farms famed for their mozzarella cheese although the weather won't be too great, thunderstorms are lurking although expected to clear for later.
The finish: a quick mention of the final kilometres. After the short sharp climbs come some short, sharp corners, including a very tight bend with 325m to go. There's a good chance that the top three into this corner are the top three at the finish line too.
Piano piano
And in case you missed it, yesterday's stage winner Domenico Pozzovivo might dance on the pedals but he can play the tunes as well.