The photo above is from Vélo magazine and I used it to illustrate a piece about Bradley Wiggins's shrinking frame size. For all the talk of losing weight, he's also got much lower on his bike.
You'll also notice he's ridden for many teams. Whilst he had a few hits on the road, they were of a lesser order, think time trial wins in the Four Days of Dunkerque and the Tour du Poitou Charentes. Most of his focus seems to have been on the track but there's also talk of blurred years, he himself spoke of spending afternoons in a British pub. Many credit Garmin-Slipstream with his big changes but note even with Cofidis he was impressing at the highest level. Take the Tour de France where he placed fifth on Stage 13 of the Tour de France, a time trial and his result has since been elevated thanks to Vinokourov being thrown out of the race.
Eze Riders

Those are the times for the Col d'Eze time trial. The distance has varied over the years, not to mention the weather or the industrial use of blood doping. Yesterday's stage was 9.6km, note Sean Kelly's 1986 ride would have got him a place amongst the best yesterday despite doing an extra 400 metres.
On the subject of hill climbs the Kapelmuur might have been dropped from the Tour of Flanders route this year but that doesn't mean the residents who live on its slopes can get much peace this year. Chains and rims rattle all year round and the E3 Prijs Vlaanderen race has signed a deal to use the Muur. But there are more events including a Red Bull publicity event with a 300 metre uphill time trial. A mountain TT, Belgian style.
Thinking about it you'll need an interesting bike. Given the explosive effort there's a good risk wheels slip and slide so wide section tyres are needed and since the cobbles are extreme in places I wonder if some form of suspension could help preserve precious momentum?
No Tirreno Spin
Thanks to all those who emailed and left comments saying they enjoyed the coverage of Paris-Nice, with the daily previews and more. It was based on a format from the last Tour de France but unfortunately I can't cover every race like this, even if Tirreno is such an exciting race. I am aiming to cover the Giro, Dauphiné and Tour de France plus there will be previews of other races from time to time, especially the classics. Expect some Sanremo features this week.
Eddy Who?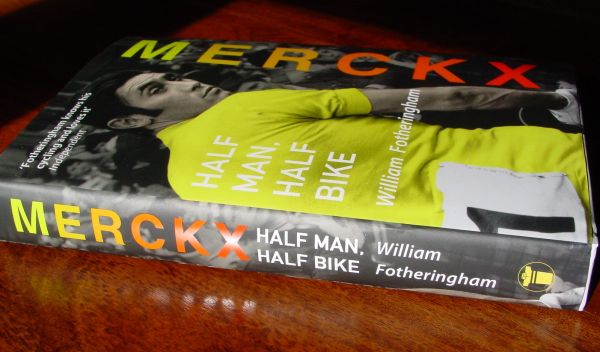 I've been sent a book to review, "Merckx, Half Man Half Bike" by William Fotheringham. I'll put the review up in due course but for now it's got me thinking, I know very little about Eddy Merckx. My mind flashes with ideas of the Cannibal, those sideburns, a brown Molteni jersey, the rocking shoulders, some classy black and white images, five Tour de France wins. There's more but for a rider usually held up as the greatest ever racing cyclist I'm eager to learn the whole story and to see if this book can tell the tale of an exceptional champion.
The History Boys


Talking of Merckx, there was a time when cycling history was boring with a capital B. I was much more interested in who had won the latest race and the most modern bike technology. But I find the history of the sport increasingly interesting. Clichés like "the past explains today" and "history keeps repeating" hold true for cycling. Whether it is race tactics, racing up the Col d'Eze or squabbling over the management of the sport, all this has happened before.
Another reason is that the history is more accessible. You don't need a dusty biography of a dead rider from the back of a bookshop, today you can find plenty of new sources. One recommended way is the "Velocast This Week in Cycling History" podcast. This started as a slot in the regular Velocast podcast but Cillian Kelly and John have started producing a dedicated show every week. It's new and I hope to review the podcast on here once we've heard a few episodes. Hear for yourself, it's available at Velocast.cc or via iTunes, search for Velocast.