Yes.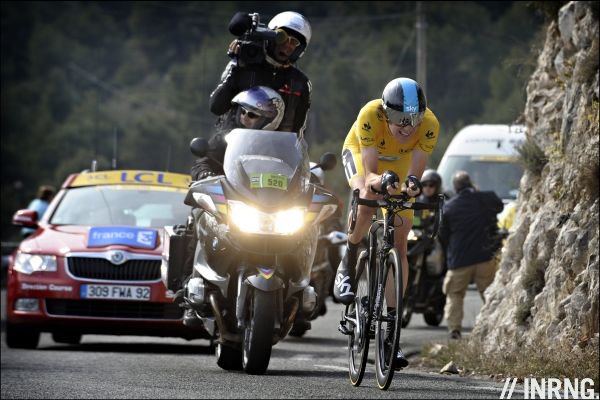 It's perhaps a problem with pro cycling that no sooner than one race finishes many look to the next. Win a huge event like Paris-Nice and half the questions in the press conference will be about your chances are for next July. The Tour dominates the sport.
Last year I was impressed and pleased to see Wiggins winning the Dauphiné stage race. The Alpine stage race is a top event but in recent years many riders have avoided trying too hard in case they time their form (or their fatigue) wrong for the Tour de France. But Wiggins won and continued to aim for the Tour de France. Back then I wrote I did not think he could win the Tour. I thought the route was too mountainous and suited the likes of Cadel Evans, Andy Schleck and Alberto Contador more. Plus Wiggins was more of an unknown quantity nine months ago.
Now things are different:
The 2012 Tour de France has over 100km of time trials, an advantage for Wiggins but also favourable to others of course
Wiggins seems more relaxed and confident, both in his abilities and in coping with the media.
Similarly Sky look much more effective. It takes time to make a team work well and the Dauphiné last year was a good sign but now things have improved.
Wiggins bounced back from injury to finish third in the Vuelta, add this, the Dauphiné and now Paris-Nice and you have a very complete stage racer with an impressive record.
Alberto Contador is banned, a massive factor for the podium places.
However, if he can win the Tour de France of course there are no certainties. Paris-Nice is a great win but many big names were not there.
The 2012 Tour has lots of time trialling but there are some surprising climbs too. Instead of the long high altitude mountain passes some stages of the race, particularly in the Jura mountains of France near Switzerland, could prove tricky to control. With steep roads – the Col du Grand Colombier hits 14% – and climbers trying to make up time all over the place, it promises to be an exciting contest with an element of the unknown. Especially because when the mountains come Team Sky will have riders shepherding Mark Cavendish at the back of the race.
Conclusion
Once a dark horse Bradley Wiggins is now a stage race thoroughbred and one of the favourites for July, thanks to a growing list of wins and a team – partially in his service. But plenty can happen, indeed Wiggins crashed out of the Tour last July. Cadel Evans will be doing his thing and there are always new challengers.
Perhaps if you asked Wiggins whether he'd sign for a podium spot in July in times past he would have agreed and grabbed the pen out your hand, who wouldn't. Now he is being spoken of as a candidate to win in Paris.