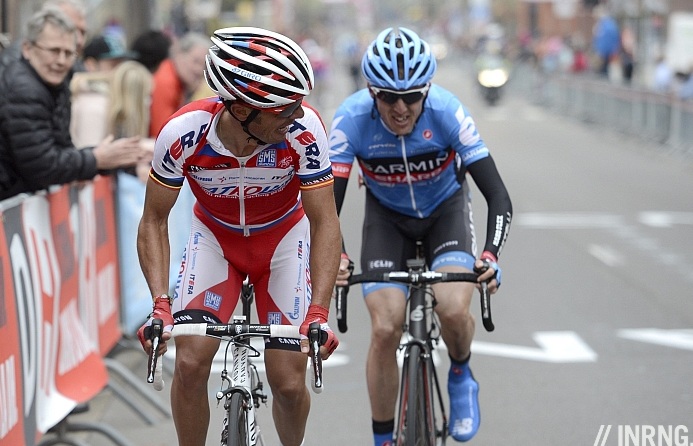 Dan Martin's done his last race. A likeable rider with a palmarès everyone can celebrate, there's one win that's worth citing again as his Liège-Bastogne-Liège victory had a catalytic effect among other riders of his generation.
"This season Dan Martin's win gives me the right to believe even more than before. He succeeded in getting past rides like Valverde and Rodriguez which you can't ignore"
– Romain Bardet
For years they saw races being won by riders who'd either been busted for doping or were likely to get rousted. Then Martin won and several riders said it gave them faith that there was a way to win clean, that quote above is from Bardet in Vélo magazine and others said something similar.
André Greipel is also retiring, coincidentally a team mate of Martin. You can see riders on TV or pictures online and in magazines and think they look like big athletes, especially the sprinters and classics contenders. Then you can meet them in real life and they're very svelte, and probably only really looked big before because they were riding alongside even smaller athletes. But Greipel has calves as big as they look and the Gorilla nickname was real. He's also got a new autobiography out (in German) which should be worth looking out for, he's had a long career and should have some stories to tell.
The spectator who brandished the Opi-Omi sign causing Tony Martin to crash and bring down many other riders on the opening stage of the Tour de France this year is in court this Thursday reports Ouest-France. ASO dropped charges but the CPA Union pressed on. You or I might have a view on this and that's exactly not the point here, what matters instead is any verdict or judgement because of the legal precedent here and it'll be worth reading the outcome. The court case is this week but the conclusion could take minutes or months.
We're certain to know the Tour de France route this week as it's unveiled in Paris… on the same day as the case mentioned above. As usual the whole thing has leaked out to the regional press in France and the Velowire website does a fine job piecing them together, with added sleuth work to call towns and enquire about hotel vacancies in July and deducing that beaucoup bookings means the Tour is coming to town. As ever though we'll get to see what the climbs and novelties are along the route.
By contrast the Tour de France femmes route also comes out on Thursday and good luck finding details of the route in leaks… until today. RTL radio's cycling journalist shared some of the likely towns:
Quelques Indiscrétions @RTLFrance sur le parcours du Tour de France féminin 2022, (#TDFF22) dévoilé le 14/10. Parmi les villes étapes : Provins, Bar-sur-Aube, Rosheim, Selestat… Epernay (même arrivée que sur le #TDF19). Le Grand Ballon d'Alsace au menu aussi. 1/2

— Nicolas Georgereau (@ngeorgereau) October 12, 2021
If he's right, and he is usually well-informed, it'll be a route to the east of France, going to Epernay for the same finish for puncheuses where Julian Alaphilippe took the stage and yellow jersey in 2019, then a mountain stage with the Grand Ballon or Ballon d'Alsace and the savage Planche des Belles Filles summit finish, complete with the gravel section on top, to conclude. It's interesting as this isn't a Tour de France clone. Obviously the eight day format can't mean a tour of France (nor does the men's race, aiming to visit each area at least once every four years) but no Alps or Pyrenees is distinct. Organisers ASO have just appointed ex-pro Marion Rousse as the new event director which is promising… but her TV commentary will be missed, she can identify a rider from afar.
Talking of tough mountains to climb, Qhubeka-Assos are hunting for a replacement sponsor just as teams are busy registering with the UCI. There's a deadline for the paperwork coming up this week but a file can be submitted here and the details, like funding, can come along later if there's a realistic prospect of landing a sponsor. From the sounds of a cyclingnews.com article the team's been asking all its sponsors to pay their dues for the rest of the year early so that the team can meet its wage bill. Perhaps just to cover wages until September and the remaining three months can be covered by the team's UCI wage guarantee posted with a bank. Drawing on this is hardly going to help the licence.
One solution could come in Canadian horticultural firm Premier Tech. Fresh from exiting out of Astana, cyclingnews.com reports (them again) they won't be linking up with Bike Exchange and so could still sponsor the Qhubeka team but are said to be talking to Rally and Israel as well and want to buy into a team with the ownership as well sponsorship. Ownership is one thing, control another because as we saw with Astana this is a fraught thing, someone can own up to 49.999% and still get flicked by the other owner, even if you take your sponsorship away. But it's also one giant bargaining chip for teams keen for sponsorship, like Qhubeka.
Staying with deal-making, Dutch company Pon is buying Dorel Sports, the sports goods division of Dorel. Pon started out as the importer of Volkswagen cars to the Netherlands and is now a big trading company that owns Cervélo among several brands, likewise Dorel has Cannondale in its stable. Which means the possibility of two brands under the same roof as bike sponsors in the World Tour if the merger gets clearance. Yes Specialized and Merida are linked companies via ownership but they're not brands in the same portfolio which is what Cannondale and Cervélo will be alongside Gazelle, Schwinn, Focus etc. What happens will be interesting, presumably both brands continue as they're valuable in their own right but ultimately someone, somewhere will be in charge of both of their marketing budgets. We see this elsewhere with Giro and Bell as two competing brands under the same ownership of Vista Outdoor, or saddles with Fizik also owning Selle Royal while rivals Selle Italia also have Selle San Marco too.