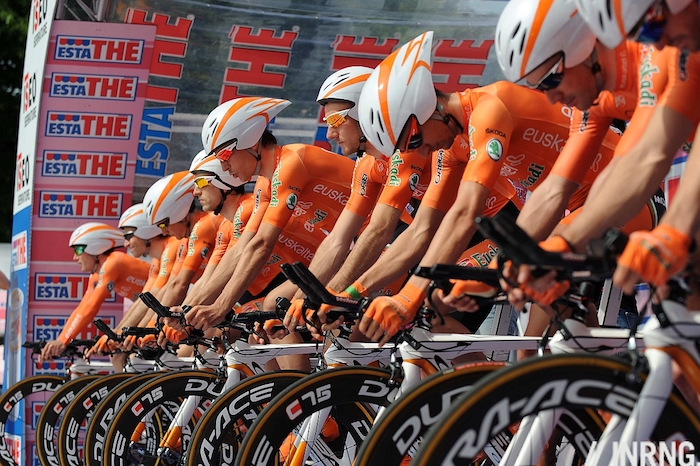 Basque telecoms company Euskaltel has announced it will return to team sponsorship as a title sponsor of the Fundación-Orbea team. Is this a return to the glory days? Sorry to splash a bucket of cold water straight out of the Atlantic in your face… but probably not.
Background
Euskaltel-Euskadi was a legendary team. In their pomp they were a lively team of caricature climbers tasked with bringing "animation" to mountain stages, in part because they'd finish last in any preceding team time trial and so had room to manoeuvre. But there was serious intent, at one point Iban Mayo began to make Lance Armstrong worry. Only behind the scenes the reality wasn't quite as glorious, like much of the 2000s. Riders tested positive; David Millar was apparently sourcing his EPO from a team doctor. Plus for all the attacks they never won very much anyway, a good season saw them take 10 wins, in 2009 they had just five wins. It's not all cold cynicism, they've also acted as a development team with the likes of Mikel Landa, Mikel Nieve, Ion Izaguirre and Igor Anton going on to greater things.
Dwindling identity
The lack of success became a problem and the team vanished after a torrid final year. The Unique Selling Point was its Basque identity, the Basque region having impenetrable language and even typographical fonts and being a hotbed of cycling, hosting the Tour of the Basque Country stage race and the San Sebastian classic. Launched in 1994, the early years of the team saw them ride in kit that was essentially a lycra Ikurriña, they only adopted the hi-viz orange outift because this was the colour of sponsor Euskaltel which came on board in 1998. The team needed UCI ranking points to stay in cycling's top level and broke its house policy of hiring locals by resorted to recruiting foreigners. Only it didn't pick a star or two who'd move to the Basque Country, instead it recruited journeymen pros with secret stashes of UCI points like André Schulze, a 37 year old German with a build more suited to harri-jasotze than cycling in the Basque country. It was amusing in the first instance, but tragic in the analysis as the team jettisoned its identity in a failed bid to keep going.
What's different this time?
Last time the sponsor was small and the team was big, now the sponsor is big and the team small. Back then the Euskaltel-Euskadi team was actually in the Pro Tour and the sponsor Euskaltel was even more modest, a Basque start-up. Today the team is quite modest, the Fundación Euskadi team has spent the last two seasons in the lowly UCI Continental ranks, essentially a third tier pro-am outfit and has just moved up to Pro Team status, cycling's second division. Meanwhile Euskaltel has grown and has even been floated on the Spanish stockmarket where it's valued at around €1.4 billion today… decent but still one twentieth the value of Spain's Telefonica, aka Movistar.
As a smaller team the challenge now is to get invited to races. In the past people mocked the comic prospect of a team of mountain goats being compelled to start Paris-Roubaix and the Tour of Flanders because the team was in cycling's top tier, now an invite to any World Tour race would be good. They've been in orange kit since 2018, the hard part has been spotting them on TV but now they've gone up a level to ProTeam status for 2020 which should help. Vuelta a España wildcards are hard to get, there are only three up for grabs this year. Caja Rural and Burgos-BH are candidates and Nairo Quintana probably only needs to wink at race boss Javier Guillén for Arkéa-Samsic to get the final spot. But this is exactly why new sponsorship can help, more riders can be hired to make the team a more obvious pick, if not this year then next. There's even talk of a Tour de France start in Bilbao in 2023 and a local team would be nice.
Recruiting exciting riders isn't easy. If this is a Basque team with a mission to bring on Basque riders then it's by definition self-limiting. The team has always been flexible, recruiting riders from nearby regions or those with family connections, think Samuel Sanchez who is from the Asturias. Today it's more relaxed, for example it's relaunching Ruben Fernandez's career, the Murcian won the Tour de l'Avenir and joined Movistar but illness and injury have put him out of the World Tour. Indeed if there's promising Basque rider in the U23 ranks then they're just as likely to get hired by Movistar, Ineos or Astana while salaries for established stars are so high that it's very expensive for the team to recruit Mikel Landa or Ion Izaguirre. Landa is the team's president but he's not going to give up a seven figure World Tour contract just to ride for "his" team anytime soon.
Conclusion
There's an air of nostalgia seeing the Euskaltel name return but it's different this time. They're no longer in the World Tour so we won't be seeing the "the carrots" compelled to ride Paris-Roubaix any time soon. Indeed seeing them anywhere is the challenge, this is still a modest second tier team with no prospect of a Tour de France start and even a Vuelta invite would be a huge deal. But Euskaltel is a bigger company these days than when it left the sport and this could help the team stabilise and build and that's a start.