Bjarne Riis is back, in a press conference today he and colleagues Lars Seier, the founder of Saxo Bank and Jan Beck Andersen, chairman and owner of Brøndby IF, a soccer club have bought 30% of the NTT Pro Cycling, formerly the Dimension Data team.
There will be some online outrage at Riis's return but some of this is misplaced. Instead surely the problem is the sport can't seem to attract or promote new faces.
You can see why the news isn't too cheerful. Bjarne Riis is cycling's dictionary definition of a workhorse turned into grand tour thoroughbred thanks to blood doping. There's also the unsatisfactory ending of Operation Puerto where some of Riis's riders were linked to Eufemiano Fuentes but escaped for lack of evidence, for example wire transfers from Frank Schleck were put down to "training plans" which raised more than a few eyebrows but never led to a conviction.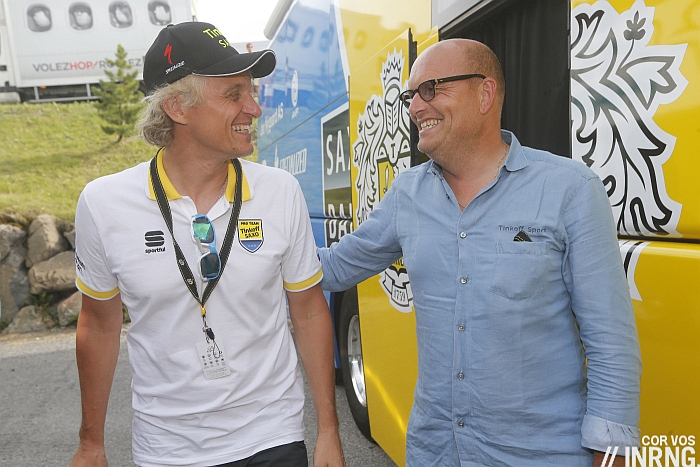 However it's hard to get outraged by his return. In part because he's barely been away. After his lucrative split from Oleg Tinkov and the Tinkoff team, Riis has been in and around the sport including Team Virtu, a women's cycling team. He took over this team for 2017 and brought in Jan Beck Andersen and Lars Seier. But despite their wealth and contacts, Team Virtu couldn't find a sponsor and Riis and Co. pulled the shutters down on the team. About the same time stories started to bubble up that he could take over the Katusha team or buy the Dimension Data/NTT cycling team. So he's been out of the World Tour but never very far away.
Yes it's not a great look when a notorious cheat returns to the top table but he's hardly alone there. Riis didn't get banned, partly because of the statute of limitations. Several other team managers have been banned – Alexandr Vinokourov, Patxi Vila, Matt White to list three – while plenty of other team managers were probably up to similar things but didn't get rumbled for it. There are several ex-Festina riders behind the wheel of team cars today with varying degrees of apology. So pro cycling can't put up a unique barrier to Bjarne Riis and besides there are worldwide rules in sport and the short version is that once you've served a ban you can return (as long as you haven't got a lifetime ban).
No, the big problem with Riis's return is just that it feels stale. There's nobody fresh and exciting trying to break into the world tour. There's no keen outsider trying to buy in. There's nobody in Pro Conti ranks who everyone wants to see given control of a World Tour team.
As for the NTT team, Riis and his entourage are buying in but not taking over the team, they'll have 30% (and yes there have been several 60% jokes today, a reminder that Riis's past follows him around like ball and chain on his ankle). It's not the first time, in 2015 it seems he tried to link up with MTN-Qhubeka, the same team under a previous name, but was rebuffed as Danish newspaper BT reported (my translation):
For us, it has not been possible to start a collaboration with Bjarne Riis. The values of our new sponsors do not align with the history of Riis having previously doped.
What has changed within NTT today? But buying into the team is not the same as investing, presumably NTT team owner Doug Ryder has sold a share of his equity and banks the cash. What Riis and company could do is bring in new sponsors and if Riis is the headline name, it's Seier and Andersen who bring the money and business contacts. It might have been a harder sell for the Virtu women's team but NTT is a World Tour team and so the guaranteed presence in the Tour de France can open doors. The Riis to NTT gossip has been chattering away for months now, accompanied by talk that Danish window giant Velux could come aboard in time for 2021, when the Tour de France has its grand depart in Copenhagen. It'd fit, after all you can build a house already with many other team sponsors (Deceuninck, Quickstep, Soudal, Renson, Bora, Hansgrohe etc). It's this that will keep the team on the road and improve performance, more money will let them recruit better.
Conclusion
Bjarne Riis is back but he was never away for long. Yes he's got baggage but plenty of others do too, although this was enough to see him rebuffed by the team in 2015. Instead look around and there's nobody else knocking on the door and cycling's second tier of Pro Teams isn't awash with excitement, although the Roodhooft brothers at Alpecin-Fenix are worth keeping an eye on.