Here are the answers to the quiz. It was fun setting the questions, just to ask questions that don't have answers one click away but also because several of them are what's called hypophora, the act of asking a question just so you can give the answer and in this case to explore some of the odds and ends in the sport.
1. Dressed in red and white, name the rider above who has delivered plenty already? It's Mathieu van der Poel currently winning almost everything in cyclo-cross but he may not win the World Cup and could conceivably miss out on the World championship title again.

2. Can you name the place visited en route during a grand tour that has the word "santa" in its name? The Vuelta went to Santander and there were more, especially villages in Italy with the Santa-something, eg Santarcangelo di Romagna or Santa Ninfa.
3. In Britain and other places the second day of Christmas is called "Boxing day". Which cyclist enjoys boxing and sparring in their spare time? Nacer Bouhanni, it's almost an instant word association like Froome-Sky or Rohan Dennis-TT. It adds to the image of a combative, aggressive rider but what if he enjoyed Bach or gardening in his spare time, would our image of him be different?
That Was The Year That Was
4. Who won the UCI World Rankings? It's a huge achievement. Do it and you might tatoo "world number one" but that's handy because nobody really remembers it, we still emphasise the races over the rankings and that's no bad thing. Alejandro Valverde and Annemiek van Vleuten won in 2018.
5. Which pro raced the most in 2018? Alessandro de Marchi did 14,260km and Gorza Izagirre raced for 91 days this year, one more than brother Ion who did 90 as de Marchi according to cyclingquotient. Count 2.2 races as procyclingstats do and and Eugert Zhupa did 97 and team mate Jacopo Mosca did 95. See question 37. for a follow up to this.
6. Name a new race on the pro calendar this year? There have been plenty, perhaps the Deutschland Tour will prove to be the most significant but the Oro e Paz in Colombia was great to see.
7. Name a race than vanished from the calendar? It's always sad to see races go and there were several deletions. Already for 2019 the men's Colorado Classic is reported to be scrapped, they'll run a women's race in place which is the silver lining but it's down from two events to one.

8. Which team saw all of its riders abandon or eliminated during a World Tour stage race this year meaning none of their riders finished? UAE-Emirates didn't finish Paris-Nice with the valiant Rory Sutherland outside the time limit on the last stage.
9. How many times did a rider from a Pro Conti team win a World Tour race? Six times. Direct Energie had two in Paris-Nice in Jérôme Cousin and Jonathan Hivert. Taco van der Hoorn (Roompot) won a stage of the Binck Bank Tour. Oscar Rodriguez (Euskadi-Murias) won a stage of the Vuelta to La Camperona as did Nacer Bouhanni (Cofidis). Eduard Prades (Euskadi-Murias) won the Tour of Turkey overall. That's it and shows just how cycling's second tier is far from the World Tour, for all the hundreds of World Tour race days a year with Pro Conti teams invited they win six in total. These smaller teams may plan and expect wildcard invitations but are they really there just to take part and "animate" stage races?
Perks and Quirks
10. The Four Days of Dunkerque actually lasts six days. Name another race on the calendar who's name is an approximation of the number of days it takes place over. The Three Days of De Panne is now a one day race, or two days if we include the women's race.
11.Which grand tour has an official pet food supplier?The Giro d'Italia. Why? Obviously the race doesn't need pet food but the major races typically have different tiers of sponsors with "partners" the main names you see on the jerseys and hoardings in the finish line, and then a secondary tier of "official suppliers" like these who pay to sponsor and if a pet food supplier wants to join in, why not?
12. The Vuelta a España has a bovine mascot. Called what? Tei-Tei.

13. EF Education First-Drapac have a mascot too. What's its name? Argyle the Crocodile.
14. Lotto-Jumbo, soon to be Jumbo-Visma, is also a speed skating team. Can you name another pro squad that is also involved in a different sport? Astana had financial difficulties and has been folded into the Astana Presidential Sports Club which also does ice hockey, basketball, soccer and more… hopefully the financial difficulties are over? Portuguese Conti team W52 are the cycling branch of FC Porto, the illustrious football club.
15. Name a reigning national champion who has had a road named after them? It's not uncommon to have streets named after cyclists, Sean Kelly has a square named after him in his native Carrick-on-Suir and remarked it's a tribute normally made to the dead. Pascal Ackermann has had a small street named after him, even before he'd won a World Tour race and the German national title this year.
History
16. Colombians have been in the pro peloton for decades. Who was the first Colombian to win a pro race in Europe? Luis Herrera is often seen as the pioneer but I think it was actually Pacho Rodriguez, he won a stage of the Dauphiné in 1984 when he was 23, a race won by compatriot Martín Ramírez, also 23, ahead of no less than Bernard Hinault too. However in the answers Sonja Neteu chose Giovanni Jiménez Ocampo, who was a pro between 1968-79 and did win some small races but were these kermesses rather than pro races? I think Merckx counted kermesse wins during his career and the distinction was harder to tell then so this is a valid answer.
17. Which rider has started more editions of the Tour de France than anyone else? This was an excuse to crowbar in a tribute to Sylvain Chavanel, an exemplary career and perhaps you remember his record from this summer but in the future his name will rhyme with Tour trivia. He started 18 Tours.
18. Which rider has finished more editions of the Tour de France than anyone else? Chavanel started 18 and finished 16, the same number as Joop Zoetemelk.
19. Which year was the yellow jersey first introduced to the Tour de France? Carefully placed as question 19… this was 1919. You may already know this. You certainly will in 2019, the 100th anniversary of the textile icon and we can expect numerous stories about this between now and July.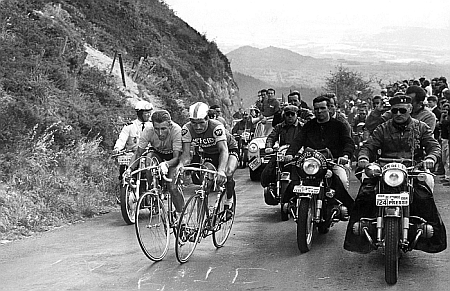 20. Is this cycling's greatest photo? Maybe, maybe not but which rider won? It's Jacques Anquetil and Raymond Poulidor duelling on the Puy-de-Dôme in 1964 and Anquetil would go on to win the Tour. But Julio Jiminez and Federico Bahamontes are ahead up the road and it's Jiminez who wins the stage.
Geography
21. What was the highest altitude race or stage finish in the World Tour this year? The Col du Portet on Stage 9 of the Tour de France at 2,215m. It's a "new" col, used for the first time in the Tour de France and also paved just in time for the race (my recon ride in June was blocked by the roadworks) just the road to the pass on the south side only and largely because it opens up a giant road for visiting cyclists to enjoy (and easier access for ski lift maintenance).
22. Outside Milan-Sanremo which is so long it has a derogation from the UCI rules, which was the longest distance for a day's racing on the pro calendar? The Tour of Flanders at 264.7km. Distance matters as once you pass 200km the number of contenders tends to drop off and for all the calls that races like Milan-Sanremo are too long and boring whether a race is four hours or seven hours doesn't make much difference, road cycling will always be a gradual sports contest with moments along the way.
23. What percentage of the world's 195 countries does the World Tour visit? I counted 17 – remember to include foreign visits by the Giro and the Vuelta this year – so that's 8.72%. It's not much and perhaps the label for the UCI's premium series ought to focus on the quality of the best events rather than geographical reach?
When They Were Young

24. Who's rider in the yellow and blue jersey who thinks he's won? It's Dylan Groenewegen looking rather like a rough diamond waiting for some pro team polish.
25. Who's this honing their skills during the winter? It's Lilian Calmejane, I flipped the image 180° in the hope it would prevent reverse searches (see his front brake) and one clue is the red brick background, almost a giveaway for Calmejane's Tarn valley upbringing. Many French riders do cyclo-cross in the winter but it's just not a big stand alone sport outside of Belgiun, the likes of Julian Alaphilippe switch to the road. A loss for CX but good for the participants given the skills it brings.
26. Which time trial champ is this on the start ramp? Michał Kwiatkowski. If you wanted clues look at the bad brickwork behind and the official with the Lech Wałęsa tribute moustache.
Hors Course – Away from the races
27. Name the last grand tour winner who resides in the country they race for? Pro cycling's an international sport and it also pays plenty meaning the big grand tour names often pick their residence for tax purposes, whether they're in Monaco, Andorra or Switzerland. Maybe it was 2013 Vuelta winner Chris Horner but Americans are taxed abroad anyway so there's no advantage to living in a tax haven. The likes of Nibali, Aru and Contador moved to Switzerland; Quintana, Froome and Thomas have apartments in Monaco, Simon Yates is in Andorra and Tom Dumoulin, like many Dutch cyclists, lives just across the border in Belgium.
28. Arnaud Démare grows vegetables in his garden and keeps chickens. Name one of the birds. Margotte and Cracotte reportedL'Equipe, he has a vegetable garden and applies "biodynamic" methods. Put another way those pro cyclists that don't live in a tax haven often have a rural appeal for an older demographic.
29. Connor Dunne and Larry Warbasse's NoGo Tour made lemonade out of a bucket of lemons sent their way. Tim Wellens and Thomas de Gendt rode back from Lombardia this year too. Can you name another pro who went bikepacking and documented their journey before them? The Morton brothers have done several Whereabouts films. I was thinking of Daniel Oss though, these days Peter Sagan's aerofoil but also into his rock music and horn signed victory salutes.. and apparently cycle touring with a good series on vimeo called Just Ride with Italian scenery and music all captured.
30. Nevermind touring for fun, name a World Tour pro who took part in an official sports competition away from cycling this year. Thibaut Pinot came to mind, he did the La Transjurassienne nordic ski race and finished with a credible result for a part-timer just a couple of weeks before he started the cycling season. Romain Bardet's also been spotted with a ski bib, but Pinot entered a big event that requires participants to be a member of a FIS federation.
As seen on TV
31. In which year was the first summit finish broadcast live? The Tour de France and 1958 on the Aubisque but bad weather meant radio was probably still better. The next year they had a helicopter film the finish on the Iseran, it's not great viewing but must have felt high tech in its day.
32. Paul Sherwen and Phil Liggett formed a famous TV commentary tandem. Can you name the first duo to report on cycling? The story goes that Robert Chapatte was doing a radio broadcast on the Tour de France when a technical blunder meant his audio feed was merged with that of a rival George Briquet live during the coverage. After a brief moment of talking over each other the two agreed to talk together and apparently this was the first ever sports broadcast with two commentators. It's a format we take for granted today but which might have been born by error.
33. The Giro was one race where rider power output was shown to television viewers. When was this first done live on TV? The 1989 Tour de France where the Toshiba team used Look hubs which had a power meter and the riders had large aerials under the saddle to beam the signals (short GIF video here). Ironically the Tour doesn't use it now for TV graphics. Given cyclists who own a power meter can struggle to interpret their own results sometimes then imagine how the general public watching must feel, ditto experts who don't have a rider's weight to hand.
Business
34. "Du pain, du vin, du boursin" is an advertising slogan that's been used around the world both in print and on TV. What's its connection to cycling? In late 1988 the Tour de France unveiled the 1989 route, plus two new directors. Jean-Marie Leblanc would go on to have a long career on the race but his equal was  Jean-Pierre Carenso, an advertising executive who had designed several leading ad campaigns for blue-chip clients before moving to work for the Tour. It's hard to imagine any race these days being able to hire people of this experience.
35. What's the annual fee for a UCI World Tour licence for a men's team? It's €85,000 per team and includes a contribution for anti-doping. When you consider the auditing and admin done it's hardly a money maker for the governing body.
Chief Commissaire
37. What's the maximum number of race days a pro can do per year according to the UCI rules? 85 days says the UCI but this can be exceeded if teams ask the UCI and explain… or if the teams just do it anyway perhaps? A cap makes sense but a race is only one part of the fatigue, think early morning flights or red eye long haul travel.
38. What's the minimum and maximum number of days a Grand Tour can last? 15-23 days which allows the possibility of a two week grand tour but which race would ever want to shrink their product down like this, to sell two weeks of TV rights rather than three, to have fewer hosting fees, a shorter publicity caravan and so on?
Picture Round
39. Who is this? Max Schachmann but if you think of a "shack" the next time you hear his name, his name literally translates as "Chess man".

40. Who's this? Egan Bernal.