A Christmas quiz with 40 questions. Some are obvious, some are odd, many can't be Googled and a few are fiendish and sometimes it's the answers that raise more questions.
1. Dressed in red and white, name the rider above who has delivered plenty already?
2. Can you name the place visited en route during a grand tour that has the word "santa" in its name?
3. In Britain and other places the second day of Christmas is called "Boxing day". Which cyclist enjoys boxing and sparring in their spare time?
That Was The Year That Was
4. Who won the UCI World Rankings?
5. Which pro raced the most in 2018?
6. Name a new race on the pro calendar this year?
7. Name a race than vanished from the calendar?
8. Which team saw all of its riders abandon or eliminated during a World Tour stage race this year meaning none of their riders finished?
9. How many times did a rider from a Pro Conti team win a World Tour race?
Perks and Quirks
10. The Four Days of Dunkerque actually lasts six days. Name another race on the calendar who's name is an approximation of the number of days it takes place over.
11.Which grand tour has an official pet food supplier?
12. The Vuelta a España has a bovine mascot. Called what?
13. EF Education First-Drapac have a mascot too. What's its name?
14. Lotto-Jumbo, soon to be Jumbo-Visma, is also a speed skating team. Can you name another pro squad that is also involved in a different sport?
15. Name a reigning national champion who has had a road named after them?
History
16. Colombians have been in the pro peloton for decades. Who was the first Colombian to win a pro race in Europe?
17. Which rider has started more editions of the Tour de France than anyone else?
18. Which rider has finished more editions of the Tour de France than anyone else?
19. Which year was the yellow jersey first introduced to the Tour de France?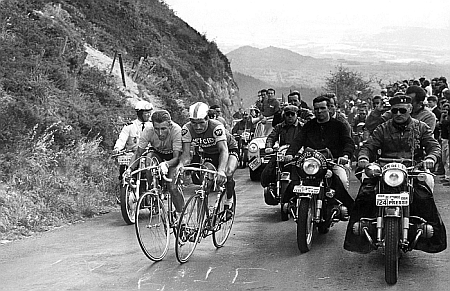 20. Is this cycling's greatest photo? Maybe, maybe not but which rider won?
Geography
21. What was the highest altitude race or stage finish in the World Tour this year?
22. Outside Milan-Sanremo which is so long it has a derogation from the UCI rules, which was the longest distance for a day's racing on the pro calendar?
23. What percentage of the world's 195 countries does the World Tour visit?
When They Were Young

24. Who's rider in the yellow and blue jersey who thinks he's won?
25. Who's this honing their skills during the winter?
26. Which time trial champ is this on the start ramp?
Hors Course – Away from the races
27. Name the last grand tour winner who resides in the country they race for?
28. Arnaud Démare grows vegetables in his garden and keeps chickens. Name one of the birds.
29. Connor Dunne and Larry Warbasse's NoGo Tour made lemonade out of a bucket of lemons sent their way. Tim Wellens and Thomas de Gendt rode back from Lombardia this year too. Can you name another pro who went bikepacking and documented their journey before them?
30. Nevermind touring for fun, name a World Tour pro who took part in an official sports competition away from cycling this year.
As seen on TV
31. In which year was the first summit finish broadcast live?
32. Paul Sherwen and Phil Liggett formed a famous TV commentary tandem. Can you name the first duo to report on cycling?
33. The Giro was one race where rider power output was shown to television viewers. When was this first done live on TV?
Business
34. "Du pain, du vin, du boursin" is an advertising slogan that's been used around the world both in print and on TV. What's its connection to cycling?
35. What's the annual fee for a UCI World Tour licence for a men's team?
Chief Commissaire
37. What's the maximum number of race days a pro can do per year according to the UCI rules?
38. What's the minimum and maximum number of days a Grand Tour can last?
Picture Round
39. Who is this?

40. Who's this?
Prize
If you've made it this far, well done. Unlike some competitions this isn't an email harvesting exercise masquerading behind a simple question. It's a lot of work to answer the questions but I thought it'd be fun to cover a wide scope and have questions that can't be answered just by trawling Google or Wikipedia. Have a go in the comments below and of course it's like a bike race, you might launch your effort only to find someone else benefits by waiting in your slipstream. Competition closes at midnight Euro time on 28 December.