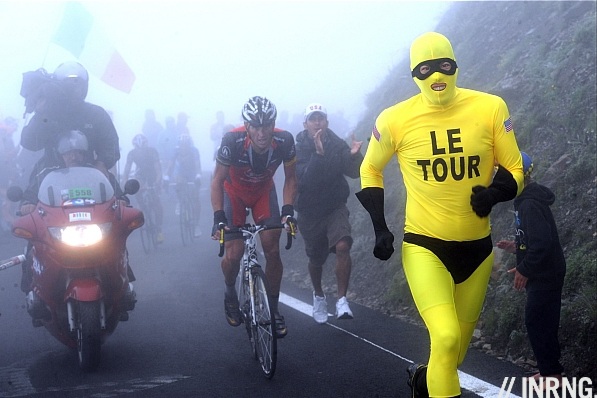 A quick note on Lance Armstrong's lifetime ban which excludes him from competition and also from attending events, including the Tour of Flanders.
Armstrong hardly needs an introduction, he was given a lifetime ban by USADA, the anti-doping agency of the USA, in 2012 along with US Postal team manager Johan Bruyneel as well as medical staff Pedro Celaya, José "Pepe" Martí, Luis Garcia Del Moral and private trainer Michele Ferrari. Cycling's governing body duly recognised the USADA verdict and complies with the ruling, as it has to under the rules of WADA, the World Anti-Doping Agency.
A lifetime ban is just that, anyone given this is excluded from taking part in competition and related activities. So you might know Armstrong can't take part in races, whether as a pro or as an amateur but crucially here he's also excluded from related activities which is what is causing the fuss at the moment as the Tour of Flanders, in their wisdom, have decided to invite him. Here's the relevant UCI rule screen-grabbed:
To simply the text it says anyone who has been banned cannot "participate in any capacity in a Competition or activity… organized by… any international or national level event". So no competition and no activity either. In case you're wondering what "activity" means note the wording about "other than authorized anti-doping education or rehabilitation programs" so it's not related to sports activities, it's a catch-all for anything except a "don't do it kids" seminar.
Given the Tour of Flanders is organising activities in and around the elite men's and women's races then Armstrong and anyone else serving an anti-doping ban has to stay clear, whether it's a ride or an after-dinner speech.
Hasn't the UCI got anything better to do?
There have been several "hasn't the UCI got anything better to do" comments on social media but the answer can surely only be "actually, no they haven't". After all if a governing body can't uphold its own rules then it's not good for much. If it didn't try then WADA would and the UCI could be held up as "non-compliant".
Maybe – maybe not – you feel sympathy for Armstrong and feel he's served enough of a ban and that's fine: but ask for his ban to be commuted to something shorter or even lifted. But as long as he's banned then we can only expect the governing body and others such as WADA or the Belgian Cycling Federation to seek to uphold their fundamental rules in an exemplary manner.
Summary
A lifetime ban is just that and the scope extends beyond competition and into "activities". The very least the UCI can do is uphold its rules. Armstrong may have things to say and some but not all will be listening but it seems odd that the greatest one day race in the world needs to ferment a sideline polemic rather than promoting their essence of their race.