Tinkoff are one of the sport's galactic teams with several star riders. How much does it cost to run a team like this?
The team's annual report and accounts were published online recently at the CVR, Denmark's register of companies. Let's take a closer look at the team's budget, its ownership and operational structures and more.
The team has several star riders in Peter Sagan, Alberto Contador, Rafał Majka and… well next there's Roman Kreuziger, Michael Valgren and Oscar Gatto among others. For all the stellar attraction this is a top heavy squad with some big names and then fewer lieutenants when compared to Team Sky (Thomas, Landa, Kwiatkowski etc) or Astana (Fuglsang, Boom, Scarponi), the kind of riders who are regularly visible and influential in the final phase of a mountain stage or a spring classic. How much does this cost?
Here's the headline budget number €22,837,869 million for the year ending December 2015. This was an increase in over 50% from the previous year and largely thanks to signing Peter Sagan and his entourage. Here is the evolution of the budget since 2011: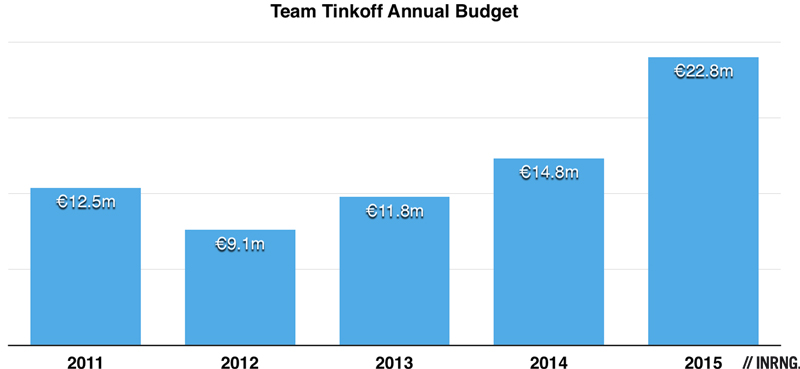 Wage inflation has been a theme in cycling in recent times and just as Team Sky's budget has grown by 10% a year on average the chart above shows an average increase of 16% per annum although obviously the story above is not one of gradual increases but lumpy changes. 2012 was when Oleg Tinkov first came onboard with his Tinkoff brand as a sponsor in the Tour de France and behind the scenes this allowed Bjarne Riis to recruit and retain using this money which flowed into the business for 2013. At the end of 2013 Tinkov bought the team outright.
The signing of Peter Sagan from Liquigas hasn't just hit the Tinkoff budget, it raised the bar across the transfer market. Not only is Sagan victorious, charismatic and marketable, he was signed just at the time the Alonso team was interested in him so the price tension was considerable. It lead to plenty of other riders saying "if Sagan is worth €X million then I'm worth €Y million" and wage increases all around, for example Nacer Bouhanni is now a millionaire thanks to a contract inked while Tinkov and Alonso, although of course his stack of Giro stage wins counted for plenty in the first place.
Where did the Tinkoff money go? Here's the wage bill for 2015 and 2014:
You can see the team has a staff of 97 which presumably includes part-timers like mechanics and soigneurs who might cover for a few races as year as well as the core roster of riders, managers and support staff. The wage bill for 2015 was €21.8 million which accounts for 95% of the team budget of €22.8 million. It's a lot and in fact it's odd because of all the other expenses you'd expect a team to incur in the year from travel, accommodation, fuel and other things like registration fees, admin and legal services. It's not clear where this is accounted for.
Danish? Russian? In fact the team is a chain of legal entities. There's Tinkoff Sport A/S as the Danish structure which owns PCD Luxembourg SARL, a Luxembourg registered entity. This is not explained but for some time several teams have had their legal entities in places like Luxembourg (Astana) or Switzerland (Katusha, Lampre) – all visible on the UCI website – and typically for tax reasons so the flag they fly under is not always the actual country they spend their money in.

In addition a footnote to the account mentions Holbird Group Ltd and reverting to the Danish company website this is listed as the ejere or "owner" of Tinkoff Team. A quick internet search reveals Holbird is a company registered in the British Virgin Islands, the kind of place where you'd expect a Russian billionaire to squirrel away their money. There are two rules in business in Russia: make money quickly and move the money quickly out of Russia.
Another small line in the accounts is that €5.8 million are deposited, ie tied up in other words, in a bank guarantee to cover rider wages under the UCI rules. The UCI requires all World Tour and Pro Continental teams to have a bank guarantee to protect riders in the event of the team folding during the course of a season so that their wages can be paid. A bank promises to meet these liabilities in the event of the team going bankrupt and obviously this guarantee is very expensive. Indeed it's a headache for all teams especially the smaller ones who must front up a large share of their wage bill before so much as turning a pedal for the year and the cost can be prohibitive. When the team stops at the end of the year and wages are paid in full then the guarantee will be paid to the team's owners.
Conclusion
We get the headline audited budget number which is helpful but the rest of the report is not as detailed as Team Sky's set of accounts. It's a a headscratcher: does the team really spend 95% of its budget on wages? Certainly wages comprise the biggest item for all teams but this ratio is so high you wonder if all the other costs associated with running the team like travel, accomodation and more are accounted for. They don't have to be, it could be that a vehicle sponsor covers the fuel and travel and accommodation costs are slapped on a Tinkoff credit card. All this makes comparisons by teams awkward. Still the accounts are helpful and illustrate other things such as issues of jurisdiction and the weight of the UCI's bank guarantee on team finances.