One side-story to the Tour de Suisse was the deal with Velon and the Infront marketing agency to bring live speed, power, heart rate and cadence data from the race to television viewers, as well as added on-bike camera footage. It's been done before but now feels like the start of something that's here to stay but if this is going to happen it requires context, explanation and a little less hype.
On bike cams
We got on-bike camera footage and additional content filmed in and around the th Tour de Suisse, browse it all on Velon's youtube channel. One novelty was splicing the onbike video with television footage to give context, a shot from the helicopter or motorbike helped established a breakaway had formed and we then got images from this group, a direct benefit of the race and teams having a deal because the race owns the TV rights and can supply these. They supplied 26 videos with, at pixel time, an average of 4,300 views per video (a 27th video's just gone up this morning it'd be wrong to include it) which won't be too much of a revenue stream yet.
As well as on the bike footage there were the "behind the scenes" packages. Tiesj Benoot filmed himself eating yoghurt in a hotel room while Tom Skuijns showed us his drying shoes, a step up from watching paint dry. Benoot and Skuijns are interesting riders with stories to tell but these didn't come out. The videos conveyed the boredom and fatigue of a stage race which is all true but it doesn't make for great content and I couldn't be bothered to watch many more, hoping instead that if something funny or insightful came up then someone else would spot it and share it.
On the subject of these videos one nagging concern is the conflict of interest. We watch TV with certain assumptions, there's a journalistic duty to report events as they happen. By contrast Velon's videos are corporate content, videos supplied to entertain but fundamentally to promote. If the forks of a team-issue bike snap during a race would this be shown in a clip? If two Velon riders start fighting would the footage appear in a highlights video? It's worth remembering the distinction between manufactured content and television.
Live watts and HR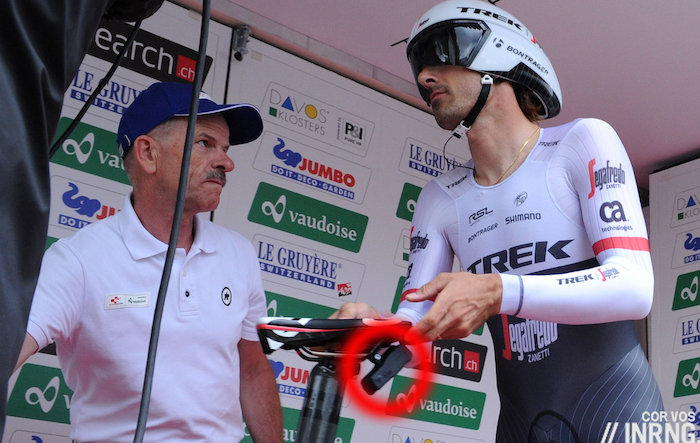 Now onto the live data which involved a box mounted under the saddle – pictured – to collect the ANT+ data signals and beam them on. There's an iOS app for Apple devices, an Android version is promised but Android users need not feel left out as it was all available to browse on the Velon website. It didn't do much for me, the novelty was fun but without knowing a rider's max heart rate, let alone factors like how much this drifts down from rider to rider during the course of a stage race as fatigue sets in meant seeing the exact number wasn't very informative. Ditto for the watts, it was hard to read the number and doesn't have much context without weight. If you missed it here's a screengrab:
As you can see it's a nice website with a clean layout. We get speed in the first column, the watts, heart rate, cadence and a measure of acceleration. Using the example above we know exactly how fast the riders are going while Barguil's heart rate fills the heart-shaped bar to indicate he's well above the 160bpm on the y-axis while van Garderen's watts, represented by the lightning bar, are between 300W and 500W, it's illustrative rather than exact. Presumably no team wants to give up the exact number to their rivals.
What does it tell us? I'm not sure. There could be two divergent uses:
the ordinary member of the public sees a pro cyclist riding up a mountain pass in the same way we see a duck gliding across a pond: it appears effortless. Just as the palmiped's feet are working furiously below the water, a pro cyclist on a 10% slope can look graceful as they spin a low gear while their upper body remains motionless. So a triple digit heart rate signals effort to most viewers and whether it's 150, 160 or 190BPM people can see there's some work going
among ardent cycling fans are those with power meters who can compare their efforts to that of the pros and use the app for a second screen experience. But the bar chart makes it hard to read the number, presumably teams don't want to give up the precise data so hardcore wattage geeks are still going to be using stopwatches and calculating W/kg rather than using this data as it's generally not the momentary wattage that interests but over a duration, whether in a sprint or on a mountain pass
In all cases it's a matter of context. For a big classics rider 325W is tempo, for a small climber it's threshold. Let's take an example from the Davos TT stage:
Ion Izaguirre, of @Movistar_Team is the Stage 8 winner of #TourDeSuisse and here's the story of his day in numbers. pic.twitter.com/XGRYvM77pX

— Velon CC (@VelonCC) June 18, 2016
Was a cropped screengrab of an Excel spreadsheet "the story of his day in numbers"? I'm not so sure, especially as no context was given. Did Ion Izagirre really average just 340W to win? Probably but this doesn't tell us much given it must be the mean wattage from the duration of his ride so it includes freewheeling down the descents and through corners, ie sustained periods at 0W. It's why anyone using power tends to look at Normalized Power for the duration. It would be more interesting to know if Izagirre won the stage by smashing it up the climbs or being the most aero, or even daredevil, on the descents. There's a story to be told here but it's not in an Excel screengrab.
PR and presentation
The telemetry was heralded as a first and a press release said "history was made" only here's an article by DC Rainmaker about live data telemetry from the 2010 Tour de France which explains the tech much better than Velon's own video titled "How Velon's capturing the data" which shows someone holding a box in front of a bike on a workstand and a mechanic bolting it to the bike and leaves the rest to your imagination.
The pledge in a past press release to "multiply the impact of Social Media through joint communications by the 11 WorldTour teams" meant messages being repeated 11 times each on social media channel. If you follow one or two teams on social media it's fine but follow all the teams and it feels like a filibuster.
Congrats to @elpumaDarwin for his Stage 5 win at @tds. Find out some jaw-dropping stats from today's #Velon data! https://t.co/8Eecpr4S7Z

— Velon CC (@VelonCC) June 15, 2016
There was also hype and clickbait, for example a tweet promised "jaw-dropping stats" and linked to an article saying "maximum descent speeds of the 11 tracked riders made for incredible reading" and reported top speeds between 75-84km/h which sounds ordinary for a ride in the Alps rather than "incredible" or "jaw-dropping".
Wish list
Having reviewed the video and data content it feels a mean to criticise what's obviously a start rather than a finished product, with Velon CEO Graham Bartlett is quoted as saying "We know we have lots more to do for you and we're working hard on it already" so here's a constructive wishlist:
More context for watts. This bar chart doesn't tell us much and there's lots to experiment with here, a trade off between informing the fans and informing rival team cars. For example could the Watts be expressed as W/kg to enable comparisons? Maybe a second reading for the last minute or five minutes too or just some more smoothing across a few seconds? Why not dump all the data and let the crowd find something interesting?
Geo-location of individual riders can't come soon enough. When Andrew Talansky was dropped on the last stage we didn't know where he was or the time gap between him and Warren Barguil with the podium place at stake. If the app allowed you to select two riders and get an instant time gap between them this could fill in the crucial info the TV broadcast can't supply
A caption for the on-bike video to say from whose bike the images are coming from
Why not stream radio-course live from the chief commissaires's car?
Can team race radio be made open?
Conclusion
It's been done before. Now it feels like data telemetry is here to stay. This is only the start and what form it takes remains to be seen, seeing watts in a bar chart was nice but lacks context. "Jaw-dropping" claims of speed turn out to be perfectly ordinary and the danger is a promising idea is being oversold: if the technology is ready, the teams' ability to package and explain it is lagging which is frustrating because if anyone should know what the watts mean it's surely the teams.
Our world is increasingly filled data flows, the successful part is sort the signal from the noise, to find the patterns among the crackle. Here it means finding new ways to tell the story of the race and we're not there yet.