The moment the race was lost? Steven Kruijswijk started the day's stage to Risoul with a three minute lead on Esteban Chaves and more than four minutes on Vincenzo Nibali. With his form and recent performances this looked more than comfortable.  A crash on the snowy descent of the Colle dell'Agnello and a long chase,saw him finish the stage almost five minutes down on Nibali and surrender the maglia rosa to Esteban Chaves who had just lost time to Nibali on the summit finish to Risoul.
The 2016 Giro d'Italia was an unusual contest marked as much by illness, injury and accident as by tactics and attacks. No sooner did a rider occupy the top spot, whether as the lead hope for the overall classification or the fastest sprinter did they suffer misfortune or decide to pull out.
– "Has he got a weak spot?"
– "Descending, yes, perhaps and he's always had a bad day too. Until now he's been able to stay hidden, he can't any more and he doesn't have a big team"
Those were the words of Nibali during the second rest day press conference when asked about the new race leader Kruijswijk. With hindsight they're prophetic but at the time they sounded optimistic, proof that Nibali did not think he could take time. After all Kruijswijk had ridden the perfect race, he'd avoided trouble on the flat stages and been present and correct in all the small skirmishes. Then came Stage 14, the Dolomites stage to Corvara which Kruijswijk take on a new dimension. Not only did he take over the race lead, he looked comfortable with it. The next day he took more time in the mountain time trial and then came the rest day which left Nibali and others wondering if there was any way to beat them. Talk of trying something on a descent rhymed with "hope dies last".
Things were going to get even better for Kruijswijk the day after the rest day. On the short and intense stage to Andalo he was isolated yet put time into his rivals, this was like a film fight where people gang up on the hero yet he inexplicably manages to take them all on and triumph.
So far so good and by now – having ridden the Giro six times – the Italian media were finally learning to pronounce Kruijswijk. "Stevie Wonder" started Stage 19 in a commanding position. Only the highpoint of the race was to be his low.
He crashed, he needed a new bike, he was injured, he didn't have a team mate and he probably slept badly too. There were questions about whether the riders should have waited for Kruijswijk but the Dutchman wasn't asking them, at least not in public: he acknowledged that he'd made a mistake and paid the price.
Could Kruijswijk have won the Giro?
The Kruijswijk crash counter-factual isn't unreasonable. Without going too far down the rabbit hole of speculation it seems probable that he could have won. Kruijswijk had a three minute buffer on Chaves on the morning of the stage and over four minutes on Nibali and had been able to match them in the mountains so far. Just prior to The Crash Valverde was distanced, so Nibali was climbing back onto the podium so Kruijswijk would have enjoyed a free ride for much of the way to Risoul.
Yet there were signs of looming trouble for Kruijswijk on the Agnello. As they crested the Cima Coppi point Nibali had the lucidity and luxury to pull a jacket on. This was little more than a plastic sheet but when you're soaked with sweat and embark on a 70km/h descent past walls of snow and through damp clouds it's almost a comfort blanket. The jacket didn't make Nibali faster but maybe it just showed he was more alert than Chaves and Kruijswijk. Was Kruijswijk on the edge here, frozen and fatigued? It's a hypothesis, no more.
Like many accidents, it's never one failure but a series of problems that compound a hiccup into a tragedy. What made things worse for Kruijswijk was his isolation, to crash and then to need bike change but with only neutral service for help at first was problematic enough but not having a team mate to help on the long descent to Guillestre. It meant almost an hour of chasing and if he got help among a group of riders including Bob Jungels he had little rest and duly paid the price on the climb up to Risoul, those cattle-yoke shoulders began to sag for the first time. Because the race had crossed into France RCS had to leave their mobile X-ray unit behind so Lotto-Jumbo had to drive him to a hospital which would have only added to the fatigue.
Meanwhile Nibali cracked Chaves on the final climb in each of the last two mountain stages. The Colombian cherub looked done for. There was talk of bronchitis, la bronchite in Italian, or a chest cold in plain English. Whatever the cause he too slumped on the climb with Nibali taking 53 seconds off him in Risoul. It left Nibali with just 44 seconds to take back the next day and his tail was up. With some help from his friends at Tinkoff who pulled hard on the Col de la Lombarde – a Specialized pact or a Bahraini job application from Manuele Boaro and Rafał Majka? – Astana upped the pace until Chaves was frowning and Nibali rode away into Italy with the maglia rosa waiting for him.
Rewinding to Apeldoorn

The opening three stages were a success for the race with big crowds and home rider Tom Dumoulin taking the opening stage and the first of six days in the race lead. He looked confident and his move to counter Vincenzo Nibali's hapless attack on the road to Roccaraso led to increasing speculation he could go all the way. It seemed far-fetched, Dumoulin played it down and in time he left the race with a saddle sore. Intriguingly he moved house the other day, not the sort of thing you do on a whim, so was he too planning all along to leave the race?
Etixx-Quickstep had a stellar Giro. They have the Belgian heritage that ties them to the classics but their roster has become far more eclectic and they succeeded on several fronts. Marcel Kittel took two sprint wins and it made it look easy to the point where all the sprinters will be scratching their heads as to how to beat him in the Tour de France and its opening stage with the yellow jersey waiting for the victor. Gianluca Brambilla had a stage win and a spell in the maglia rosa, even defending it during the Chianti time trial and Matteo Trentin took a stage. The big performance was Bob Jungels who took the race lead and finishes 6th overall with the white jersey. He was solid but the high mountains were not for him. Still 23 he's now going to face the tricky question of whether to become a grand tour contender, it is tempting and lucrative but he could easily fill a different niche as a one week stage racer who can do it all except the high mountains.
Lotto-Soudal had great time with three stages for André Greipel and one for Tim Wellens. Greipel bailed while wearing the red jersey, a decision that caused obvious debate. At least he was honest rather than feigning an injury on the first climb as a pretext to get on his pre-booked flight home. But it speaks to the Giro's insecure status. It remains one entry on a plastic calendar that is moulded by teams and riders according to commercial imperatives.
The Dutch-Belgian theme continued with Lotto-Jumbo's surprise Primož Roglič, second in the prologue by a fraction of a second and then first in the Chianti time trial. As the picture shows he got dry roads when others faced a downpour and as the Slovenian stood on the podium to collect his prize the sun came out again.
The weather upset the script. Those expected to take time like Ilnur Zakarin and Rigoberto Urán lost minutes while the climbers fared well. Nibali was the best among the GC contenders but only took seconds on his rivals.
The story was that Mikel Landa was going to lose time in the Chianti time trial and then win it all back in the mountains. Only he did the reverse, a great time trial and only to quit the race after being dropped up the next mountain after suffering from stomach problems, his race was over. In a race dominated by the big teams neo-pro Guilio Ciccone of Bardiani-CSF won the stage and an orphaned Team Sky had to find other goals. Mikel Nieve took a stage and the mountains jersey with his geriatric pedalling style.
Diego Ulissi took two stages, his second win after the race had split apart on the Forcella Mostaccin. Bob Jungels and Andrey Amador had attacked and on the hilly run into Asolo Ulissi zipped across to them and able to hitch a ride on the back of two riders looking to take time rather than the stage.
"Il Flop Di Nibali"
Nibali had a torrid time along the way. There's the background project of this Bahraini team, a distraction even if he's trying to leave it all to his agent. Two deaths marked Nibali, first that of Rosario Costa, a 14 year old boy who rode for Nibali's junior team in Sicily, run over by a truck and Nibali was given the news on the day of the Chianti time trial. Tuscan priest Don Francesco Pieraccini who would ring the bells of his church in Mastromarco – Nibali's adopted home in Italy when he and his father emigrated from Sicicily –  whenever Nibali won. The media were giving Nibali a hard time, La Gazzetta and La Stampa both had front page headlines of "Il Flop" even if La Gazzetta's columns still showed signs of belief. Maybe they needed to in order to keep their Italian readership interested but they've seen Nibali race enough to know he can turn things around.
Several of Nibali's bad moments had a self-inflicted element. The first mountain skirmish in Roccaraso saw him attack into a headwind on a gentle slope. At the time this was attributed to team orders but it seemed unreasonable to attack and he paid the price, being countered by Tom Dumoulin and losing a few seconds, the time gap was small but it suggested something was wrong and the media pressure began to build.
The Dolomites tappone to Corvara saw Nibali attacking on the Valparola climb which is an uphill drag at 5.8% average. Nibali never got far with his attacks. Kruijswijk and Chaves paced themselves across to him and then countered to leave Nibali floundering solo. The two were able to collaborate and the gentle slope and the ensuing non-technical descent suited a group of riders rather than a lone rider. Nibali lost time this day and presumably lost time the next day because of this, he effectively did two back-to-back mountain time trials. Come the mountain time trial and Nibali donated yet more time with a bungled gear shift and a slow bike change.
Day By Day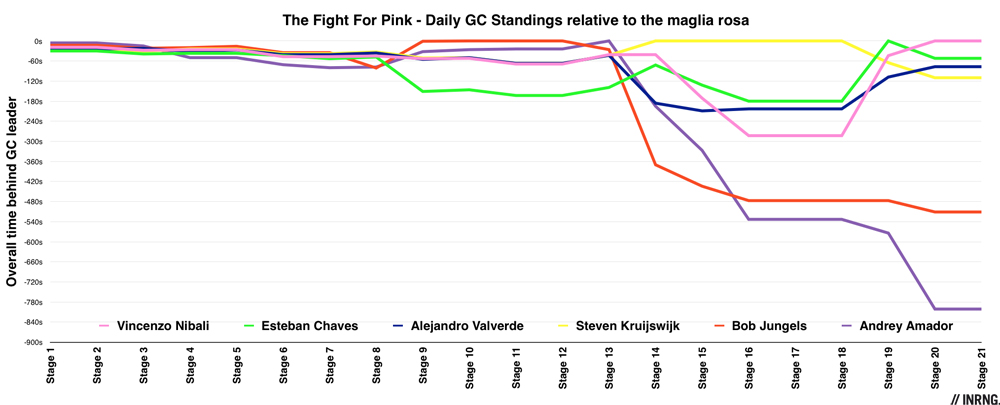 The chart shows the daily GC standing, in seconds behind the overall leader, of the top four riders plus Jungels and Amador who feature as maglia rosa wearers who finished the race. As you can see the yellow line of Kruijswijk shows just how consistent he was until Stage 19 while the green trail of Chaves is more volatile, he was losing time on some of the flatter stages too. Jungels rode and excellent race and his six minute loss in the Dolomites hit his chances hard. Not that he could have won but he was consistent at other times. It's the pink line of Nibali that shows his gain on Stage 19 was transformative and only left him with a small deficit on Chaves to turn around the next day. Alejandro Valverde also rode a steady race, what he lost in the high mountains he took back on other days and Kruijswijk's crash gifted him the podium finish.
Is The Shark Fishy?
There have been questions from readers and followers about Nibali's performances: are they suspect? Who knows? I don't. In some ways it be nice to inhabit a more certain world where I knew, or rather claimed I knew either way, just by looking at the race. A lot of this the suspicion is down to the toxic presence of Alexander Vinokourov who still gives many the creeps, this is compounded by the team's history. The performance estimates so far show some fast climbing times for the race as whole but Nibali's efforts don't stand out among these. After all he was repeatedly losing time to his rivals on some climbs which isn't what you expect a doping programme to do; unless perhaps you think his rivals were doing more. When Nibali took back time to Risoul he was apparently two minutes slower than his PB up this climb set in the 2014 Tour de France under different conditions (in a group, it was warmer, earlier in the race). If you like to check these things it's worth waiting a few days until French website chronoswatts to put out its estimates and see if any "radars" are flashing but until then there's not much to go on.
Musical chairs
It's not been live on TV every day but a lot of business is being done behind the scenes. La Gazzetta broke news of a new Qatari team aiming for the World Tour but there's been nothing more since, it sounds improbable but if it's real it's a huge deal. Meanwhile the Bahrain-backed team is gathering speed and there's talk of a link with Lampre: it's always easier to buy your way in rather than start from zero. IAM announced they're pulling out, a pity but at least they didn't string out the process and leave everyone high and dry. Meanwhile there's no news on Tinkoff but Alberto Contador could be interested in recovering the team. Meanwhile bike and clothing sponsors are juggling these projects all while riders big and small are signing for new teams; the Cycling Podcast said Georg Preidler's off to Orica. In the meantime there's no word on what the UCI World Tour looks like.
The Revelations
With hindsight last year's riding by Kruijswijk was telling, at times he even hard the better of Contador in the final week. Who was impressive this time? There weren't the same three week heroes. Bob Jungels is mentioned above already and Joe Dombrowski was climbing well but finished an hour and half down as he was on team duty. So there were no breakthrough GC riders.
Otherwise Guilio Ciccone took an impressive stage win and Alexander Foliforov shocked people with his mountain stage win; he'd excelled as an U23 but so do many Russians only to vanish. Less in the revelation category but Moreno Moser showed up again and Gianluca Brambilla is delivering results he promised years ago as a neo-pro. Orica-Greenedge's Damien Howson impressed. Meanwhile both Esteban Chaves and Ilnur Zakarin showed they can cope with three weeks of racing. With more luck, skill and cunning Zakarin could have finished on the podium; he didn't but maybe he will someday soon.
2017?
It'll be the centenary edition and race boss Mauro Vegni promises an all Italian route with talk of a start in Sardinia and a visit to Sicily is possible too, good for the 100% Italian theme but handy to attract Fabio Aru and Vincenzo Nibali back. This year's race skipped a lot of the legendary climbs, presumably so that next year's route can be a greatest his compilation tour. The startlist is always a concern but this Giro ends on a note of unfinished business. So many fell by the wayside that they'll be eager to return in 2017 in order make amends. Chaves, Kruijswijk, Landa, Uràn, Zakarin and more all have unfinished business.
The Verdict
All the theatre of the Giro and more. The three weeks featured aggressive racing and action but the overall result was as much if not more defined by accidents, illness, misfortune and withdrawals but staying upright and healthy are prerequisites for stage racing. The sprint stages were lively even once many had gone home by choice or not and they were hotly contested, just see the Turin sprint where Giacomo Nizzolo was disqualified. There were exciting breakaway stages and drama in the high mountains and the maglia rosa changed shoulders eight times. The race being decided on the final climb of the final mountain stage must have had the race owners purring with delight.
Long after his ribs have healed Kruijswijk will be sore about what happened on the Agnello, one mistake cost him so much. Vincenzo Nibali was aided by strong team who helped break down rivals but the Agnello incident changed everything, turning an insurmountable deficit and looming defeat into a shot at victory. He wins his second Giro and his fourth grand tour.