Did Arnaud Démare cheat his way to Sanremo? Even asking the question is explosive as it's a rhetorical device, a loaded question. The Milan-Sanremo winner has seen his win tarnished by allegations first aired in La Gazzetta Dello Sport from two riders that he was driven up the climb of the Cipressa in order to get back to the peloton after his crash. So far there's no proof but the story is interesting for the way it shows us how internet polemics and conspiracy theories work.
Observing Démare's Strava file there's nothing abnormal. The speed and cadence show he was pedalling all the way up the Cipressa but, in what will be a theme in this piece, this isn't proof of much either way. When you take a "sticky bottle" you usually pedal given the bidon is not a good handhold. Still there's no "smoking gun" and we're looking at data and trying to find patterns but none of this can prove much in isolation. Often the claims say more about the claimants than the case at hand.
Nevertheless the Strava file could have been doctored say others but this could probably rumble given it has GPS and time and we know Démare's start time at the race and his finish time (exactly 5.00pm) plus can work out where he was at various points along the way. So any toying with his chase to the Cipressa and over the top would have to be balanced elsewhere. So if he was 20 seconds "too fast" up the Cipressa they'd have to add 20 seconds back elsewhere and this can be checked and rumbled. Short of accusations about distorting spacetime.
As well talk of tampering there are accusations of missing power or heart rate data but this is not unusual or unprecedented. Démare doesn't upload these data, there's no power for his sprint win in Paris-Nice nor his training rides in his native Picardie region. Démare rides with an SRM power meter and could share the .srm file but there's an element of having to prove his innocence. Will every other pro share their files so they can be parsed for cadence pauses?
Last night Dutch journalist Martijn Hendriks started to look at the Strava file and even this clear analysis has confused. Take the "no cadence for nine seconds" bit which has been doing the rounds as evidence of a nine second push up the climb. Look closely and the timeline shows the crash, then the nine second without cadence… and then the Cipressa climb begins. So there was no nine second break on the Cipressa. Zooming in the nine seconds happens on the Via Aurelia just where the road drops into San Lorenzo al Mare and goes underneath the railway line, a descent. It's possible Démare got a sticky bottle but it's possible he was freewheeling downhill on someone's back wheel too.
Démare's facing "prove you're not beating your wife here" questions, allegations that try to make him dance to the tune of the accusers rather him than saying "bring me your proof". We've seen it before, Chris Froome went down this avenue with his VO2 Max test only to find his accusers waiting to ambush him with new questions. An SRM file and a VO2 Max test won't prove anything, it just helps tell a story.
To the most frequently asked question in the inbox today: how can a sprinter like Démare be faster than a climber like Visconti, the Giro mountains prize winner, up a climb like the Cipressa? It's both a loaded question and a great example of selection bias. Two for the price of one. Yes Démare's Strava time is three seconds faster than Visconti up the Cipressa and yes Visconti is the Giro mountains prize winner. Only what's been forgotten is that the Italian wasn't the first over the top of the Cipressa, that glory went to Team Sky's Ian Stannard who led the Italian as they passed Cipressa's church through the bottleneck; you might remember the back of the peloton getting stuck here on Saturday. Only since Stannard doesn't use Strava there's no record of his online climbing times and leaving us with the "how did Démare beat the climber" questions. If Ian Stannard used Strava then "70kg Démare two seconds faster than 80-83kg cobble eater" would not have the same accusatory frisson. It's also an example of the loaded question, a common courtroom and political interview ploy. Again none of this clears or convicts, it's just interesting to watch people using it.
Regarding the rules FDJ's DS Frédéric Guesdon say there was a motorbike commissaire nearby so there could be no taxi ride for their rider. Of course there's an element of "they would say that, wouldn't they" but it should be easy to find out who the commissaires are and who was monitoring the "barrage" of cars behind the peloton. Guesdon does say Démare got a bottle but it's not clear where it happened, something which could be followed up. Reverting to the Strava data, there's a moment where Démare's speed picks up, it's the same place where Visconti attacked, just after the Lingueglietta bend and for six seconds his speed lifts: was this the sticky moment? Either way it's up to the teams to make a formal complaint here rather have a trial by media and so far there's no report of any UCI investigation.
Unsurprisingly witness credibility is another buzz topic as the courtroom classic gets deployed online. After Matteo Tosatto and Eros Capecchi made their claims in La Gazzetta their words have been analysed in the third degree. We should remember the context, imagine you are interviewed after a 300km race, how coherent would you be? The point isn't to rubbish their claims, just to suggest the two riders are not giving courtroom quality testimony in calm conditions under oath. It explains why Capecchi said Démare "came past at 80km/h" he probably meant, no pun, a figure of speech, to illustrate what he saw. If the Strava data are accurate then Capecchi may have got the speed wrong but this doesn't affect the underlying claim Démare "had grabbed onto the right of the team car" said the rider. This doesn't stop some from rubbishing Capecchi's claims along the lines of "if he can't get the speed right then he can't be trusted" but this is a logical fallacy, tackling the play and not the ball. Few of us are good at judging the speed of a moving object but we'd surely know a rider grabbing a car when we see it. Others have attempted to undermine Capecchi by saying he's an Astana rider, a baggage loading attempt while some retort "what about Nibali?" citing the Astana team leader's ejection from last year's Vuelta a España after getting the stickiest of bottles. So what about Nibali? If Capecchi has made a serious allegation it remains serious, regardless of the antics of others.
Meanwhile in France there's been a curious response among many. Some say Démare's win has upset certain teams and the Italians, that Gazzetta is trying to dirty Démare. There's been a Gallic circling of the wagons which looked odd with some experienced journalists rushing to defend Démare on Sunday before he'd even spoken on the matter later that day.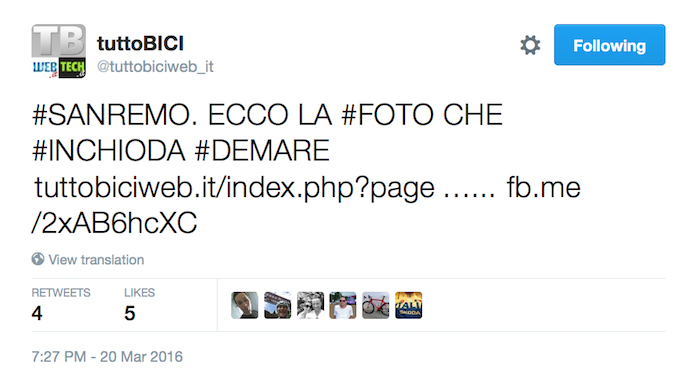 Perhaps the most amusing, but also worrying, aspect has not been a logical fallacy here or some selective bias there but downright nonsense. As a sign of how out of control things got Italian cycling website Tuttobici proclaimed in capitals "Sanremo. Here's the photo that nails Démare" linking to a page on their website with a grainy image of an FDJ rider alongside the team car. Only a saccadic glance could have told us it wasn't the Cipressa: the road is wide and flat and the buildings don't match anything on the Cipressa. Indeed the image was taken on the Passo del Turchino, some 140km away. Tuttobici made a mistake, it's human but it's serious when you're accusing someone of cheating and, at pixel time, they've yet to correct it. The point here is that nonsense gets traction and in no time the claim was spreading around social media, even Etixx-Quickstep team manager Patrick Lefevere, someone who you'd think knows what the Cipressa looks like, was mischievously tweeting the story.
Conclusion
Is Démare innocent or guilty? Who knows, there's been a claim but nobody has the evidence. It's not for a mere sports blog to pronounce a verdict. That's why we have the police and a judiciary, it's why we have the UCI and commissaires. Short of a formal complaint and follow-up Démare crashed, chased, got back on and won the sprint. Maybe he got a little assist but that's what happens in cycling, there were stage winners in the Tour de France being filmed getting sticky bottles up mountain passes and prominent spring classics winners getting boosts from the team car to help them get back to the breakaaway they'd crashed. No I'm not going to name and shame, just as the accusers and defenders making the all points above are not named as this piece is more about the how and why events get treated by social media and media rather than the who.
Biases, fallacies and even outright lies appear and all these devices are the nutrients of conspiracy theories. We're no better than our ancestors, they had pitchforks and we have smartphones. The worrying thing is that this is only Milan-Sanremo, a bicycle race on a Saturday afternoon. What happens when it comes to judging someone for a crime in court, can a jury be swayed so easily? What about electing a government, can a politician manipulate the media and the crowds so deftly? Is that a rhetorical question?