"They stole my Tour, they're bastards"
That's 1956 Tour de France winner Roger Walkowiak talking about the Parisian newspapers who criticised him for winning the race. To this day "winning à la Walkowiak" is a term used for an easy or an unexpected win, often in cycling but sometimes beyond, a French politician can triumph à la Walko too. With Paris-Nice passing by the city of Montluçon today, birthplace of Walkowiak, it's a good day to correct this phrase. What if à la Walko really meant to take an impressive win at the end of a great race?
Find a map of France, put your finger in the middle and you'll hit Montluçon. It's here where Roger Walkowiak was born in 1927. He celebrated his 89th birthday last week and now lives in nearby Vichy. The son of a Polish factory worker and a French mother, Roger grew up in Montluçon when it was a busy industrial city and children used to race bikes around the town.
He joined the Dunlop factory club. The rubber company has long been the town's biggest employer and today its crumbling factories are still visible. Walkowiak enjoyed success in the amateur ranks then did his military service. On his return he struggled to find work and started repairing bikes and racing, doing enough to turn pro for the Riva Sport-Dunlop team.
Walkowiak's first pro season in 1950 was not an auspicious start, he caught a cold six times in five months. Things improved in 1951 and in a stage of the Circuit des Six Provinces – an event later merged into the Critérium du Dauphiné – he crossed over the Col de l'Epine first before the descent into Aix-les-Bains only to get beaten by Gilbert Bauvin, a name who'd become a thorn in his side later. This and more was enough to get him a ride in the Tour de France. While the sport had its nascent trade teams the Tour picked national teams and regional teams from France. It sounds parochial but it reflected the supply of riders as almost the entire the peloton came from France or countries along its border; plus the Netherlands and minus Germany. The British were seen as exotic and got the media coverage we see applied to Chinese or Japanese pros today; in 1956 the sole British starter Bryan Robinson, invited by a French regional team, was labelled "Phileas Fogg" by the media as if to suggest how far he'd travelled.
Walkowiak's career progressed with a win here or there and some solid places like second in Paris-Côte d'Azur which we call Paris-Nice today and a top-10 in Milan-Sanremo. His ride in the 1955 Dauphiné impressed many, he was almost the equal of Louison Bobet, then France's best, on all the main climbs including Mont Ventoux and finished second overall. But he never made the French national team for the Tour de France. Bobet himself said Walkowiak deserved a place in the national team. Yet he wasn't picked for the French team and rode for regional Nord-Est-Centre team run by Sauveur Ducazeaux and abandoned on Stage 11 with a saddle sore.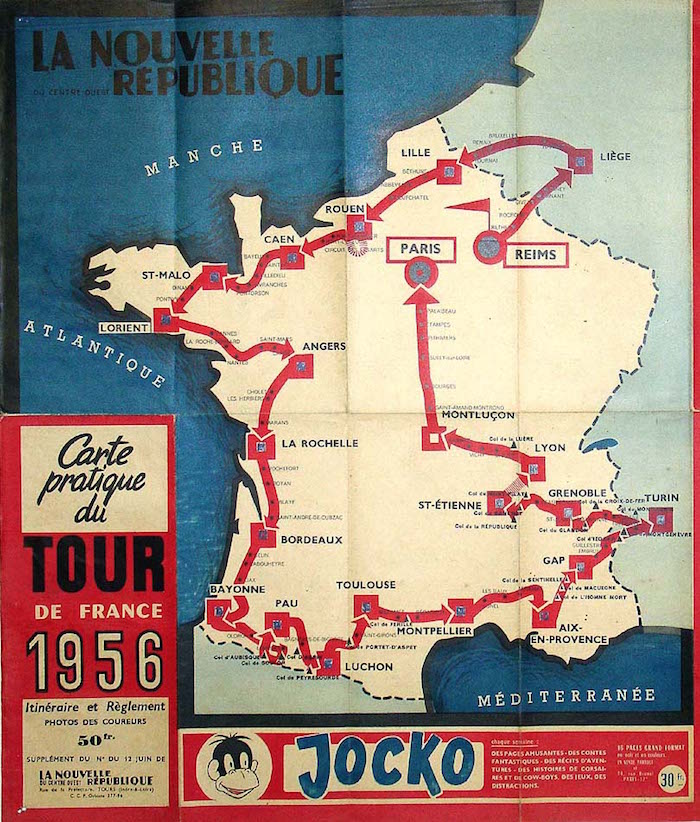 1956, the big year that nearly wasn't
Walkowiak may have won the 1956 Tour de France but merely starting proved awkward. Earlier that year Sauveur Ducazeaux was managing the French team in the Vuelta a España, then run in late April, and he picked Walkowiak. Things started well with a team time trial win and then a stage win for "Walko". But their leader Bobet wasn't having a good Vuelta and pulled out. Other French riders quit and Walkowiak joined the exodus, taking the train home one morning instead of starting the stage. Ducazeaux blew his top and swore he'd never select him again. Come July and Walkowiak missed out on the French national team and qualified for the the regional Nord-Est-Centre team… managed by Ducazeaux. It took the intervention of Raphaël Géminiani and a handwritten apology by Walkowiak to start the race. He started but others did not, with Gino Bartali, Fausto Coppi, Ferdi Kubler, Louison Bobet, Hugo Koblet and Jean Robic all absent for varying reasons. Federico Bahamontes and Charly Gaul were tipped to win but the two climbers faced a less mountainous route ahead of them.
The race began as predicted with André Darrigade of the French national team winning the opening stage in Liège, wearing yellow and burying his rivals. Bahamontes, the Eagle of Toledo, got plucked alive and lost 30 minutes on one flat stage; Gaul surrendered 10 minutes on another flat day. Walko meanwhile was regularly at the front of affairs and Stage 5 placed one second ahead of a group of 20 riders who'd all put ten minutes into Bahamontes and 15 minutes into the field. The next day Walko made another breakaway that put over five minutes into the next group and 11 minutes on the bunch.
Stage 7 was the decisive day. On the roads from Lorient to Angers Walkowiak infiltrated a breakaway of 35 riders that finished 18 minutes ahead of the bunch led home by a dejected Darrigade. While Italy's Alessandro Fantini won the stage, Walko took yellow, not only did he finish far ahead on Stage 7 but he'd built a lead from being in the other successful breakaways in the race already and was the best placed of all the 35 riders in the move. Walko took yellow that day but the story was the "Waterloo" of the French team, their crushing loss rather than the regional rider's gain. L'Equipe's Antoine Blondin, the playwright who chronicled big sports events for them, labels Walkowiak a "poujadiste égaré dans le Bottin mondain" which almost impossible to translate but think of a "petit-bourgeois lost among aristocrats" and either way Blondin mocks this modest rider leading the great race.
Walkowiak was part of this maxi-breakaway but so were Belgian Jan Adriaensens and Dutchman Wout Wagtmans and they'd go on to each enjoy a spell in yellow as Walkowiak lost time on them in the Pyrenees. He got his climbing legs in the Alps and, over the Izoard, matched the best that Bahamontes and world champion Stan Ockers could throw at him and the next day in the Alps he took back the yellow jersey and rode into his home town of Montluçon in yellow. He faced more attacks and Gilbert Bauvin was closing in especially when Walkowiak crashed and had to chase on the stage to Lyon. Even the last day wasn't easy. These days it's a victory parade but in 1956 they rode from Montluçon to Paris, today a four hour car journey and back then it meant a stage that lasted over 9 hours. "Bauvin and Adriaenssens attacked me 20 times" said Walkowiak. Whether the count is exact we don't know but it shows the fight went to the end.
Walkowiak won his Tour and if the win was unexpected the result was settled. L'Equipe praised a powerful Walkowiak who rode better than everyone else in a lively race. Here's Blondin again in his final column:
"The most athletic Tour de France we've ever known… …A moral ending fit to give satisfaction to every reasonable person… His win confirms a fact. Walko was the bravest, the most constant, the most healthy."
L'Equipe and the Tour came around to Walkowiak but was this an appreciation of his ride or a commercial need to promote the winner? Blondin, no stranger to a bottle or three of wine, was probably the last person to take the corporate line, in fact his piece praising Walkowiak criticised other aspects of the race. Later on the Tour organiser Jacques Goddet even dedicated his memoirs, L'Equipée belle, to Roger Walkowiak so much did he like this edition of the race and its winner. Other newspapers, newsreels, radio and television were less generous and Walkowiak began to lament his win, "I felt as if public opinion thought the Tour was too important for a rider like me".
From Tour champion to tourneur
Walkowiak's career continued as it had been before: without further crowning success. He returned to the Tour de France in 1957 only to see Jacques Anquetil emerge as a star, the darling of the public. In a race with a high attrition rate he abandoned on Stage 18 becoming one of only six "defending" champions of the Tour to quit (Froome 2014, Hinault 1980, Thévenet 1978, 1976, Bahamontes 1960, Anquetil 1958). Walko soon quit cycling too. Out of work he returned to factory where he was once an apprentice and resumed his career at the lathe, a tourneur. He later tried his hand at farming. He avoided the media for decades until an interview with L'Equipe in 1985. "They stole my Tour, they're bastards" he said about the Parisian media who he accused of underestimating his win and the effort involved.
More recently in an interview with French TV he breaks down in tears when asked about his Tour de France win, still hurting at the accusations that he won the Tour de France thanks to one flat stage. He says he never talks about the win with his wife either, the subject is too hard to broach. A more recent interview by Bicycling's James Startt sees Walkowiak telling the story from his side.
What if Walko had lost?
Historians and sports fans share the love of the counterfactual, the idea of events taking a different turn had someone done something different. What if Gilbert Bauvin had won? He was the leader of the French national team but hardly a great champion either. Maybe the Tour would have made him into something bigger but his palmarès prior to the Tour was only marginally superior to Walko's thanks to a few wins and two spells in the maillot jaune. He too made the maxi breakaway that gained 31 minutes. So maybe we would have a win "Bauvin style"? That said he was still more of a media darling than the modest Walkowiak.
Conclusion
Did Walkowiak get lucky? Yes because for various reasons several star riders did not start the 1956 Tour de France. Yes because he joined a breakaway that to took 18 minutes on Stage 7. But you make your own luck. He was in the succesful breakaway for two straight days before the 18 minute move which meant he'd already gained time on rivals including those that made the maxi-break while the pre-race favourites were floundering in the cross-winds.
When the Tour went into the Alps he climbed back into the yellow jersey and was matching the best on the big climbs. His lack of style and his self-effacing modesty didn't endear him to the media but he won a race with a record average speed.
The race had big breakaways staying away. The yellow jersey changed shoulders eight times with Walkowiak losing the lead only to win back the yellow jersey thanks to some valiant riding. If only every Tour could be as exciting.