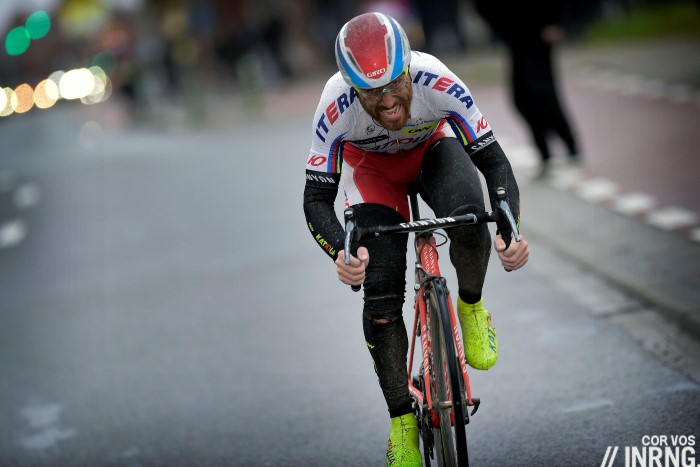 The UCI has announced that the Katusha team won't be suspended after all. Despite two notifications it has decided to apply a proportionate response, judging that Luca Paolini's cocaine use was "social" and therefore it could be set aside for anti-doping.
It's debatable how the UCI got here under its own rules but it could be the right move given the UCI's rule on team suspensions isn't part of WADA's Code so this collective punishment could fall over if put under legal pressure. Not that the team's worries are over, if they remain members of the MPCC then they could still be sitting out some World Tour races soon.
Back to the rule at the middle of this, once again here it is:
7.12.1 If two Riders and/or other Persons within a Team registered with the UCI are notified within a twelve-month period of an Adverse Analytical Finding for a Prohibited Method or a Prohibited Substance that is not a Specified Substance, or receive notice of an asserted anti-doping rule violation arising from an Adverse Passport Finding or Atypical Passport Finding after a review under Article 7.5 or other asserted anti-doping rule violation as per Articles 2.5, 2.6, 2.7, 2.8, 2.9 or 2.10, the Team shall be suspended from participation in any International Event for a period determined by the President of the UCI Disciplinary Commission or a member of the Disciplinary Commission, taking into account all the circumstances of the case.
We know Luca Paolini and Eduard Vorganov's A-sample constitute two "notifications". The UCI's response is:
"The text of the article [7.12.1] refers to the fact that the decision must take into account 'all the circumstances of the case'".
Does it? It's down to reading comprehension but the rule appears to state two notifications means the team shall be – not can be – suspended, then the President or a member of the Disciplinary Commission must decide on the length of the ban, "taking into account all the circumstances of the case". Or is this final turn of phrase, the "all the circumstances of the case" part, about to the suspension or the period of suspension? I'd read it to be the period, the UCI sees it the other way.
The next element of the UCI's decision says:
"With regard to the [Paolini case, it has been] established that the rider's taking of cocaine was not related to an intention to influence sporting performance but was rather taken on a "recreational" basis"
The UCI also labels cocaine a "social drug". Only Paolini told La Gazzetta dello Sport "I was alone" suggesting no social use and he said the problem stemmed from an addiction to sleeping pills which began as part of a recovery plan to ensure rest after hard training. Team mate Alexander Kristoff compounds this saying "I knew that he was struggling to sleep at night and to wake up in the day". One of Katusha's team doctors concurs, telling La Gazzetta (my translation):
"Could Paolini hide the sleeping pills' effect? Yes, with coffee. He would take his coffee machine with him to races and before coming down to breakfast he'd drink five to six cups, 180-200mg of caffeine. This helped fight the drowsiness that sleeping pills leave. But then he always had to up the doses, like a cat chasing his tail."
This suggests the cocaine abuse was medical and related to addiction rather than partying at the Tour de France. It seems that he was using cocaine for its effect as a stimulant, a upper to counter the downer sleeping pills, in order to allow him to perform despite the addiction to tranquilisers. You might call this doping.
It's possible Paolini has told the UCI something else as his case is ongoing at the UCI Tribunal. It wouldn't be the first time he'd changed his mind given he denied using cocaine in a tweet soon after news of the positive test emerged only to confess later.
While we wonder if this really was "social" or performance-enhancing, WADA does not make any distinction. It bans cocaine without qualification nor threshold. Take it on a night out or with 10km to go and there's no difference under their Code so the UCI is pioneering its own path here. Some say Meldonium, the substance in Vorganov's A-sample, can be used "socially" or to help in cases of alcohol poisoning too so if someone else at Katusha gets busted then the team could try the proportional card again for Vorganov.
Meanwhile in Italy…
Luca Paolini remains provisionally suspended as the UCI are still hearing his case. So the UCI's ruling today says Katusha can ride because his test wasn't really doping but the irony is their thoughts on the case don't apply to the man himself who cannot race because he's positive for a banned substance.
It's this distinction that's the odd point and the irony but also the explainer. Another line in the press release is that "it would be disproportionate to suspend a team" on this basis. For me this is the most crucial aspect. Cocaine is banned by WADA but the international agency does not advocate collective bans to suspend whole teams when two athletes test positive. Instead the UCI's created this rule on its own and so it is going out on a limb here with this policy, however much you might like it. Without WADA's legal backing the UCI has to be careful and suspending every rider on a team as punishment for the rogue actions of two colleagues is contestable under the law, that a punishment has to be proportional is a fundamental and universal matter. A rider who did nothing wrong would have real grounds to sue and the cocaine element clouds the issue as the recreational argument can be deployed. Indeed if Katusha was suspended it's possible they could have sued and won.
Conspiracy theories
To pre-empt the comments and jokes about bidons filled with polonium tea, yes Igor Makarov owns Katusha and is an extremely influential figure in the UCI. There's no sign of him leaning on the Disciplinary Commission but there doesn't have to be: a conflict of interest exists whether it's explicit or implicit. Until institutional improvements are put in place to handle these then many will make 2+n=4 conclusions with all sorts of wild guesses for what n can mean.
Conclusion
The rule at the root of this says two notifications means suspension and the text suggests the circumstantial elements are only reserved for determining the length of the suspension. But the UCI sees it another way and notifications can be discounted if circumstances permit. In this case it says the substance involved was not viewed as performance-enhancing.
Was Paolini doping? WADA's definition is the "Presence of a Prohibited Substance or its Metabolites or Markers in an Athlete's Sample" so yes he was and if Katusha ride on, it's without him as he's provisionally suspended and out of contract. Was he trying to enhance his performance? No say the UCI who make reference to "recreational" use of a "social" drug but this contrasts to his interview with La Gazzetta, Alexander Kristoff's words and the words of the Katusha team doctor who said he needed giant doses of stimulants like caffeine to stay awake.
This story has yet to end as Katusha are still members of the MPCC and under their rules if Vorganov's B-sample comes back positive then, as long as they stay in the MPCC they'll still have to sit out eight days starting from the date of the next World Tour race.