Imagine you're the head of marketing for a company that sells insurance, steel or adhesives. It might not be the job you always wanted and it's hard to get excited about these products. What if there was a way to get commentators roaring the name of your brand on live TV, to have people painting your logo all over public spaces while brandishing placards and bedsheets celebrating the company name. It's a marketing dream. It's pro cycling.
There are many brands sponsoring teams and all year long people root for Lampre, Cofidis or Soudal but do you know what they do?
Ag2r La Mondiale: an insurance and savings company based in Paris. Note the team name is not two sponsors, rather Ag2r La Mondiale is the name of one company. The mutual firm is owned by policy holders and offers pension plans, healthcare and other forms of social insurance. The distinctive kit features those brown shorts but there's a poetic side as the blue and brown represent terre et ciel, or heaven and earth.
Astana: not a company but a city with a whole nation behind it. Astana is the capital of Kazakhstan, a vast gas rich former Soviet state. The team is funded by the state to promote the country, a bid to counter the "Borat" image of Kazakhstan and pesky reports about dictatorship and poor press freedom. Has it worked? They've won big but had poor headlines too. The jersey features the names of various state-owned companies like the national airline, a state holding company and more plus the upcoming Expo show, another chance to promote the country.
BMC Racing Team: a brand of Swiss bicycles. Once upon a time, or rather in 1994 it stood for the plain title of Bicycle Manufacturing Company. The team is registered in the US but funded by the Swiss francs of Andy Rihs, a billionaire cycling enthusiast who owns BMC and furthers the Swiss side with many a Swiss rider from Stefan Küng to Michael Schär. Registering the team in the US helps the team to tap this large, lucrative market whilst trading on the image of Swiss quality. Some of Rihs's other assets feature on the jersey like his La Coquillade luxury hotel near Mont Ventoux.
Cannondale: Garmin's gone to leave the US-Canadian bike brand. In the 1990s its famous oversized alu tubed frames to the Saeco team in Italy. The company moved into motorcycles, offering innovative lightweight offroad bikes exploiting their alu tubing knowhow but this was a commercial disaster and to cut a long story short the brand was rescued by Dorel, a Canadian conglomerate that also owns Sugoi, Schwinn and GT as well as a non-cycling items like the Bébéconfort range of strollers. Now the team race on carbon frames which almost have a retro feel with no aero road frame in the range right now. The kit is green because it's Cannondale's corporate ident and the team retains the quirky Argyle motif. The kit mentions Holowesko, the hedge fund run by Bahamian supporter Mark Holowesko and footwear company New Balance who also sponsor Lotto-JumboNL.
Dimension Data: the newcomers to the World Tour prove that pro cycling sponsorship doesn't have to be in crisis so brace yourself for a list of blue chip backers that other team owners dream about. You might know Dimension Data already from the very beta tracking website trialled at the Tour de France but they usually do cloud computing and IT outsourcing for corporate clients and have one of the most impenetrable pieces of corporate jargon on Wikipedia. A one time FTSE-100 member, "Di Data" is now owned by Japan's telecoms giant Nippon Telegraph and Telephone. The team is also backed by accountancy Deloitte, plus Sapinda, a Dutch investment fund that backs African projects. There's also Oakley sunglasses, the brand belonging to Italian sunglass giant Luxxotica; and Nederberg, a South African winery and the team retains the partnership with bicycle development charity Qhubeka.
Etixx – Quick Step: Etixx is a brand of sports nutrition products owned by Omega Pharma, the Belgian firm that's been sold to US corporation Perrigo. Quick Step is a brand of laminated flooring that might seem indissociable from Belgian cycling but it belongs to company founded in Amsterdam… Amsterdam, New York called Mohawk Industries, a giant supplier of commercial and residential flooring. German discount supermarket Lidl appears on the kit for the first time while Belgium's Latexco make rubber mattresses and has backed team manager Patrick Lefevere since the 1990s.
FDJ: La Française des Jeux is the French state lottery which offers regular draws and scratchcards and explains the four-leafed clover logo on the jersey as well as the team kit resembling the French national flag which, look carefully, probably has fewest number of logos on display with FDJ, bike company Lapierre and B'Twin, the cycling brand of Decathlon, the French sports retail chain. A fixture in the sport since 1997, FDJ – pronounce "eff-day-G" if you're the type who says Lotto Yumbo – is a French institution visible in cities, towns and villages with the blue logo hanging outside almost every café and tobacconists. The kit is unchanged for 2016. Apparently it looked so good they didn't want to change a thing.
Giant – Alpecin: Giant is appropriately named because the Taiwanese firm is the world's largest manufacturer of bicycles, striking gold in the 1970s when it started to make bikes for US brand Schwinn and then others, something which continues today while the firm operates its own brand too: is this what is going to happen for many other brands from Apple to Peugeot? Alpecin is a German brand of shampoo with its caffeine content as unique selling point, originally to combat male pattern baldness but the science isn't proven. Whisper it but the jersey is becoming the World Tour version of a Gianni Savio design with more and more sponsors crowding the real estate. It's no bad thing as window blinds company Renson and auto maker Mini join holiday tour operator Sunweb.
IAM Cycling: neither a verb nor a brand of pet food, IAM is a Swiss fund manager run by cycling enthusiast Michel Thétaz and the elegant kit reflects their national identity more than ever with the red and white tones. Note the other Swiss brands like Scott, DT Swiss and Au Club Alpin, a holiday village in the Alps.
Katusha: Unlike other teams Katusha isn't named after a sponsor. It's the abbreviated version of Ekaterina, Catherine in English and a famous Soviet wartime folk song in Russia which still gets patriotic hearts stirring today. In English you'd call them Team Kathy. They're trying to create a new image for the team, toning down the Kremlin kommanda vibe to make their own identity. The new kit is very visible and easy to spot on helicopter shots.
Lampre – Merida: Lampre make rolled pre-coated steel, if this still means nothing go and look at your washing machine and tap the casing or do the same with a garage door, a filing cabinet or some shelving in a bike shop or warehouse. These thin sheets of metal are everywhere and Lampre makes plenty.Owned by the Galbusera family Lampre have been in the sport since 1991 with Colnago-Lampre and then in 1992 the Lampre team was born with the blue and fuchsia jersey that hasn't changed that much over the years while the firm has expanded with factories worldwide, a reason behind the internationalisation of the squad, for example they have big operations in Portugal so they signed Rui Costa. Merida is a Taiwanese bike manufacturer that's keen to make a name for itself in the pro peloton and the firm has links to Specialized and it seems Merida bikes cannot be bought in the US.
Lotto – Soudal: Lotto is the Belgian state lottery. Founded in 1934 to raise funds for the sick in the Belgian Congo, the company has continuously sponsored a pro team since 1985 although at times it has been the number two name, for example Omega Pharma-Lotto. Soudal is a Belgian manufacturer of adhesives, caulks and silicones for construction and DIY founded and still owned by Baron Vic Swerts.
LottoNL – Jumbo: a in the Netherlands. The team is using the LottoNL term but the sponsor is simply Lotto to locals, presumably to differentiate from their Belgian rivals. Lotto recently merged with the state lottery, the Staatsloterij. Jumbo is a chain of supermarkets in the Netherlands which has, via deal-making, grown to become the country's second largest retail chain. This is more than a cycling team, it's a joint venture with a speed skating team coordinated by loyalty card company Brand Loyalty. Skating is very popular in the Netherlands thanks to icy winters and all those canals but Brand Loyalty has plans to make the Dutch team more international.
Movistar Team: Movistar is a mobile telecoms operator owned by Spanish national telecoms firm Telefonica with operations in Spain and Latin America plus British and German assets under the 02 brand too, some of which are being sold off to Hong Kong investment vehicle Hutchison Whampoa. The brand is big in sports with the Spanish national football team and the Yamaha Moto GP team. The cycling team can trace its heritage back through several sponsors like Caisse d'Epargne, Banesto and Reynolds to the 1980s.

Orica – GreenEDGE: Orica is an Australian company that makes explosives and other speciality chemicals for the mining industry that ought to have ACDC's TNT as it's corporate theme, especially as it bought Nobel, the Norwegian dynamite firm several years ago. Australia has been a big part of the global mining boom that's now turning into a bust at the moment. Reassuringly it's hard to buy Orica products so why are they backing a team? Well the company does not have a great reputation after explosive disasters as well as several fines for environmental damage so sponsoring a cycling team is seen as a way to put something back, "Orica Greenwash" for cynics? Greenedge meanwhile is a holding name as the team searches for a co-sponsor, green as in the Australia but also the environment and edge as cutting edge. As the wait goes on the team is funded by Gerry Ryan, the Australian owner of Jayco caravans and the Michelton winery whose names appear on the kit. Look at the kit above and you'll Bike Exchange too, a website that lists bikes and accessories for sale that's just merged with the cyclingtips website.
Team Sky: Sky is a pay TV company right? Yes but they're increasingly moving into telecoms too. The firm has operations in Britain, Germany and Italy. As a company Sky is 40% owned by 21st Century Fox of the US and ultimately controlled by the cosmopolitan Murdoch family.
Tinkoff: Tinkoff is a Russian bank and credit card issuer that operates online, copying the model of Capital One in the US but suffering bolshoi from the Russian recession right now. The name is derived from the company founder Oleg Tinkov who first named a brewery and restaurant chain he started "Tinkoff" in order to give it an older sounding name and create some ersatz heritage around the brand, the same idea lives on with the crest on the team jersey today which features a rampant unicorn.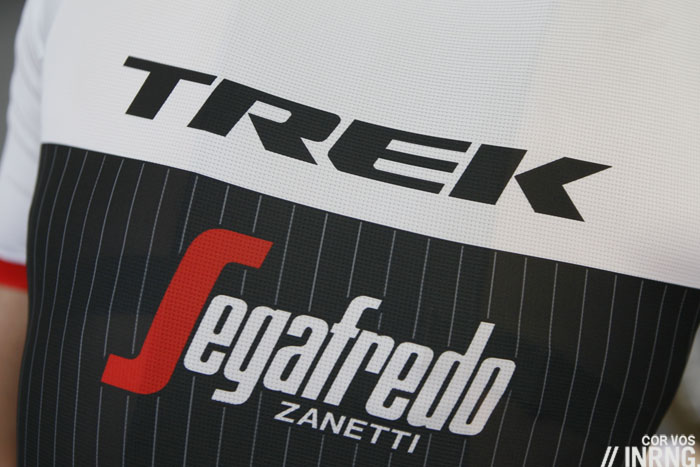 Trek-Segafredo: US bike brand Trek is behind this team so just as you'd expect the team uses full Trek bikes and associated brands like Bontrager components and clothing. The team itself is the result of various mergers along the years, with a Belgian side under Dirk Demol which goes back to, whisper it, the US Postal days, and an Italian side overseen by team boss Luca Guercilena, it's this side that's got Segafredo on board. Segafredo, literally Italian for "cold saw" but let's not dwell on translations of sega. It's an Italian coffee giant that floated on the stock exchange last year but still controlled by founder Massimo Zanetti.
UCI Pro Continental Team are the second tier of teams with a budget that goes from €12 down to about €1 million, a cheaper entry into the sport but some of these teams can still be highly visible in the biggest races.

Androni Giocattoli – Sidermec: giocattoli is Italian for toys and Androni makes a range of plastic toys under licence including a range Hello Kitty toys. Sidermec do tinplate, the trade term for tin cans for food, a big business in food-crazy Italy. If a pro cycling jersey is real estate then team manager Gianni Savio goes for the Hong Kong approach of crowding as much in as possible.
Bardiani – CSF: more Italian food sponsors. Here are two names but the same company, Bardiani makes stainless steel valves for the food industry and CSF produces steel piping for food hygiene use. The next time you see video of a food factory with liquids being pumped and poured as products move along conveyor belts it might feature Bardiani's valves or CSF's steel piping.
Bora – Argon 18: Bora is a German manufacturer of kitchen equipment like extractor fans which appropriately derives its name from a katabatic wind while Argon 18 is a Canadian bike brand named after noble gas with the atomic number 18 on the periodic table.
Caja Rural – Seguros RGA: Caja Rural is a Spanish banking brand, it covers over 70 different small banks run on a cooperative basis. Seguros RGA, "RGA Securities", is a financial services brand belonging to Caja Rural. It's Spain's number two squad and guaranteed of an invite to all the big races in Spain. Like Bardiani-CSF it's a sneaky example of including extra sponsors in the team name despite having one firm behind the team.
CCC Sprandi Polkowice: CCC is a chain of shoe shops in Poland Eastern Europe while Sprandi is a Russian shoe company with close links to CCC. The team has its origins in the small town of Polkowice in south-west Poland.
Cofidis: is a French consumer credit company offering loans in France, Belgium, Italy and Spain. It concentrates on the sub-prime segment and has drawn criticism for aggressive tactics. A presence in the peloton since 1997 the team was once one of the world's top squads but simultaneously a doping madhouse. Today it's a more modest squd but remains in the sport, cycling's audience demographic in Europe is perfect for the brand.
Fortuneo – Vital Concept: the old Bretagne-Séché Environnement team from the cycling-mad Brittany region of north-west France that juts out into the Atlantic. The new sponsors are a contrasting mix of old and new. Fortuneo is an online bank while Vital Concept sells farming supplies, selling animal feeds and equipment like fencing and farm gates.
Funvic Soul Cycles Carrefour: Funvic is Fundação Universitária Vida Cristã which translates as the "University of the Life of Christ Foundation", a Christian education charity in Brazil. Soul Cycles is a Brazilian bike brand. Carrefour is a French supermarket with operations around the world, including Brazil, and by some measures the world's second largest retailer after Walmart.
Delko Marseille Provence KTM: naming rights are valuable but this is such a mouthful that they're bound to be called Delko by most, rewarding for the car parts retailer. Marseille is France's second largest city and in the Provence region while KTM is an Austrian manufacturer more famous for its orange motorcycles.
Direct Energie: is the new name for the Europcar team, now with the anthracite and yellow jersey, don't call it black. The sponsor is an alternative electricity generator and reseller trying to challenge EDF's monopoly in France and hoping to use the team to reach parts of France other marketing campaigns can't. Other sponsors include the Vendée regional government; Harmonie Mutuelle, a health insurance provider; and Fleury Michon, who do canned vegetables.
Drapac Professional Cycling: Drapac Group is a specialist property investment and development company that has surfed the rising tide of real estate prices in Australia and now has extensive activities in California too which helps explain why the team races a lot in the US too. Team founder Michael Drapac is more than a sponsor, the squad is keen to help riders develop with studies and learning other skills, a mission a few other teams might support but few shout about in public.
Gazprom – Rusvelo: has been the Russian track cycling program with a road team to allow the endurance athletes to race on the road but with Itera-Katusha folding has become the default feeder team for Katusha. It has picked up sponsorship from Russian energy giant Gazprom, which despite the falling oil price and more, has to be the largest corporate sponsor behind any of the teams.
Nippo – Vini Fantini: Nippo is a Japanese supplier of paving materials and tarmac supplying car parks and roadbuilding projects while Vini Fantini is an Italian wine business. An odd marriage but convenient as Nippo supplies the Yen and riders from Japan to bolster a small Italian squad.
Novo Nordisk: Novo Nordisk is a Danish pharmaceutical company with a range of insulin products and it is funding a pro team comprised only of diabetic athletes as a way to show the condition need not prevent an active life.
One Pro Cycling: there's zero sponsors in the name, instead this is a conceptual team offering membership to fans although it has sponsorship from the likes of F&F, a British clothing retailer and Factor Bikes, a brand belonging to rider agent and former Tour de France green jersey winner Baden Cooke. It's backed by former British cricketer Matt Prior.
Roompot: a Dutch company running holiday parks and campsites famous in the Netherlands for their rabbit logo.
Southeast – Venezuela: Zhejiang Southeast Space Frame Co. a Chinese company that makes steel for construction projects like sports stadia and skyscrapers. and Venezuela, the wobbly oil-rich Latin American state.
Stölting Service Group: after Danish energy drinks company Cult pulled out of co-sponsorship it's left German property services Stölting to cover the team by itself. They offer a range of services for owners of large office and industrial buildings such as site security, window cleaning, reception desks and more.
Team Roth: a Swiss supplier of heating oil and liquefied natural gas which, like Stölting, is backing this newly promoted team alone after Skoda recently reversed out.
Topsport Vlaanderen – Bâloise: Topsport is a Flemish sports foundation funded by the regional government that helps younger riders in their pro careers, so when Edward Theuns leaves to join Trek-Segafredo or Yves Lampaert goes to Etixx-Quick Step it's a success not a loss. Bâloise is a Swiss insurance company looking to market to Belgian savers.
United Healthcare: a US healthcare insurance provider, the company also owns Optum Health which itself sponsors a pro team, interesting because teams with the same owner aren't normally allowed to race together. However the management of each team is kept separate to leave a potential conflict of interest rather than an explicit one.
Verva – Activejet: a newly promoted pro team from Poland, Verva is a brand of unleaded fuel from Polish oil company Orlen and Activejet makes computer accessories like toner, cables, keyboard and screen cleaning products.
Wanty – Groupe Gobert: Wanty is a mini-conglomerate with activities ranging from quarrying to civil engineering and roadsurfacing, all united by large public works and the raw materials needed for these. Groupe Gobert supplies building materials like insulation or paving stones.