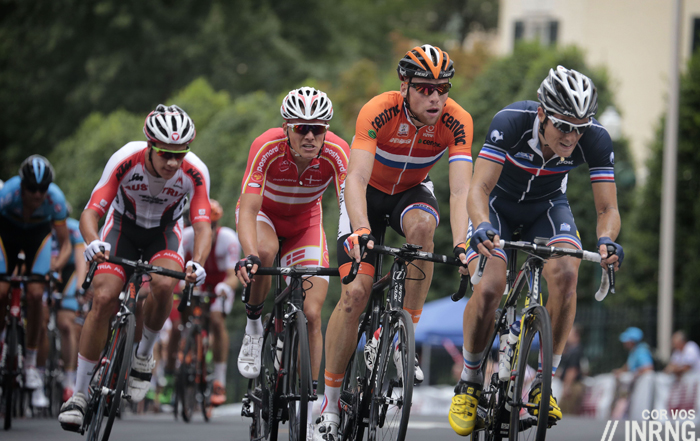 The UCI have changed the rules and from 2016 onwards any rider under 23 can race the U23 World Championships, including World Tour pros. Previously pros with World Tour teams were excluded even if they were the right age. This change has brought howls of protest with visions of established pros on big budget teams riding away with the title at the expense of amateurs in search of recognition and reward. This has happened already and the rule change is probably the right thing to do.
First let's ask what is the point of the U23 race? Why is there no U21 Worlds or for that matter U25, U28 and U35 races? The U23 title is an arbitrary contest, the world champion below a set age. A line has been drawn on a calendar in order to provide younger riders with a developmental goal, with a field and distance to suit the age bracket. Also it's come about as the U23 title is the modern equivalent of the amateur title won by the likes of Eddy Merckx before turning pro. Although as we're about to see, there's nothing amateur about it these days.
Look at the last edition in Richmond won by Frenchman Kevin Ledanois, a member of Bretagne-Séché in the Pro Conti level. A pro, an entourage, a salary. No wonder Simone Consonni looks so upset above. Ledanois has been swimming in the deep end already with races like the Volta Catalunya, the Tour of Turkey and several other longer stage races in his legs before showing up at the U23 Worlds.
Saying Ledanois can ride but World Tour pros cannot is hypocrisy, no? What's the difference? Many Pro Conti neo-pros already race alongside World Tour ones. Now you might say a World Tour pro does bigger races and comes from a wealthier team and you may be right. Yet it equally be the case that a World Tour neo-pro gets a quiet programme of secondary races meanwhile a Pro Conti team is smaller and stretched meaning a neo can be dropped in the deep end even more so that by September and the Worlds they've got a lot more hard racing banked in the legs. Plus the mention of "World Tour" probably makes us think of Astana, BMC Racing and Team Sky but it's also Cannondale, FDJ and IAM Cycling. Cofidis is Pro Conti ranks but has a comparable budget to IAM Cycling where each spend about €10m a year. In short if an U23 Pro Conti rider can ride then letting a World Tour rider take part isn't a big change.
If you're not swayed by the practical argument so far there's also a moral case to be made. If there is a World Tour rider who is so good that they've beaten more senior riders for wins during the year then they've no place in an U23 race anyway. Take Orica's Caleb Ewan or BMC Racing's Stefan Küng, both have won World Tour races already. They'd just look silly if they started an U23 race, it's as if Chris Froome or Peter Sagan demanded to ride a junior race, won and pocketed the prize. These riders should play in the big boy's yard already and do the senior race, either to win or to learn their craft. Winning the U23 title would add little to a World Tour rider's development, tactical craft or even their palmarès since we expect better of them.
In some ways the whole idea of an U23 rainbow jersey is debatable. This series exists for rider development, to create a space to race in for promising riders. The Nations Cup series of U23 races is excellent but development and detection are a longitudinal matter across the season rather than who rode well on a certain course on one day. It's the cherry on the cake of a long season and surely a World Tour pro wouldn't want to regress for a day?
Nitpicking: The rule change says any World Tour U23 may ride as long as they haven't done the senior race already, so this means a rider like Tiesj Benoot cannot compete in the U23 race in Doha next September.
Conclusion
Outraged that World Tour pros will be on the start line for Qatar in 2016? It's understandable but given many starters come from the pro ranks already it seems harsh to say the handful of World Tour U23s should be blocked while other pros get to ride; if you think the U23 race should be for amateurs only then the battle was lost a long time ago. This year's title was won by a pro.
To answer the headline: yes they should be allowed to start, it's whether they need to that's the question. The rule change just allows all pros to start which is more honest and easier to understand. There is the fear of a top pro like Ewan taking to the start, a rider who has progressed far beyond the purpose of U23 races but if this is the case why start, what is there to gain by literally beating a bunch of amateurs? Win and they've just stolen some kid's lunch. The irony here is that if one rule has changed another stays the same: the U23 world champion can only wear the the jersey in U23 races meaning any pro who wins can never wear the jersey in a race. So why bother starting?
Photo of Chris Froome at the Critérium du Lacq by sudgirondecyclisme