Enjoying the Vuelta? Like last year almost all of the best Spaniards in the race are over 30. Last year Spain finished first in the UCI rankings by nation thanks to Alberto Contador, Alejandro Valverde and Joaquim Rodriguez only the combined age of this trio is more than 100 years. Some said there are no replacements so this site looked at the next generation of riders coming through to pick some names for the future. How have they done this year?
As well as riders tipped a year ago, a look at some new names too.
Mikel Landa was tipped as the best climber and struck the jackpot this year, first with results that included a stage in the Tour of the Basque Country, two second places in the Giro del Trentino and then those two mountain stage wins in the Giro on the way to third place overall and second with a contract offer from Team Sky. His Giro was so good it generated "out of nowhere" quotes, presumably from people who don't follow cycling closely because more than being touted as Spain's next big thing on this site he was winning summit finishes in 2014 and had long been tipped for success, Astana won the bidding war when Euskaltel quit the sport at the end of 2013. Still he has exceeded expectations and the question is whether he's a mountain specialist or if he can make it into a grand tour contender. Third place in the Giro was better than anyone imagined but he was poor in the time trial and the field was not deep, it's hard to imagine him repeating it at the Tour de France. The fear is that in joining Team Sky he'll have to slot into a support role as Mikel Nieve has done because even in the 2016 Vuelta there will be the likes of Froome, Roche, König and more wanting to lead the team.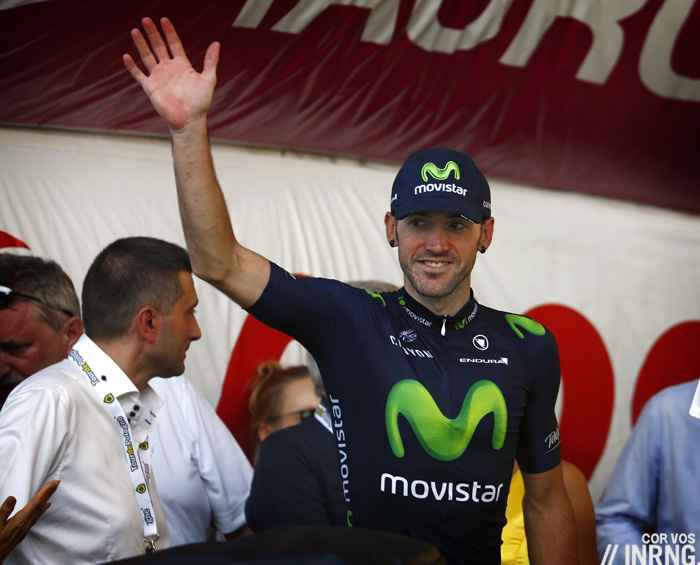 Ion Izagirre was tipped as the stage racer and 2015 has worked out well for him thanks to a win in the Tour of Poland, seemingly his preferred race. But it wasn't a crushing performance. He's been third in the Tour of the Basque Country this year, the stage racer's stage race but going from one week to three seems a lot to ask. A similar story with Jesus Herrada, he's had a solid season but has yet to look like the next Spaniard to follow Alejandro Valverde's Parisian podium. Rafael Valls won on the Jebel El Akhdar in Oman, a summit finish so steep and tough that there's no luck involved but apart from this flash he's looked solid with top-10s in Paris-Nice and the Tour of Catalunya.
New to the list is Marc Soler, a neo-pro who has just won the Tour de l'Avenir. He had a good season as amateur in 2014 before turning pro. Whether a World Tour neo-pro should have ridden is another topic given the extra training, support and depth of racing he's enjoyed this year but he came and conquered. The tall Catalan has had solid results elsewhere too and given his big build he seems to be the prototype stage racer. 2013 Tour de l'Avenir winner Ruben Fernandez hasn't yet set the world alight, 2015 saw him finish third on Willunga Hill but the promise hasn't carried through yet. Not even a neo-pro Jaime Rosón is a stagiaire with Caja Rural and you might have seen him in the USA Pro Challenge where he finished 12th. For more depth Spanish site arueda.com has a look at Spain's team in the Tour de l'Avenir.
Why are so many Spaniards climbers and stage racers? A long topic but right from the junior ranks a race is not a race if it doesn't have a climb and so there's an element of selection bias. But there are one day specialists, look at Juan-José Lobato. Tipped a year ago he started 2015 very well after a stage win Down Under, podiums in the Dubai Tour and Almeria then a storming Vuelta a Andalucia where he took apart John Degenkolb in two sprints, he was even a pick for Milan-Sanremo but finished 85th and has only had three top-10 finishes since then. The same for Carlos Barbero, he's a one day specialist, an Iberian Peter Sagan if you like but his team have limited invites and he's finding this Vuelta tough against the World Tour opposition.
Caja Rural seems to have several energetic riders like, say, Pello Bilbao or Omar Fraile. Fraile's been in the mountains jersey in the Vuelta and taken a stage of the Four Days of Dunkirk and won the Giro dell'Appennino too which proves his Vuelta success isn't just a lucky break which is all good for the 25 year old but every country has a rider like this and by now we're out of notable riders.
So far some individual names and some slow but sure progress. But what of the environment they operate in? As well as individuals there are structural issues facing Spanish cycling. There's just one World Tour team and one Pro Conti team in Movistar and Caja Rural respectively, not much for what is still a major cycling nation. It used to be different and a decade ago there were five Spanish teams in the Pro Tour elite of 18 teams (Astana, Euskadi, Iles Baleares, Liberty Seguros, Saunier Duval) and three in the Continental level (Kaiku, Relax, Valencia). This period wasn't a sustainable one to base off but it illustrates a significant reversal.
If there are few teams Spain is still the nation with the fourth largest number of race races on the pro calendar after France, Belgium and Italy and the second largest when measured by the number of race days even despite some races vanishing and former stage races being shrunk to one day events.

Spain is also a prodigious exporter of pro cyclists with 35 pros in the World Tour peloton, the fifth largest count after France, Italy, Belgium and the Netherlands. Of course Movistar has many riders but many World Tour teams have them. With Amets Txurruka moving to Orica-Greenedge for 2016 it looks like five teams (Cannondale-Garmin, Giant-Alpecin, Lotto-Soudal, Lotto-Jumbo and FDJ) will be without a house Spaniard. So lots of riders, lots of racing but few teams and riders have to leave Spain for employment opportunities. If even exists in the amateur ranks now with some Spaniards trekking across the Pyrenees to ride for French amateur teams; not long ago Romain Sicard and Loïc Chetout were going in the other direction. If it this all happened when the economy went south then there's the hope it'll prove cyclical in the other direction now Spain's economy is growing but there seem to be few projects, even the ghost ship Alonso appears to have sunk.
Summary
Spain's best riders are over 30. There was a gap last year and there's still one now. As well as the absent Alberto Contador, scan the Vuelta and most of the Spaniards sitting in the top-100 overall are the wrong side of 30. Mikel Landa's come on plenty this year but was the Giro a stand out result or part of long term plan? Beyond Landa there are a lot of riders coming through and they're spreading out to many teams but for now there's nobody new who looks set to stand on the Tour de France podium again but wait a year or two and we might find the likes of Soler and Fernandez making waves.
Behind all this is a lag, some teams have vanished quickly with the economic downturn but will new ones return now the Spanish economy is recovering? The calendar does provide a base to build on and the sport remains popular ensuring the talent will keep flowing but the same holds true for France which is still waiting for a rider capable of winning the home grand tour.
Thanks to Manuel Pérez Díaz and Fran Reyes for helping with some names to watch.