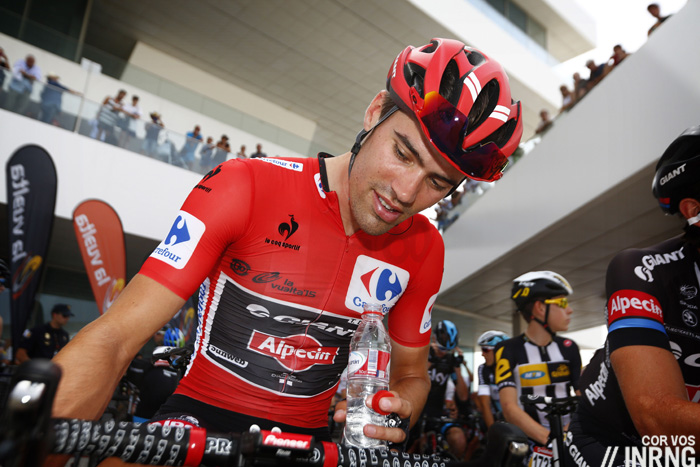 Tom Dumoulin has shared his power data from the Vuelta a España. Dutch newspaper Algemeen Dagblad has a summary of the rider's performances on various climbs during the race.
Power is measured by strain gauges, often on the cranks, and logged on a bike computer. It's a handy way to measure effort and in recent years has become a lively topic, in part because more and more riders are using power data making the topic more accessible and also because high numbers are linked to doping and recent editions of the Tour de France have seen controversy and accusations flying although curiously this hornet's nest only seems to get poked in July.
Power data is seen as absolute but be careful as even the best power meters on the market are sold with an accuracy of +/- 1% and in reality this can be greater with big variations in temperature because the strain gauges are sensitive to temperature. So when it comes to a mountain stage the numbers can vary significantly. Whether it's a racer putting data into a newspaper or an amateur checking on their training the best use is comparisons over time rather than one set of numbers.
Why release the data? It doesn't prove a rider is clean but it does suggest transparency. There seem to be three audiences for the data:
it provides real world data for sports scientists to evaluate what happens in a bike race
there's the geek tragedy of fans pouring over the numbers to see the high score and perhaps make comparisons, either with their own numbers or with others. They're sensitive to the marketing of the data and this validates a manufacturer like Pioneer or SRM
the largest audience has to be the wider public who are more likely to think "whats per kilo?" than W/kg but they'll take the transparency as symbolism and see a rider putting their data online as a useful step and take expert opinion
This is probably why Dumoulin's data went to AD.nl and in 2013 Team Sky didn't put Chris Froome's data online to be crowdsourced but instead L'Equipe got FDJ coach Fred Grappe to review and pronounce.
Nothing to hide? As for cleanliness, transparency is good but not proof of cleanliness. You can't prove a negative but publishing is always of interest and coming out and publishing the numbers looks good, it is inviting judgement rather than trying to run from it. However just remember that if a rider has made the lifestyle choice of spending years covertly taking microdoses of EPO and draining off miniature blood bags all to manipulate the bio-passport then doctoring a data file is child's play compared to trying to swim through the holes of the bio-passport. In other words we can get stuck on the circular arguments of faith in the numbers as much faith in a rider and their entourage.
There's now an asymmetry because once someone shares data it puts the spotlight on those who don't. Are there reasons not to share? Yes, there's the embarrassing matter of inaccurate or incomplete power data which would show up some sponsors in a bad light. There is also fear of giving data away to rivals who could find weak points. If a rider cracks above nW/kg then all a rival has to do is crank the pace to n+0.1 W/kg and they've got them on the ropes: simple? Well this isn't Pro Cycling Manager, it's not so easy in real life.
How to beat Froome: When L'Equipe published "Le Dossier Froome" there was so much noise about Froome, doping and credibility that the underlying data were almost ignored. For Fred Grappe saw a weakness in Froome where he displayed excellent power for 20 minutes but the longer the duration the more the power fell. Normal? Yes but the slope of Froome's power curve apparently fell away faster than others. So one way to beat Froome is to stick it to him on a 40-60 minute climb… which is what Nairo Quintana did on Alpe d'Huez this year. Easier said than done.
However nobody needs power meter publications to find these weaknesses, a stopwatch and and a keen eye will often do. Some scorn "armchair analysis" but it can be rather accurate. Certainly a clever team coach can combine their stopwatch plus data and anecdotes from their own riders on the wind direction and road surface to explore more. So it all means that if you wanted to use power data to hunt for weakpoints then you don't need to wait for a rider to put their data online.
Training sessions are more private. Dumoulin has made his Vuelta numbers public but not his training data nor his time trial stage numbers. To put everything online could allow people to see training sessions which is more sensitive. If you knew a rider was doing long climbs at full speed and was a big diesel then you might prefer to attack them with waspish accelerations. But many riders do share training in full on Strava.
The real benefit comes from analysis over time in that if a rider suddenly makes a big jump in power to weight then this can be questioned and explored. It could even be an alarm bell for the anti-doping agencies to investigate and perhaps retest but it's only an alarm bell, it's not evidence in itself.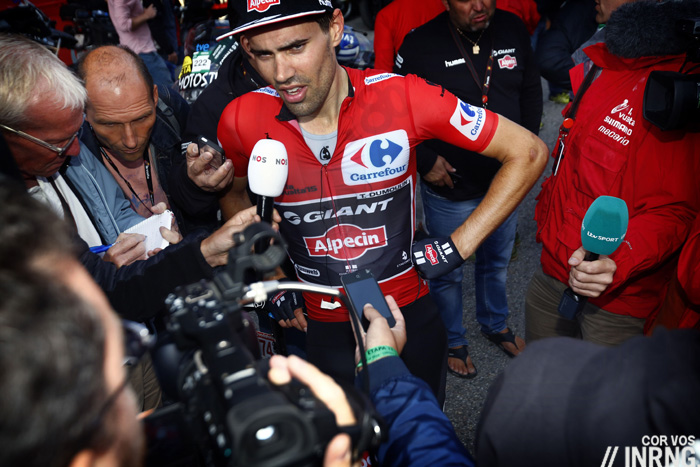 Conclusion
Tom Dumoulin's shared his Vuelta data. One lesson seems to be that this year's edition was relatively slow one, at least when measured by effort. There's a wider view with more and more riders sharing race data and making wattages a topic of conversation and post-race analysis, often with the subtext of transparency. Given amateurs can use formulas to make estimations that are often as accurate as a power meter releasing power data shouldn't be a big deal, it won't give away too many insider secrets, especially if it's kept to race data. When relayed by trusted newspaper the data can reassure the wider public and it's also good marketing for power meter manufacturers.