It's been a winning year for Ag2r La Mondiale with Jean-Christophe Péraud's second place in the Tour de France but so much more including Carlos Betancur's win in Paris-Nice plus the team prizes in the Giro and Tour de France and they might have won in the Vuelta had Domenico Pozzovivo, Carlos Betancur and Alexis Vuillermoz been present and in-shape. Nevermind the speculation, they're third on the UCI's team rankings today.
But how much does it all cost? Having looked at Team Sky's accounts recently here's a look at the numbers for a French team.
Ag2r's La Mondiale's team budget for 2013 was €11,856,563, up from €10.6m in 2012 and €9.4m in 2011, an increase of 13% a year.
Of this €11.856m in income, €8.8m came from France and €2.965m from outside. Where? We don't know and the copy of accounts for EUSRL France Cyclisme – the corporate entity that is the team – is the minimal version required under French law and not as explanatory as the set of accounts produced by Tour Racing Ltd, aka Team Sky. It's not too wild to speculate that the the foreign income is from foreign sponsors like Focus bikes of Germany, Campagnolo from Italy and other sponsors.
What do they do with the money?
€595k is spent on buying "raw materials". There's no breakdown so this could include everything from fuel and insurance for the team bus and all sorts of things not supplied by the sponsors but which are essential inputs for the team
The team spent another €2.6m on "other purchases and external charges" which can might from rent to travel expenses*
The biggest spend is €6.0m on wages… but it's not a lot. Teams like Tinkoff-Saxo, Sky or OPQS can spend this amount hiring two riders
€2.2 million is spent on the euphemistic-sounding charges sociales which are payroll taxes
The team made a modest profit €42,924 for 2013 although this is just the result of balancing income with expenditure rather a corporate goal
Looking at the numbers above we see the stated wage bill is just half of the team's total cost. It looks low while the "other purchases and external charges" is high. It could be that the team tops up wages this way, for example buying in the services of a masseur here, paying a performance bonus there. French law's pretty strict on this but it's also complex and it's still
It's not in the accounts but the team's budget is modest enough that riders have to buy their own SRM power meters although once purchased the team mechanics are happy to install and maintain them during the season. It is curious when even the world's best riders like Romain Bardet have to buy something so basic for their training but it's not scandalous. I suspect they  a trade discount and they can write off the purcahse against tax. This anecdote illustrates the budget limits not shown in the accounts.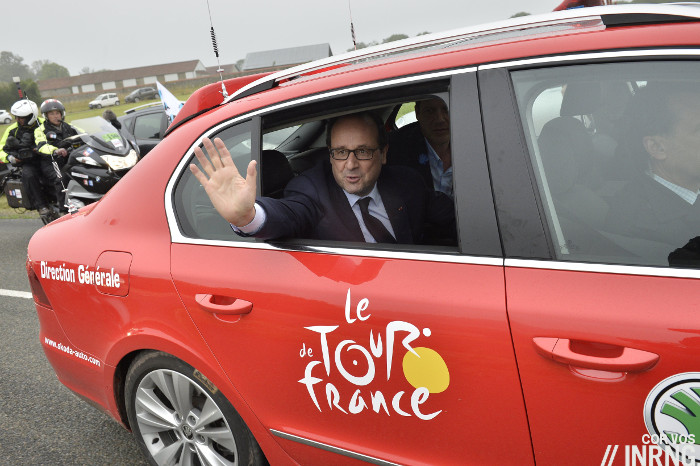 France's Taxing Problem
With €6.0m in wages come €2.2m in charges sociales . Alternatively for every €1,000 spent on wages the team has to find a further €360 to meet the payroll tax. A payroll tax is a tax paid by the employer based on the employee's wages, you might think of workers in a factory but of course it applies to a pro team with rider and staff salaries.
France has some of the highest payroll taxes in the world and by some measures the highest according to the OECD. The rates vary with sliding scales, deductions and other variables that help keep accountants and payroll software vendors in clover. But the number is about 40%. For example to pay a rider the UCI minimum wage in the World Tour of €36,300 the cost to the team is €51,500: €36k in salary plus €15k in tax on top. Once the rider receives the money they're then liable for income tax and their own social security contributions.
This is a hot political topic in France as the government tries to navigate a route between needing tax revenue to pay for public services and contain its budget deficit, all while trying to reduce this tax on jobs at a time of record unemployment. If this debate seems remote or technical viewing it through competitivity of a sports team rather than an industrial sector helps bring the matters to light.
For those who suggest Ag2r should simply relocate offshore to make its budget go further, pas possible. The sponsor is a mutual provider of private health insurance whose slogan revolves around messages of solidarity and togetherness, the very opposite of shopping for low tax rates and offshoring.
Comparison with Team Sky
The UCI gets all the team budgets as squads are audited as a condition for their World Tour licence but the budgets are not made public. Published, audited accounts of pro teams are hard to find but Team Sky's numbers were covered last month and comparisons are probably the most interesting thing.
| | | |
| --- | --- | --- |
| y/e Dec 2013 | Ag2r La Mondiale | Team Sky |
| Budget | €11.9m | €26.7m |
| Payroll Taxes | €2.2m | – |
| Wages | €6.0m | €18.9m |
| | | |
The easy takeaway is that Ag2r deliver more bang for the buck but remember they've had a great year while Sky have had a bad one. Expectations are such that Péraud's Parisian podium was a dream come true while Sky are almost expected to win the Tour.
On the payroll tax question Sky hire riders as "contractors" and leave the onus on them to meet social contributions. At a simple level this leaves the rider liable for the tax but given the rate is lower in the UK there's less to pay and for riders based in Monaco there are no charges levied at all so the considerable wage bill buys a lot more rider.
Take this with a pinch of salt because accounting policies, exchange rates and even translations make comparisons hard. Even in France it's not easy, Ag2r is a mutual health insurance provider and this status involves several tax perks like deductions for Value-Added Tax (TVA) which, it has been reported, extend in part to the team. So comparing Ag2r to Europcar can be a fraught task.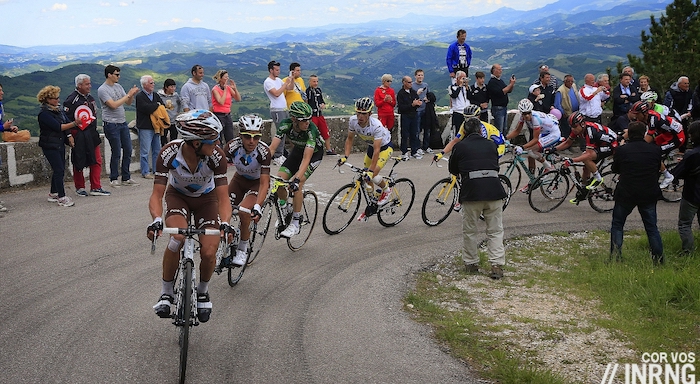 Summary
A modest budget but some good results, Ag2r La Mondiale are outperforming some of the sports largest squads. The entire team's wage bill wouldn't stretch to cover the top-2 riders at Tinkoff-Saxo, Team Sky or OPQS.
Remember these are accounts for the year ending 2013. The team's budget has grown by 10% for the last two years and it'll be interesting to see what they're spending in 2014 and 2015, having renewed the contracts of J-C Péraud and Romain Bardet. The number's bound to go up. Like all French teams the payroll tax consumes a large share of the budget, an uneven playing field when the team's up against others not troubled by these taxes.
Thanks to reader Nicolas for sending over a scanned copy of the accounts.
Exchange rates at 31 December 2013: €1 = $1.37 = £0.82