With Nairo Quintana out of the picture the 2015 Giro d'Italia is likely to feature Fabio Aru and Rigoberto Urán again but they'll have to confront Alberto Contador and Richie Porte too. Four riders in search of a podium? It could be a Pirandello play but it's the 2015 Giro d'italia.
First let's scan the route. As it's the Giro there are many days with surprises and uphill finishes but it's the final week of the race that's decisive with the 59.4km time trial and then the westward traverse of the Alps. There are summit finishes but none are that fierce, selective yes but the hardest stages place the tough climbs before the finish: the Passo Daone before Madonna Di Campiglio, the Mortirolo before Aprica, the Colle delle Finestre before Sestriere. Take a gamble here with an attack and a rider could win minutes, especially if their rivals are left without team mates.
Alberto Contador is the first choice. The Spaniard has a long record of success in grand tours, including the Giro. He is the reputation pick because we don't have much to go on form-wise. He hasn't raced since the the Volta a Catalunya in March and his training been disrupted by a fractured sacrum after his Catalonian crash from which he's made a full recovery were told. 2015 hasn't been a roaring success, he's done three stage races and finished second, fifth and fourth overall, a change from the usual guns-blazing "Pistolero" act but part of a plan to keep his powder dry for the Giro-Tour doppio.
Compared to the early season races this Giro suits him a lot more with big mountain stages to build a big lead. He'll need this because the 59km Valdobbiadene time trial doesn't suit him, gone are the days when he'd win a long distance time trial. That said it comes late in the race and as the cliché goes it'll be more a test of freshness than raw power: he should be good likely to lose seconds to some rivals.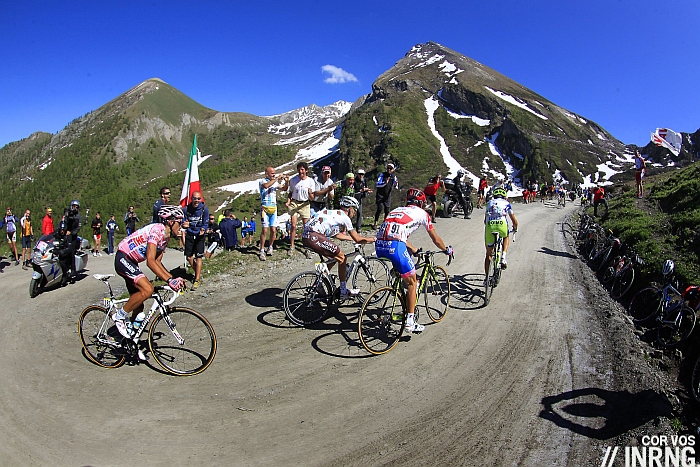 The worry is a repeat of 2011 when Contador took the maglia rosa on Monte Etna after and held the jersey for the remaining two weeks but fortunately he has every incentive to avoid this, the course gets gradually selective rather than providing a giant mountain to start. Also he needs to win by economy and avoid the daily fatigue of leading the race with its media commitments. Tinkoff-Saxo looks solid with Ivan Basso setting the tempo in the mountains. Roman Kreuziger, pending prosecution, has gone for the GC in this race before and could well get in the top-5 if he can rediscover the form he had in the 2013 Tour de France. One change is the absence of Bjarne Riis but the Giro shouldn't be about tactical ambushes. For now he's seem by many as the certain winner but with the Giro-Tour double in mind what if he crashes or gets a little ill, if he's out of the "fight for pink" will he soldier on and gamble on his luck improving in the third week… or retreat to advance better come July?
Richie Porte is the form pick. If Contador hasn't won much this year Porte has a win rate to rival the likes of Alexander Kristoff and Mark Cavendish and stands on nine wins including the overall in the last three stage races he's ridden. It's all in the Team Sky model of winning stage race after stage race so that the big rendez-vous just becomes a repetition, a habit. So much for the past, turning to the next three weeks he should thrive in the long time trial and has been climbing better too. So far so good but can he cope with repeated efforts in the high mountains? His career so far has seen grand tours go from catabolism to catastrophe: he's only ever made the top-10 in a grand tour once before and that was in 2010 when be benefited from the L'Aquila maxi-breakaway, he's been prone to a jours sans or more. To help comes a very strong team with Leopold König as a back-up plan while Kanstantin Siutsou and Vasil Kiriyenka provide the locomotives to Sky's mountain train. If Porte can't win he'll take a podium especially if he can sap Contador to help his friend and team mate Chris Froome.
Rigoberto Urán is the steady choice. Aged 19 he was riding as pro in Italy, he's fluent in Italian and at ease in the Giro. Despite a tough upbringing where he worked as a street seller after his father was murdered he's since escaped the stereotype of Colombian peasant climbers to become an urbane type who excels in time trials more than the high mountains. This year's relatively soft route helps him. He was second in the Giro last year but only after he was stuffed on the Stelvio by Nairo Quintana. Could he have won? Quintana proved the best on Monte Grappa but the lesson is Uran was almost his equal over three weeks. His form seems good, he didn't stun anyone in Romandie but he didn't last year either. He's got a solid team for the flatter stages but can anyone back him up in the high mountains? Pieter Serry and Maxime Bouet are good but aren't normally front group lieutenants.
Fabio Aru is the home pick and could become Sardinia's greatest export since Ichnusa beer. After reports of intestinal illness and ejecting five kilos he's skipped recent races so his form is unknown. But if he's on the same level as last year whether the Giro or Vuelta he'll be a good podium pick. As for the win that long time trial won't help at all. Look at the Vuelta last year where in the 36.7km TT stage to Borja he lost 1.48 to Uran and 1.24 to Contador, now add on 20km and extrapolate the damage he'll suffer. It's an area to improve and where gains come with work and experience so expect narrower gaps but time losses none the less. As a result he has to go on the attack in the moutnains and he's shown the flair to do this in the past. If you don't like the idea of an Astana rider romping across the mountains maybe avoid watching the final week. He has time on his side and if he's convincing in the mountains RCS will be plotting a vertical route for 2016. He's got a strong team too for all terrains.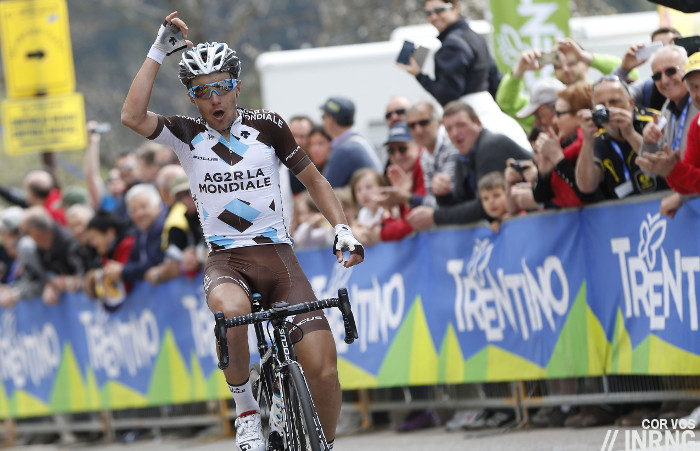 Four ahead of the others. Who else is there? Domenico Pozzovivo is Ag2r's leader and returns to improve on his fifth place last year. The long trial won't help, he has surprised sometimes against the clock but the sheer length and flat first half of the TT will be a real disadvantage. Carlos Betancur rides too and the word is he's getting into shape. He's still a work a progress but remember he's outsprinted John Degenkolb uphill when overweight and after two weeks under the thumb of his team he could come alive late in the race. That's future conditional but his past record in time trials is imperfect.
Movistar have a quintet in Igor Anton, Benats Inxausti, Ion Izaguirre, Jesus Herrada and Ruben Fernandez. Five outsiders compared to last year's top pick of Nairo Quintana. A stage win and two of these in the top-10 would do nicely, the numerical advantage is good but it's hard to see these riders taking turns to sock it to Contador in the mountains. Anton is a top climber and a late addition to the team thanks to great form while Inxausti and Izaguirre are safer bets for stable progression. They might not win the race but could prove tactically crucial for others.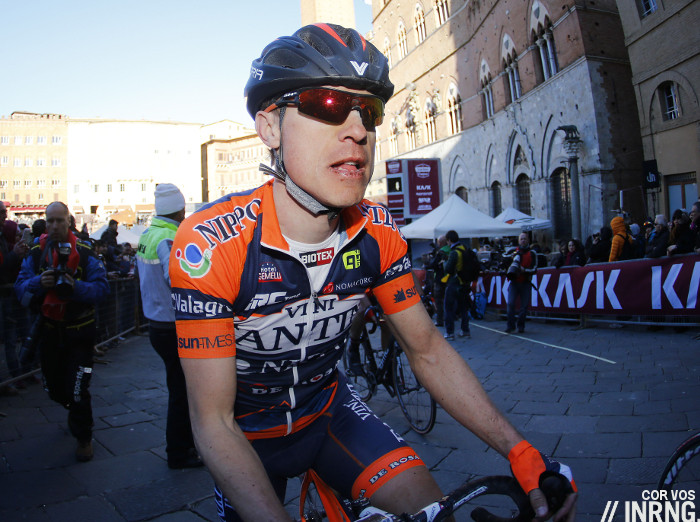 Damiano Cunego has become cycling's version of Ötzi, the man who froze in the mountains and was never seen again for eons. But something is thawing and he's begun to get results again this spring. Fifth overall in the Giro del Trentino, Third in the Giro dell'Appennino suggest he could a surprise in the Giro. But he's been defined by that precocious Giro win in 2004 and has been chasing stage race success ever since. He's probably a better one day racer. As such don't be surprised if he snags a stage win and even the maglia rosa in the opening week although his modest Nippo-Vini Fantini team will struggle in the opening time trial.
Ryder Hesjedal leads Cannondale-Garmin with Davide Formolo along for the ride. Hesjedal has a confounding palmarès, his 2012 Giro win was no fluke as he battled away anything his rivals could throw at him on the way to Milan but otherwise he's got just two Vuelta stage wins from a pro career that's lasted over a decade. But the course suits his build and steady style and at 34 he's on hand to school the 22 year old Formolo, seventh in last year's Tour de Suisse and second to Vincenzo Nibali at the Italian championships plus he's quietly stood on several podiums this year. The Italian's shed weight and below 5% body fat but the time trial stage will be twice as long as anything he's done before.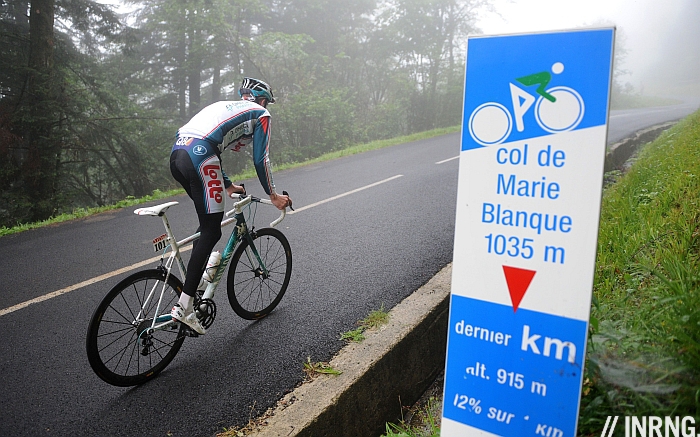 Jurgen Van Den Broeck of Lotto-Soudal is a similar rider to Hesjedal: very few wins but he's got third in the 2010 Tour de France. He could fly under the radar until the time trial stage and then use the final week to start rising up the rankings with a series of regular placings while others fluctuate. It's not exciting to watch but it's effective for him and his team with a razzia of ranking points.
Przemysław Niemiec is Lampre-Merida's GC man and has been sixth overall before. He's been useful in short time trials but is yet another who will flounder like a fish out of water in the 59km time trial. The same for Orica-Greenedge's Esteban Chaves, the Colombian however should be good value in the mountains. Steven Kruijswijk has an affinity for the Giro having first come to the fore with third place on a stage aged 22 in 2010 and then cracked the top-10 in 2011. Now 27 time is running out to get better or to put those wide-shoulders into service as windbreak for a team leader: the Giro is the goal and he's been training on Teide for this. The stealth name is BMC Racing's Daniano Caruso, ninth in the Vuelta last year. Passport forger Franco Pellizotti leads the Androni team but his best days seem behind him, he's now an outsider for a stage win rather than the GC.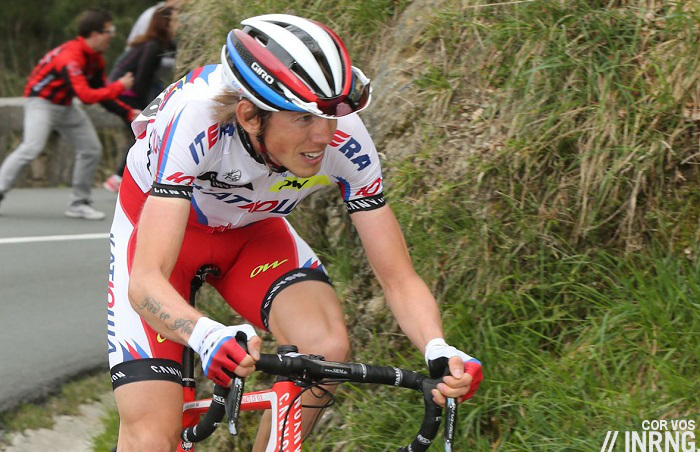 Finally Katusha turn up with Ilnur Zakarin. The "Crane of Tartarstan" has been the revelation of the season thanks to his Swiss sorpresissima. He is in his first year in the World Tour and already he's been able to look down on the likes of Chris Froome, Vincenzo Nibali and Nairo Quintana, whether on the side of a mountain or the top stop of a podium. This alone makes him a curious prospect but his novice nature means lasting three weeks is something else plus for once Katusha look relatively weak with only Yuri Trofimov for the hillier stages. With his rangy build will he do a Franco Chioccioli and lead the race almost from start to finish or is he the next Vladimir Karpets, a mullet on a mission but denied the promise of youth?
| | |
| --- | --- |
| | Alberto Contador |
| | Rigoberto Uran, Richie Porte, Fabio Aru |
| | Domenico Pozzovivo |
| | Roman Kreuziger |
| | Inxausti, Izaguirre, Van Den Broeck, Zakarin |
Comment: lots of names but most will want to vanish for two weeks, to stay in contention but out of the limelight so that they can strike during the final week.
Contador is the obvious pick. His might want a three week rampage but neutrals will hope his lack of racing, a moderate strength team, at least compared to Sky and Astana, and the need to think of July invite him to race more cautiously and leave space for others. Uran, Aru and Porte are probably everyone else's podium picks too which is a concern if we have so few obvious contenders, it hints at a fight for the podium rather than for first place.