A follow-up to yesterday's piece about José Joaquín Rojas, the master of finishing fourth. Some have asked about Greg Van Avermaet and his ability to place regularly. Is he the king of second place, the present-day peloton Pou-Pou? Time to crunch the numbers.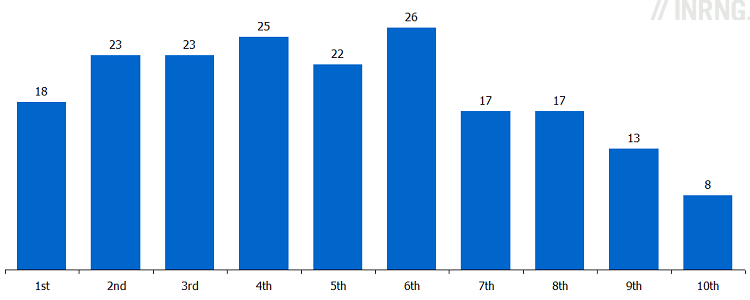 As the chart shows, if you can glance you'll see Greg Van Avermaet as a sixth-place specialist… although only just. What is striking is the consistency of nearly-man places with a tight group of positions around 2nd-6th place. But the win rate isn't too bad either, 18 wins for 192 top-10 places or 9.4%, a normal distribution in every sense. Compare that to Rojas and his 9 wins for 258 top-10 places, 3.5%. Some have said GVA is a choker prone to throwing races away but the stats say he wins often enough and is very solid.
The problem for GVA is the simple stats don't tell the full story, he might have a decent share of wins but those wins have come in smaller races, four alone in the Tour de Wallonie compared to three in the World Tour: a Vuelta stage win in 2008, an Eneco Tour stage win in 2014 and the recent Tirreno-Adriatico stage win.
Meanwhile the runner-up places are legendary and crucially, screened in prime time TV and recent. Think of second place in the Ronde Van Vlaanderen last spring, second behind Vincenzo Nibali in the Sheffield stage of the Tour de France or third in another Tour stage last summer, third in the E3 Harelbeke and so on.
Van Avermaet is 29 and the career path is one of progression. He's under investigation in Belgium and some saw his recent win in Italy as a response to this but without this you suspect he'd have won in Arezzo too, the finish is ideal for him. Tactically he's in a paradoxical situation where he has a fast sprint but he's not the fastest sprinter, he can ride solo well but can't expect to ride away from the likes of Fabian Cancellara. He's very good in an uphill sprint but so is Peter Sagan and more. He's placed fourth in Paris-Roubaix and seventh in Liège-Bastogne-Liège, in fact if you add up his best finishing positions in each of the Monuments he has the lowest total and his great versatility is reciprocated by a lack of a specialism.
So what's he to do? The distillation of his abilities says he can sprint well from a small group after a very hard race, so perhaps he just needs to play the numbers and sit in for a sprint from a select group rather than using up watts in speculative solo moves. Take his attack on the Poggio last Saturday, it could have prompted a selection but perhaps it would have been better for him to sit tight and track someone else doing it. All easier said than done but the numbers show he can win and will win more.
Summary
Often seen as Mr Second Place, Greg Van Avermaet's won plenty too and unlike Rojas, there's no statistical aversion to first place. If some take him to be a Poulidor, it's by perception rather than reality, it seems more that his second places and near misses have happened in some high profile races. Crunch the numbers and he's very consistent rider, by some measures the most solid rider across all the classics. As a versatile rider he can place in a variety of races but will he win big soon?