All eyes are rightly on Flanders in anticipation of this weekend's Ronde van Vlaanderen, one of the best races in the world. All the more reason to take a quick look at a different subset of riders and evaluate where things stand for the Giro.

The chart shows the bookmakers' odds for the Giro victory over the past seven weeks. Alberto Contador is and has been the obvious pick while Richie Porte has seen his odds tighten following wins in Paris-Nice and the Volta a Catalunya. Rigoberto Uran and Fabio Aru sit stable while the odds for everyone else are off the chart, the next names are Vincenzo Nibali and Rafał Majka only they're not racing, then comes Domenico Pozzovivo on decimal odds of 18 and Dan Martin on 34.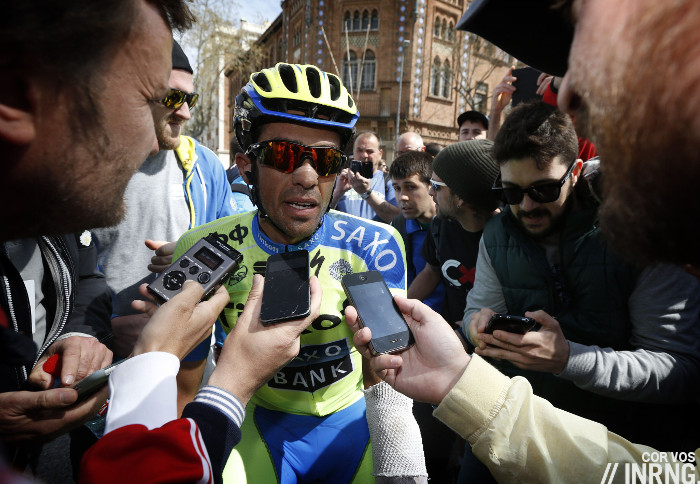 All looks on track for Alberto Contador. Combine the other three from the chart above and their sum total of grand tour wins amounts to zero. Contador counts six wins and that's before accounting for the 2011 Giro and 2010 Tour de France he lost over his clenbuterol saga. Still his odds of 1.7 (or less than "evens" in fractional terms) speak of a saturated market and a poor bet given he hasn't even started the race yet. The course has been built for him but not to engineer his win, merely to ensure his participation. RCS need star riders to bring some glitz to the race and knowing Contador wanted to do the Giro-Tour double they helped with a more gentle course which ironically means he could be victim to surprise attacks any time; plus gone are the days when he'd win a 60km time trial.
Richie Porte has looked good so far, in fact he's the UCI number one right now. It invites the "has he peaked too soon" question. Only this became a meme in years past as Bradley Wiggins and Chris Froome notched up wins on their way to the Tour de France. With Porte it's a more legitimate question, he's never made the top-10 of a grand Tour in a straight contest. But he hasn't been leader before either. He went into the 2014 Tour de France "flying" only to find himself exhausted by the Alps, apparently suffering from pneumonia. Speaking to cyclingtips the Tasmanian isn't sure of the team and Sky will be keen to rest their classics contenders and spare their A-team for July. Talking of July, Porte is tasked with the podium but Sky will be delighted if he runs Contador ragged around Italy, the harder the fight the blunter Contador will in France.
The Astana team is nervous now but Fabio Aru probably doesn't have to worry. The UCI is trying to remove the team's licence but RCS boss Mauro Vegni says he's has been given assurances the matter will be settled before the Giro. The UCI is not in charge of any appeals so the case could drag on regardless of backroom promises. If Astana vanished tomorrow Aru could try to switch to, say, BMC Racing, however the rules are woolly, a switch is possible but not certain. Back to sport matters and he seems in just the right place. He was with the select group in Paris-Nice on the Col de la Croix de Chaubouret and has just completed a good Volta a Catalunya where crucially he was with the best on the tricky stages when the attacks were flying. However it's his performances last year in the Giro and Vuelta that bode well, he was solid across the three weeks. He coped fine with team leadership in Spain and Italy alike. The persistent worry is his time trialling and Stage 14's 59.2km; losing two seconds per kilometre and he can lose whole Giro.
Dutch website Het Is Koers has a nice series about "forgotten riders" and I fear Rigoberto Uran could end up on their list in some distant day. He's a brilliant rider who can match the best only his problem is that he's regularly bettered by them. "Uran" isn't engraved on many trophies nor populating the pages of Wikipedia. A perpetual podium pick he's very solid across all terrains and far from the Colombian stereotype of angels, condors and beetles. He's also an oddity on the Etixx-Quickstep team, a stage racer on a team that lives for the one day classics, a bottle of fine wine in a Flemish beer bar. He's likely to share team duties with Mark Cavendish meaning reduced mountain support. So far so negative on him but it's all nuance, he was second in the Giro last year and crucially he got mugged on the Stelvio by Nairo Quintana, he was leading on the day and had the stage been more ordinary perhaps he'd have kept his lead? Still, defending the lead to the end would have been even harder but it means he's coming back for revenge.
The rest: with the Tour de France attracting so many and uncertainty over who will start the list of other contenders falls away quite steeply. Domenico Pozzovivo is certain to ride and a good pick for a stage at the top-10 as he's even surprised in a time trial before. Damiano Caruso has been hired by BMC to improve on his Vuelta top-10 last year and without the likes of Froome and Valverde it's possible. Estaban Chaves will be fun to watch, the Colombian climber has won big already and a stage win is in his grasp. Beñat Intxausti is a regular rider and should land Movistar some points but a podium finish seems far.
Summary: 40 days isn't much time to turn around form but all seems to be going to plan for the main contenders. If Alberto Contador's win almost feels like a formality nothing's certain in cycling, just ask Bjarne Riis. The bookmakers have four picks and Richie Porte's odds of a win have shortened substantially in recent weeks. But Fabio Aru's maturity and home advantage give him plenty and Rigoberto Uran's role in the Giro last year has been eclipsed by Quintana's triumph but with fairer conditions he could be the surprise pick.