Cycling's never a predictable sport, it can't be in a contest where 200 riders can start together as opposed to the binary contests in other sports between two teams or just two players. Add to this the varied of geography, extreme weather and other variables and picking winners is difficult. Plus there's all the activity outside the races, from tech to politics, business to doping scandals. With these excuses in mind, here are 10 predictions for 2015.
The Ardennes week will have a different feel. First there might be a new finish for Liège-Bastogne-Liège. There's been vague talk of a finish in Liège itself rather than the drab suburb of Ans. The final climb has ensured a selective finish but the parcours has become too predictable. In 2013 they had to remove the Côte de la Roche aux Faucons, a surprise late change and on paper the revised route didn't look so hard. But it was unknown and riders were forced to take risks, to improvise. A flat finish in Liège would mix things up, especially as the climbers would have to go early to ditch those with a sprint. If familiarity breeds contempt then a new finish is worth trying.
Second sister race Flèche Wallonne will be enhanced by the contenders because the Mur de Huy finish also appears in the Tour de France. Consequently the experience of racing up "the wall" is deemed essential, teams want to learn more about the race to the foot of the climb and the leaders can learn to pace themselves. The mantra of seeing "the best riders together in one race" won't apply, no sprinter has much to gain but we could see Chris Froome vs Simon Gerrans, Philippe Gilbert vs Vincenzo Nibali.
Alberto Contador will win the Giro. Sadly this prediction feels too easy, raising the prospect of a great race reduced to a victory parade across northern Italy during the final week. Closer study of the route suggests it's not as savagely selective as the past so we could see queues forming on his back wheel with challengers keen to push themselves to the limit knowing Contador might try to hold something back with a view to the Tour de France? But this sounds like hope over experience, we're likely to see more restless legs syndrome from Contador and the best way to win the race would be to establish an early advantage and use his team to control the race thereafter.
The Criterium du Dauphiné will be a very different race. It used to be said that you can't win the Dauphiné and the Tour de France in the same year, so much so that many thought Bradley Wiggins was doomed in 2012 after winning the Dauphiné. But Wiggins won the Tour and Olympic gold and Chris Froome did the Dauphiné-Tour double in 2013. The week-long Alpine stage race became a pre-Tour dress rehearsal. Only this year both Vincenzo Nibali and Jean-Christophe Péraud were not racing the Dauphiné to win and this should affect the approach for 2015, racing hard in June might dip out of fashion; more so if Alberto Contador is resting in between the Giro and Tour. Last year's race was great – not every stage was gripping – so this year's edition can't be as good. Paradoxically if the racing is less intense it might open the door for a repeat by Andrew Talansky or another young pretender like Wilco Kelderman who will seize a chance rather than bide their time for July.
Marcel Kittel will be the sprint king and his Giant-Alpecin team will thrive. Kittel is in such a strong position that other sprinters are looking around for alternative results in the classics or on the track. But Kittel is staying focussed on the pure sprint finishes with team mate John Degenkolb as back-up for hillier days and the classics. The team has a lot of resources dedicated to supporting Kittel. Success breeds success and this team is growing bigger and better with more sponsors and tapping into the German market. The team has grown from humble beginnings and should keep its momentum thanks to sprint wins from others like Luza Mezgec plus wins on other terrain from the likes of Tom Dumoulin and Warren Barguil.
A year without a major doping scandal? Wishful thinking but look at 2014 where things were relatively quiet. We're still waiting on Diego Ulissi's case, the verdict is due this week. Of course the Iglinskiy brothers were busted followed by the Astana Continental team implosion but a lot of La Gazzetta's reporting in December was a reheat of past allegations. A lot of the scandalous headlines in 2014 related to older events like Dennis Menchov, Alessandro Ballan, Carlos Barredo, Jonathan Tiernan-Locke being finally put to bed. 2015 might have "old" doping news like Roman Kreuziger's case being resolved but there's a downward trend in big busts and scandals. Not to say there's no more doping but it looks like athletics is becoming the whipping boy of anti-doping.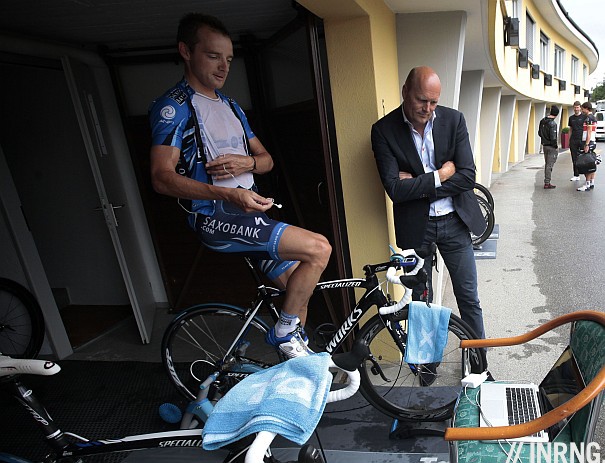 Cycling will remain impossible to watch: millions can watch the Tour de France but other prestigious races on the World Tour calendar are hard to find. Each race owns the broadcast rights to their own event and sells them to the best bidder but often the domestic market is the main market and foreign followers are an afterthought. It means following the sport requires multiple cable, satellite and online subscriptions and yet still some races are out of reach. No wonder that many resort to pirate streams with more viruses and pop-ups than a children's library. There's nothing to suggest this will change.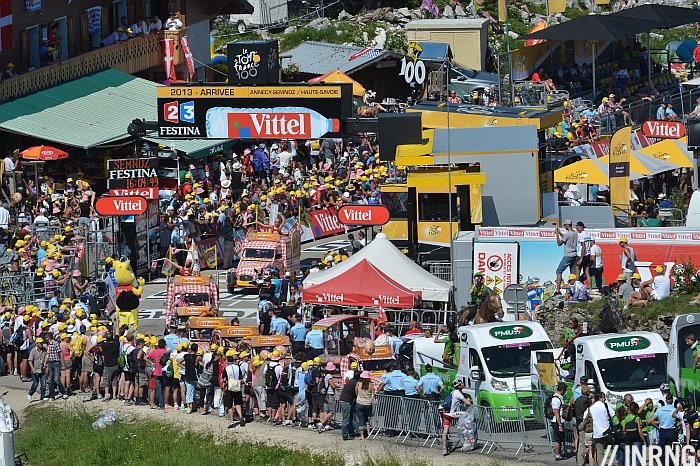 The Tour de France gets sold. This story comes around and it'll be back for 2015. In 2013 Arnaud Lagardère sold his 25% stake in the Amaury group which owns the Tour and newspapers like Le Parisien and L'Equipe. Lagardère's sale means meaning potential buyers won't find a third party shareholder frustrating them. Now the Amaury family are said to be in talks with French media company Vivendi which has billions to spend following the sale of mobile phone assets in France and Brazil. ASO is a potential target, largely for its newspapers. The idea is that Vivendi can buy Le Parisien and L'Equipe on the cheap given their falling sales, use its digital know-how to turn them around and therefore make the deal work. Stockmarket experts say the Tour de France can be screened on Vivendi's Canal+ subscription satellite channel making a deal fit even better. Only there's a government decree that stipulates the Tour de France must be screened free to air which kills this part of the deal so as predictions go, there might be talk of a deal but inking it is the uncertain part.
The UCI's 2020 reforms get diluted and delayed. This piece began as a draft in December and now it's mid January it's a more obvious call as some are already speaking out. So to take things further, let's imagine the teams and the UCI at loggerheads. We've already seen the team's make angry noises about the sweeping changes to the rankings system, a sign that there's little dialogue before reforms get announced and that the usual communications channels are being closed off, Dutch team boss Richard Plugge for example has told the UCI where to stick its ranking reforms. If teams are this upset with changes to the arithmetic of points, imagine how they'll feel on more weighty topics? With Velon taking a sharper focus than the AICGP we can expect more antagonism between the teams and the UCI. So far Velon's been all about on-bike cameras but there's little to no money behind this. After all an entire live rights broadcast to the Tour de France was sold to German broadcaster ARD for just €5 million. So instead we'll see coordinated action between the member teams and a deliberate stance to put themselves first ahead of other teams. Expect simmering arguments with ASO, the UCI and others.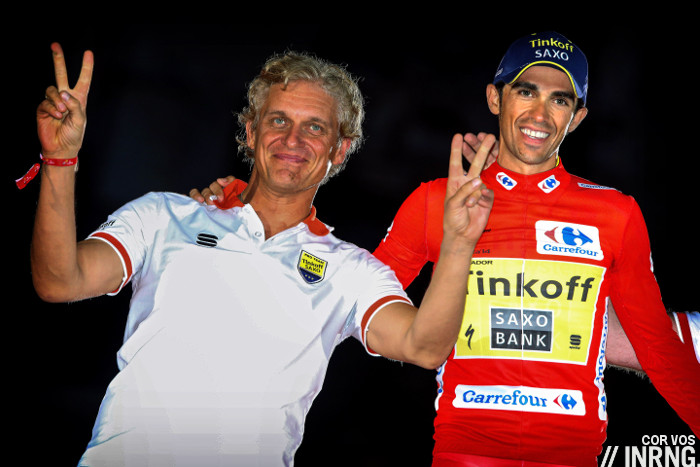 Oleg Tinkov will continue to provoke. Some might think he'd calm down now the excitement of team ownership wears off. But unlike a fantasy game you can forget, commanding Tinkoff-Saxo is real so the stress will stay high. He's made a career out of provocation and seems unlikely to change, even if his nervous chatter looks bad for a banker who ought to look stable: one minute he wants to build the best team, the next we've got headlines about pulling the plug. Some are even saying he'll have to quit cycling. I think he'll stay but it'll be fraught. He might have learned lessons after insulting Alberto Contador on Twitter but if Peter Sagan bungles a classic he'll be the first to share his frustration. Expect podium photo bombing antics and, his new past-time, more Brailsford-baiting.
FSA 'Plasma' integrated bars/stem.. pic.twitter.com/LL07mMvZ5F

— GCN (@gcntweet) January 10, 2015
Bike tech won't bring anything new. In recent years we've seen universal adoption of carbon rims, electronic shifting, new power meter companies and so on but there doesn't seem to be much to get excited about on the horizon. New product launches look like iterative refinements rather than big changes. We're still waiting to see proper integrated electronic shifting, the idea of buying a $10,000 bike and then using cable ties to hold CPU units or shifter buttons shows there's still a long way to go, maybe FSA manages to fix what Shimano and Campagnolo have not? Or perhaps the biggest change is regulatory with the UCI finally changing its 6.8kg rule and allowing lighter bikes?
Finally there are some things beyond prediction. Take the Tour de France, if it's the biggest event then who will win it is the biggest question. Only it's impossible to predict. Allowing for post-race adjustments and wartime interruptions, we're now in the longest streak of individual winners: as soon as someone wins the race one year, the next it is won by someone else. 2015 means a decade years without consecutive wins for anyone. If Vincenzo Nibali's chances look slim on precedent then he's up against Alberto Contador, Nairo Quintana and Chris Froome. Picking one of these four names is hard, each has their strengths and watching their approach to the Tour will be interesting, a story in itself. This time last year the bookmakers were pricing Froome as a certainty but now the prime contenders are all at about three to one, a refreshing uncertainty. By all means pick one of these four, you can start to make a good case for each one… until you think of the others. We'll get an early clash in the Ruta del Sol with only Nibali missing.