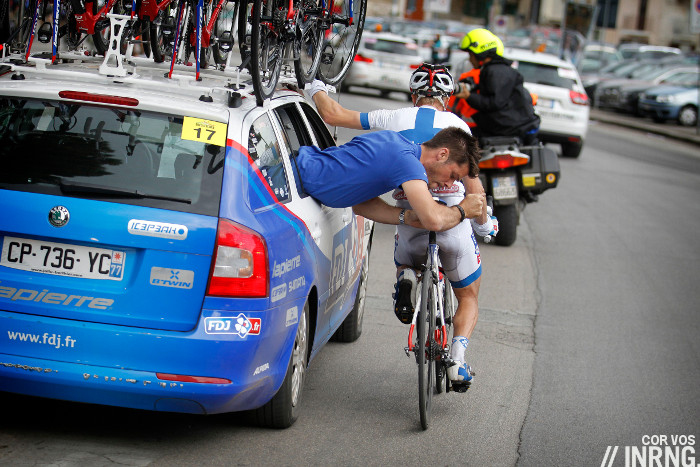 It's a big week month for pro cycling with the exposition of sweeping reforms by the UCI expected in the coming days. We will see what emerges but there's talk of redesigning the calendar and revising the league system of the World Tour. If half of this appears it could amount to the most significant changes for a quarter of a century.
But ahead of radical reform, what about some quick fixes, administrative equivalents of a roadside repair? Here are ten tidy tips that could be done in days…
End pro contracts in November: I've covered this in more detail before, stating pro contracts should run from November to November rather than 1 January-31 December. Why? Because calendar year contracts don't match the reality if employment. Any rider moving teams for 2015 is already working for their new team today, attending a pre-season camps or accumulating hours in the saddle yet they're still being paid by their old team and worse, having to ride their old bike and team clothing until New Year's Day.
Award licences earlier: the Tour Down Under is six weeks away… …but some teams still don't know if they'll be in the World Tour and await news from the UCI this week. It matters for a sponsor keen to plan marketing, management trying to plan the calendar and write rosters. It's also the little details, some teams still can't order new kit as they don't know if it needs the UCI World Tour logo or not. All this means reviewing the licence criteria earlier, bringing forward the licence evaluations – perhaps as an option – in order to provide the security sponsors, team managers and riders need.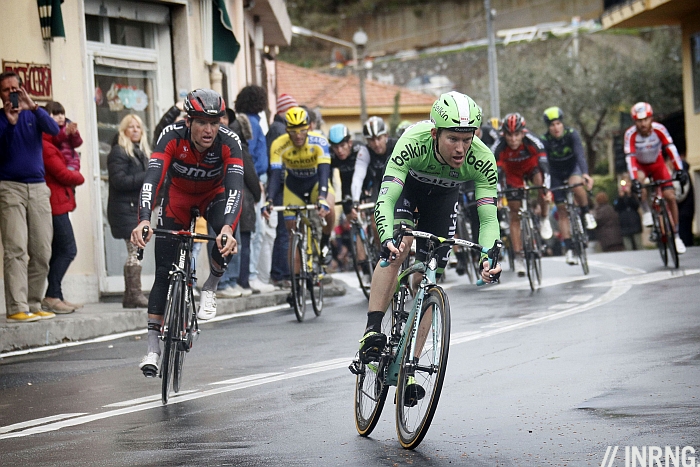 Timing mats: there's talk of GPS and telemetry but low-fi and relatively old tech could make a big difference for television. Take Milan-Sanremo when we didn't know who made it over the Poggio in the first group. Expert commentators did their best to pick out many riders in the murk but it wasn't ideal. The solution: just place timing mats at strategic points on the course to capture the chips on bikes. Be sure to have a second chip on any secondary bikes.
For more general visibility and practicality the idea of race numbers could be revisited. As mooted last January there's something comforting about the pre-race ritual of pinning on your numbers but it's archaic seeing pins and paper in 2015. We could have jerseys printed with a season-long unique rider ID as a textile equivalent before going any further with RFID and geo-location.
Move the CADF: the UCI has created the Cycling Anti-Doping Foundation as a separate legal entity to run its anti-doping aspect. It's supposed to be independent and changes have happened, for example, President Brian Cookson no longer sits on the board… …but he still sits metres away as the CADF sits inside the UCI's offices. This opens it up to all sorts of soft connections to the UCI. A new office with some distance would signal further independence.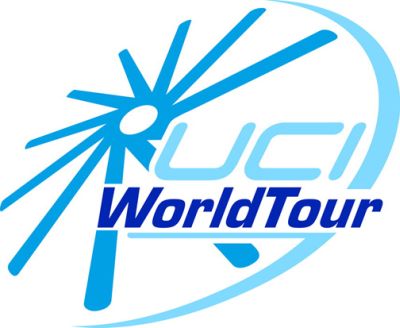 Brand the World Tour: what's the difference between the World Tour, Pro Tour, Pro Team, World Cycling Tour asked a blog post on here earlier this year. Maybe someone read it because a some of the nomenclature is being simplified for 2015, for example a UCI ProTeam, one of the top-18 squads riding the World Tour races gets renamed as a UCI WorldTeam . But we could see more and the World Tour as a concept and brand could be a lot more distinctive. After all this is cycling's premium calendar, it's our version of the Champions' League, World Series or Formula 1 but often doesn't feel like it. Sure each event is different but some branding and co-ordination could work.
A World Tour website: a hub website for the calendar would be useful. The old uciworldtour.com website now points to UCI.ch with a page with three "news" stories where one of them is 54 days old. It could be revived as a lively site with content and it could link to events and more.
Compulsory race websites: talking of websites, there should minimum standards for all World Tour races with course maps, ideally exportable into mapping software plus, route profiles, timings and more. They could have some compulsory English pages with the basic info to ensure fans around the world can find out what's going on. You'd hope events would have great websites in order to offer simple promotion for their own efforts but this isn't the case, some race websites read like an afterthought. Perhaps some compulsion as a condition of a licence would work?
UCI merchandising: the UCI owns rights to rainbow bands and already polices the use of rainbow bands. It could start selling selling derivative products. Sure the sales won't be big, especially as the promotional rights to each race belong to each race organiser, but it's an avenue to explore. A World Tour diary anyone? A t-shirt? An App?
UCI communications: from time to time the UCI website features a story on the World Cycling Center or has a photo of the President shaking hands with the head of a national federation. But there's not much to illustrate what happens inside cycling's governing body, the work done by 95% of the staff rather than its President. It might be superficial but reminding everyone that people at the UCI enjoy the sport could help. Staff profiles, posting pics of the lunchtime rides and similar things are subtle ways to remind us that UCI staff don't spend all day drafting rule changes, suing journalists and filing appeals with the Court of Arbitration for Sport.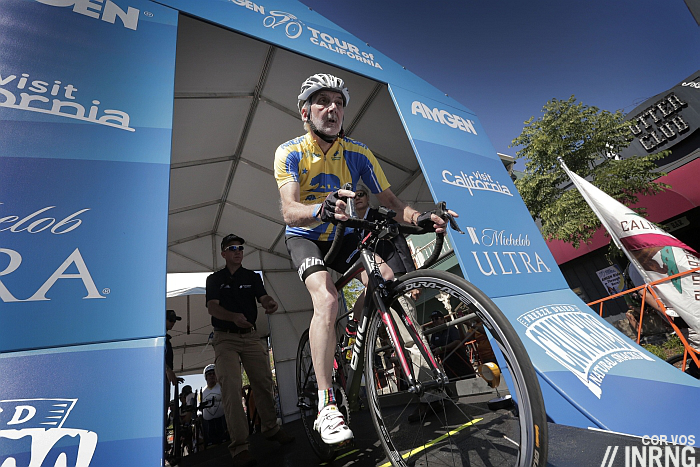 Conclusion
Cycling isn't broken but there are some quick fixes to think about. The random rapid-fire ideas above might be easier said than done but most are achievable, if not in days then a season. Demonstrating the UCI can manage some easy tasks would provide assurance it can handle heavier lifting like structural reforms. Why reinvent the wheel when a few spokes could be tightened first?