In recent years race radios have been a key part of team tactics in the big races, many times we've seen riders cup their ears to better hear a message relayed from the team car. Now in-race communications will be banned for all road races in 2015 according to a new UCI rule.
All change? Or just a new round of protest between the teams and the UCI and a test of authority for President Brian Cookson?
Update: radios won't be banned. The UCI is promising to update the rulebook early in the new year and radios will once again be allowed.
Radio recap
Race radios are two-way radio devices allowing riders to communicate with a manager in the team car. Carried in the jersey pocket or a pouch on the shorts, they allow for safety communications and tactical instructions during a race. They first appeared in the early 1990s where the Motorola team was the first to employ them. The idea is that riders can be warned of a danger, told about rising crosswinds or encouraged to go "full gas" by the team manager. Managers can also instruct riders to chase down breakaways and, with more information from a team car via the commissaire's radio course and television coverage, the chase has been able to dose its effort to catch a breakaway just at the right point.
This frustrated French television executives as ratings fell for the flat stages where inevitably a break of no-hopers would go up the road knowing they'd gain little more than tired legs and TV airtime for their sponsors. Some call it a suicidal break but writer Daniel Friebe describes this tactic as a "commercial break".
"I was convened to a meeting with the biggest producer of television images of cycling, France Television, and was told by senior executives clearly that if radios were retained in cycling and used as they were being used that the coverage of cycling on television would be reduced."
– Pat McQuaid, UCI President, 2011
That's Pat McQuaid in a letter sent to riders in 2011 explaining why the UCI wanted to ban radios. In retrospect the prospect of dull processions across featureless landscapes is another factor catering ratings and ASO has moved to spice up the opening week with hilltop finishes and cobbled chaos, but that's another story. The UCI's ban met with resistance from some pro teams and ever since there's been a compromise: they're banned from all races except World Tour races, women's World Cup rounds and all time trials.
At times the team protest was about more than the radios, it was an issue on which some team managers decided to push back at the UCI in order try and ensure they have a say in how the sport is run. It became a Trojan Horse topic with teams even threatening to boycott World Tour races unless the UCI gave in. A farce in public with behind-the-scenes menaces.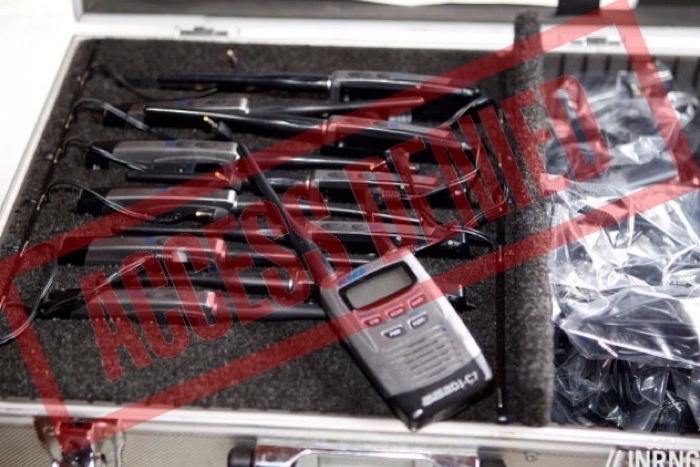 The 2015 Ban
Jump to today and the UCI rulebook says they're banned for 2015 and beyond. Here's the relevant section: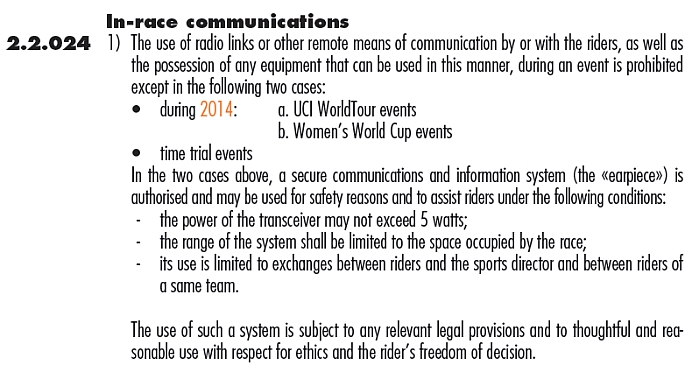 The red ink marks the change since the last set of rules and the rules above date from their approval at the last UCI Congress in September, presumably that's why they specify during 2014, ie for the remainder of the season after the rules came out. But that's it, the rules now state they're prohibited in 2015.
Or are they?
The UCI has tried to ban them only for the teams to use them in defiance or to make protests. For example in 2009 14 teams rejected a trial during a stage of the Tour de France to race without radios, soft-pedalling most of the way: teams were happy to take the protest as far as the Tour. There are several other examples too. Faced with these protests the UCI relented.
Now it'll be interesting to see what happens at the Tour Down Under in January. Will new UCI President Brian Cookson back down or take a stand on the rulebook? Cookson's consensual style seems to suggest he'll listen to both sides and mediate rather than go for the clash method celebrated by his predecessor. With this perhaps the rule gets rewritten and radios are allowed once more. But can Cookson afford to do this? He's put his name to the new set of rules and being seen to roll-over won't help the image.
Why it matters
There are two reasons why this matters:
First involves the nature of the sport and the interaction between riders and managers. Some don't like "remote controlled racing" although I think the idea that managers can direct riders like some high-resolution version of Pro Cycling Manager is a caricature. The radios just don't work that well. Anyone lucky to have seen Sporza's Wieljahroverzicht, their annual review of 2014 will have enjoyed the team car and radio footage from the classics. Either way managers paying millions for teams want to retain some contact during a race
Second is the political aspect. Push back the UCI on radios and teams show they can break any rule they like. The rulebook goes from being the legitimate definition of cycle racing towards a code, an à la carte menu where teams can pick and choose the bits they like.
Summary
Radios have been in use for a quarter of a century now but the UCI has moved to ban them. This isn't a Spanish Día de los Inocentes wind-up: I gave it a mention in the Christmas Quiz a few days ago (answers here) but the topic, ranging from tactics to politics, merits a bigger explanation and generated some interest by email. Early attempts to prohibit radios met with protests by the teams and some riders and a compromise solution was reached where the continued use of radios was allowed in World Tour events. Now the rulebook says they're banned for every road race in 2015. What will the teams do?
Update… what will the teams do? Seems clear…
"@micacquarone:the UCI goes back. As usual. So sad. RT"@inrng: Inner Ring: Race radios banned in 2015 http://t.co/vYymZa5tLl""no f*cking way

— Patrick Lefevere (@PatLefevere) December 28, 2014
@inrng want to place a friendly wager on this? No way they are banned in 2015. Watch. — Jonathan Vaughters (@Vaughters) December 28, 2014

Meanwhile @ciclopassione suggests it's a grande typo…
It was the same in 2013 to 2014. We guess that Uci secretary only made a little mistake @inrng pic.twitter.com/9TDBpDXKUF

— CicloPassione.com (@CicloPassione) December 28, 2014
Update II: Radios will be allowed in 2015 on the same basis as 2014, in World Tour, Women's World Cup and Time Trials. I'm told the UCI rulebook will be amended to reflect this early in the new year. So a vintage typo in the rulebook or did this piece above provoke discussions? It seemed odd that it sat in the rulebook for months.