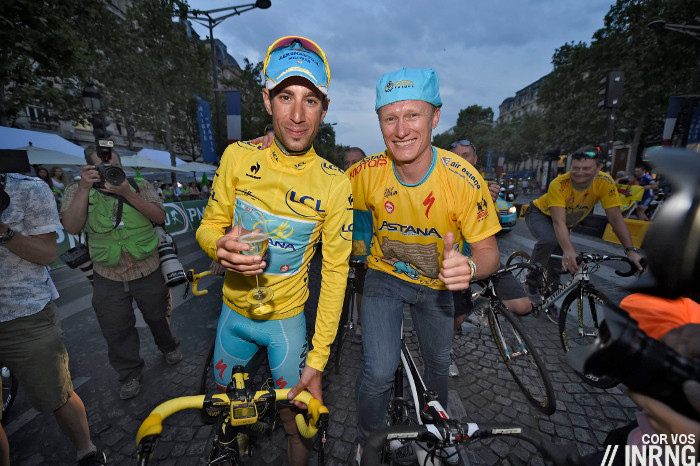 Astana have got their World Tour licence for 2015 following a late review from the UCI. A shock? Not really because the rules don't give the Licence Commission much room to exclude a team. It takes a smoking gun, or in the case of Team Europcar, denied a World Tour place, cold arithmetic.
It's worth remembering a licence is primarily an administrative exercise. The team can exist on paper but it's going to face headwinds in the coming weeks and months. In fact you wonder whether the sponsors will want to continue?
Reminder: In order to get a licence a team must meet four criteria: sporting, financial, administrative and ethical. Astana has had no problem on the sporting scale given it has several top riders and the financial and administrative issues are not the problem for a team famous for deep pockets. Instead it's been a question of ethics. Obviously.
But what have Astana done wrong to be denied a licence? There's a James Bond film where 007 receives a bullet with his name on it and wonders aloud who might want him dead. "Jealous husbands! Outraged chefs! Humiliated tailors! The list is endless!" replies his boss. Astana might appear to have an endless list of suspicion too. But we can discount some of them, at least under the rules.
Under the rules the Continental team is separate so all their troubles aren't taken into account, those positive tests of riders you've never heard of aren't taken into account. That's what the rules say, we might make associations but the teams are deemed to be different. But what of all the stories from Italy and in La Gazzetta about Michele? Earlier today L'Equipe reported that the UCI wrote to its licence commission to say that it has yet to get a copy of the file from Italy and so the Licence Commission must award Astana's licence regardless of the current headlines. What of Alexandr Vinokourov's reputation? Well it's surely the same as it was this time last year when Astana got a licence too.
Which leaves the Iglinskiy brothers and their two EPO tests as the only novelty for the licence application although we can include Ilya Davidenok as a team stagiaire too. It's bad but other teams have had two or three positives in a year and kept their licence, for example say ciao! to Fluo Yellow who get their Pro Conti licence today. So everything else, the Conti team triple positives, Vinokourov's reputation, La Gazzetta's recent revelations, didn't count.
This might annoy some but it's actually the right thing to do… under the existing rules. Licences can't be awarded on the basis of newspaper headlines, if there's evidence it needs to be studied carefully rather than gleaned from a sports paper. We might be shocked by the revelations but calls for "something must be done" don't equate to "do anything".
Crucially any licence granted today can also be suspended under the rules or withdrawn. Here's the rule:
Some might prefer the precautionary principle to apply here and for Astana not to have a licence pending the resolution of any ongoing investigations… but that's not in the rules. So if you don't want Astana you really want the rules to be rewritten first. Similarly you might be disappointed in Brian Cookson but he's following the rules, something his predecessor Pat McQuaid didn't always do. Above all the shadow of the Katusha licence debacle hangs over this. The team was ejected from the World Tour but won back its licence by appeal at the Court of Arbitration for Sport, with the court ruling decisively for the team.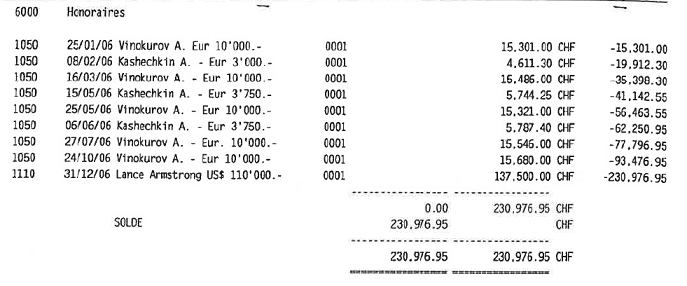 What did the UCI do about Vino?
The UCI and others do have a duty to investigate in the name of anti-doping. Given Vinokourov was mentioned aloud in the USADA report – excerpt pictured above – what did the governing body do about this? If it simply sat back then questions need to be asked. But if it invited Vinokourov for questions in late 2012 or early 2013 and he's on the record denying links to Dr Ferrari then he's got some explaining to do and could still be banned.
Closing the stable door
Many say there should be a rule banning riders convicted for doping from working in team management. Few know this rule exists already. Rule 1.1.006 does ban those with prior convictions. But only those given full two year bans since 2011 are involved. It cannot be applied retrospectively, so riders rumbled a decade ago can't be excluded, for example Vinokourov, Riis et al.
Team Scapegoat?
Astana come out looking bad from the recent revelations in La Gazzetta dello Sport but they're far from alone. A lot of today's "news" is actually a reprise of the story from 2012, only this time, like a reheated dish, it's had some spice added in the form of new names being revealed, sums of money mentioned and some of the investigatory methods disclosed – including tracking the passage of certain athletes as they drive through autostrada toll booths. But to stress again, most of this came out in 2012.
Back in 2012 Astana were mentioned but riders from Liquigas, Lampre, Colnago, Geox, Androni, Katusha, Quick Step, CSf-Inox, Farnese Vini, Acqua & Sapone, Astana, RadioShack, Vacansoleil, ISD, LPR, Diquigiovanni, Tinkoff, Rabobank, Gerolsteiner and Milram were investigated too. Now it could be one rider from a team and they were duly cleared but the long list illustrates this goes well beyond one team and back then the pink paper said "whole teams" like Radioshack and Astana could be implicated. If Astana look bad in La Gazzetta today then, among others, several Katusha riders must also be feeling the heat too while Movistar's J-J Rojas and Gio Visconti have used Twitter for denials. Exclusive: Vinokourov isn't the only team owner to feature in an Interpol investigation.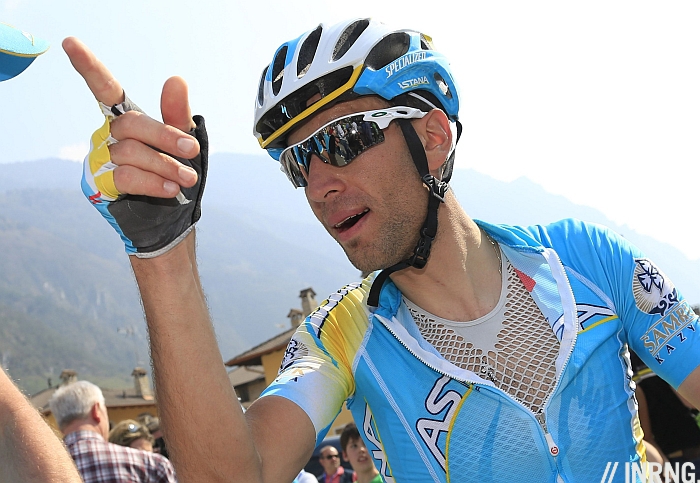 What's the point?
Astana can now race in 2015 but why bother? The Kazakh development aspect has been blown apart because of the Continental team troubles so viewing the project as a means to allow Kazakh cyclists to progress has stopped. If the sponsors want to use the team to counter negative images of Borat and dodgy elections then the team's shenanigans are only damaging Kazakhstan's image. All while costing of €20 million a year. Maybe they'll soldier on with talk of rebuilding trust but it's turd polishing at best.
Summary
An unpopular decision but inevitable under the current system. It doesn't make it right morally but the UCI can only deal with the rules it has and this is a lot safer than making up the process as it goes along – Malaysian nominations anyone? – only to be forced to repent at leisure and cost upon appeal.
As far as the World Tour team goes, strictly speaking the only change to Astana's position since this time last year has been two cases of EPO use. Given other teams have got licences renewed following two pr more anti-doping prosecutions it's explainable that Astana are licensed to race for 2015. But this is not the end of the matter. Today's revelations in Gazzetta aren't that new, what did the UCI do about them back in 2012? And if the facts about Astana change with new evidence from Padova then so will the status of the licence.
Beyond today's administrative award Astana still faces an existential crisis. They're cleared to race but the presence of Alexandr Vinokourov at any races will prove toxic to their image. They might be licensed to race but what is the point of the team?