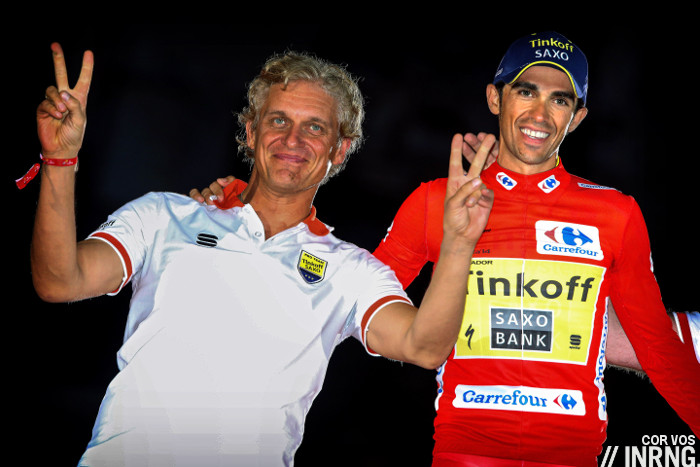 Oleg Tinkov's offer of a million Euros to ride all three grand tours has grabbed a lot of attention. It sounds good but anyone brave enough to take up the challenge could well finish the year out of pocket. It's madness… but he does have a point.
Some headlines say "Chris Froome offered €1m Grand Tour challenge by Oleg Tinkov". But see what Tinkov actually said and it's a €1 million pot to be shared among four riders: Alberto Contador, Chris Froome, Vincenzo Nibali and Nairo Quintana. €250,000 per rider. Great, but that's 10% or less of the pay of a champion cyclist.
It's hard enough to win the Tour de France when all is going well but imagine starting the Tour with the Giro having gone badly? Robert Millar puts it well on cyclingnews.com:
"riding the Giro for the win could well cost way more energy than you bargained for. Bad weather, high mountains and rarely a flat day soon add up to being tired, and throw in a few transfers and a bounce down the road or two and your capacity to absorb the load is lessened. That energy isn't a bottomless pit, so it's got to come from somewhere and the usual place is from your deep reserves. Once they are consumed they aren't replenished until you've had a proper long-term rest, far away from competition"
I think the Giro-Tour double is possible. Whether it's advisable is another matter. It's like climbing K2 and Annapurna in the same year: it can done it but it's risky. Right now it's reasonable to imagine Nibali, Froome and Quintana all believe they can win the Tour de France next summer, drawing comfort from the idea Contador will show up tired in Utrecht. If they accepted the €250,000 and rode the Giro before the Tour they'd reduce their chances of success in July and with that, damaging their opportunity of wearing the golden fleece, the maillot jaune. You go from believing you can win the Tour de France to doubting it and €250,000 isn't enough to compensate.
http://t.co/W6ZSaPwznA Are @chrisfroome chicken? Or Brailsford is not a Sir to defend his pride?

— Oleg Tinkov (@olegtinkov) September 23, 2014
All this assumes Tinkov would actually pay up. First the Russian tried calling the likes of Chris Froome a chicken on Twitter, now he's given a quote on the margins of the Giro launch mentioning a million Euros. One quote and it's gone around the world.
"It's one thing to say it to a journalist. Payment is another. Remember how Tinkov promised Rafał Majka an Aston Martin if he would win two stages in the Tour, suddenly it was all a joke."
– Patick Lefevere, Het Nieuwsblad
OPQS Lefevere's waspish words have a point. Tinkov's a shrewd operator who hasn't become a billionaire by accident or politics connections… but in part thanks to publicity and provocation. His "indecent proposal" sounds more fun than funded. "If all you have is a hammer, everything looks like a nail" then Tinkov's tool is a wad of money, a tendency to throw cash at the problem.
Oleg's got a point
Look beyond the money and attempts to blunt the legs of Contador's rivals for July and there's a serious point: the world's biggest bike races regularly lack the best riders. This year's Vuelta was an exception with so many stars but the Giro and Vuelta regularly resemble the Italian and Spanish stage racing championships, such is their tendency to attract domestic riders. The Tour de France gets the stars.
Imagine tennis where the grand slams see only one or two stars taking part because they're too tired? Or the biggest golf tournaments bereft of the biggest golfers? It doesn't happen. But they're not endurance sports and in marathon running athletes have to pick their events wisely, ditto Ironman. That's the problem, the grand tours are so gruelling that they can't be combined without problems. Meanwhile the sport is so varied that it has niches and specialisms, to expect Alberto Contador to ride Paris-Roubaix is like asking marathon record holder Dennis Kimetto to run the 400 metres or throw a javelin in the name of "seeing the stars compete together", it's more circus than sport.
There's one solution to solve the Tinkov dilemma: make the Giro and Vuelta more prestigious, more valuable so that participation and victory becomes as valuable as the Tour. Some say the Giro and Vuelta should be shrunk to two weeks so riders can do all three grand tours but a shorter Giro or Vuelta is a lesser race and this only strengthens the Tour's place as cycling's ultimate prize. So how do we make the Giro and Vuelta more valuable than the Tour? Offer €1 million to Chris Froome, Vincenzo Nibali and Nairo Quintana if they agree not to ride the Tour.