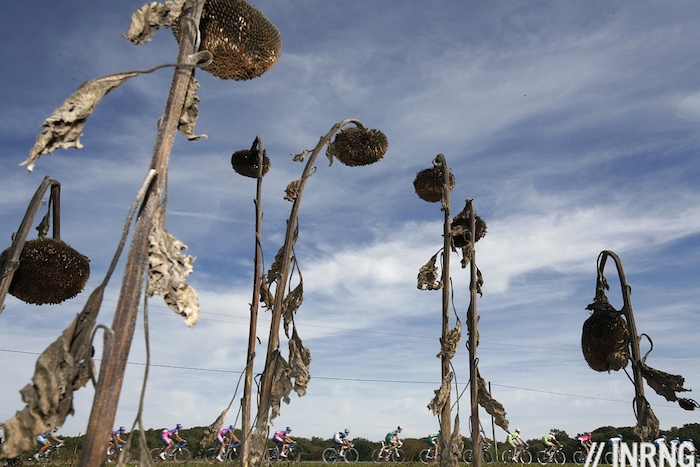 Autumn's here and with it, the last televised race of the year. Labelled "the sprinters' classic", Paris-Tours might have a flat route but most of the winners in recent years have come from breakaways thanks to attacks launched late in the race.
Last year's race was an exception of sorts with a bunch sprint but the top three riders had been on the attack in the last 20km, infiltrating a move instead of waiting for a sprint only to get caught and still find the energy to surge in final moments. It offered a thrilling finish. Can this Sunday's race deliver?
Once a prestigious race, Paris-Tours has slipped in status still provides a thrill worth watching. More so because it's the last classic until the 2015 Omloop Het Nieuwsblad. That's 140 days away.

The Route: 237.5km. Despite the name, Paris-Tours starts in the town of Bonneval, 120km from Paris. The race has long started outside of capital, the départ seems to float around a lot, presumably to whoever will bid for it. Towns looking to host a stage of the Tour de France can get bonus points from ASO by welcoming this race.
The route heads in the wrong direction to start with, going north-east to add more kilometres then after 40km it heads south almost all day, except for a hockey-stick shaped curve at the end when it crosses the river Loire and curls west before heading north into Tours. As the profile shows the route is flat and a dull procession past the large fields of French agribusiness interspersed with a few glorious chateaux. This means some exposed sections.
The profile hardly shows it but are three climbs near the end of the race that, if not high, are highly strategic.
The Côte de Crochu is 28.5km from the finish and is as close as the locals get to the Alps with its hairpins and 8% gradient although it's taken at speed in the big ring.
Next the Côte de Beau Soleil is 10km from the finish. This is another short climb but it is distinctive for the narrowness of the road. Suddenly a giant race is funnelled into small roads and it's not uncommon to see riders heading into the woodland as they're squeezed off the road. But the peloton gets stretched out by the short climb and the elastic can snap, especially with the sharp turns at the top and then another narrow descent surrounded by stone walls.
Finally the Côte de l'Épan is just 7km from the finish and a final wall at 8% to smash, it has often served as a trampoline for those trying to jump away.

The Finish: once upon a time the Avenue de Grammont in Tours was an endless road, the world's longest finishing straight. But municipal meddling put a tramway in town. Nevertheless the finishing straight is 800m long, plenty of time for a big sprint. As the map above shows the race snakes its way into town and this makes it hard to control. With 5km to go things open up and note the sharp turn with 800m to go.
The Scenario: an early breakaway should go. Note this might not be any old move, instead several riders with no contracts for next year will be desperate by now and their future in the sport might depend on making the move. It's hard to imagine this kind of pressure, no?
Several teams have an interest to set up a sprint so we should see any escapes controlled but with 30km to go things get open as the twisty route and sharp climbs encourage attacks. It's here that the attackers and sprint teams will duel over the tricky terrain. Giant-Shimano and FDJ will be expected to chase everything but ideally they'll let a move dangle off the front over the hills and sweep it up as they speed into Tours.
The weather – see below – will be a factor with a 25km/h crosswind. It might not sound like much but the terrain is endless cereal and sunflower fields and therefore very exposed to the wind. If the breeze is sustained a team or two can take advantage of this.
Fortune favours the brave. Ever since the race moved to the Avenue de Grammont in Tours in 1988, famous a sprint arrival, it turns out 15 finishes have seen breakaways versus 11 bunch sprints.
The Contenders: there are two prime picks: Arnaud Démare and John Degenkolb. They were both on the podium last year and they're both in form again. Degenkolb has just won Paris-Bourges, repeating last year's. Démare has just won three stage wins in the Tour de l'Eurométropole and didn't ride Paris-Bourges in order to stay fresh for today. Both are fast in a sprint and offer more, being versatile classics riders with the ability and skills to get over the hills, plus they come with strong teams in support. If I had to pick it's a tough call, Démare is faster in a straight line he's prone to being in the wrong position and can be flicked off a wheel easier than some. If it's a drag race Démare dominates, if it's a scrappy sprint Degenkolb does it.
Not that this is a two man race. Assuming it comes down to a bunch sprint there are several other names. Giacomo Nizzolo has had a string of "podium" places this year whether in the Giro or recently in Bourges. He is the first of several riders who can sit tight while team mates go on the rampage, in this case Trek Factory Racing can use Jasper Stuyven. Cofidis can do the same with Adrien Petit for the sprint and Florian Sénéchal for the attack. Can Jens Debusschere get over the climbs? The chunky Belgian champion was challenging Démare recently and should be Lotto-Belisol's go-to rider. Topsport Vlaanderen come with their strongest team united before they all go their separate ways, future Cofidis recruit Kenneth Vanbilsen is the fastest in a sprint while Tom Van Asbroeck is off to Belkin/Team Lotto-Jumbo after a very consistent season, the Valverde of the Europe Tour. Ag2r's Yauheni Hutarovich will probably find the hilly finish takes the edge of his sprint but he tends to win big every now and then; team mates Damien Gaudin and Séb Turgot were hired for the classics but haven't delivered so far.
But plenty of riders and teams have an interest in pre-empting a bunch sprint. It's October but the names read like it's April again. Greg Van Avermaet's in good shape and leads a rather inexperienced BMC Racing team. Sylvain Chavanel and Sep Vanmarcke are in form too. Roman Kreuziger is out to prove a point ahead of the UCI's likely appeal over his passport case. Thomas Voeckler needs a win or it'll mark his first season without a win since 2002, two broken collarbones mean it's been a rough year but the peloton are wise to him. Ramunas Navardauskas can climb and sometimes sprint, at least from a reduced group. Finally Bjorn Leukemans is always a breakaway threat but he climbed off in Binche-Chimay-Binche so will this be too long for him?
| | |
| --- | --- |
| | John Degenkolb, Arnaud Démare |
| | Greg Van Avermaet |
| | Sep Vanmarcke, Kenneth Vanbilsen, Sylvain Chavanel |
| | Jasper Stuyven, Giacomo Nizzolo |
| | Leukemans, Petit, Jules, Sbaragli, Feillu |
Weather: cool and cloudy with rain at times. A top temperature 19°C and an 25km/h crosswind which becomes a headwind on the hilly section.
TV: there's a live feed from French TV from 3.20pm onwards and images will be available on Eurosport and other channels. If not there's steephill.tv and cyclingfans.com. The finish is expected between 4.25pm-4.55pm Euro time.
History: the race goes back to 1896 and it was then run from Paris-Tours and the winner Eugène Prévost clocked an impressive 31.2km for the 250km route but it was not repeated again for a few years. By 1906 the race was staged by L'Auto, then the newspaper behind the Tour de France and to this day the race is run by ASO, the Tour company. Then the race has been on and off over the years and has seen several changes:
In the first world war it was run in reverse with the finish in Paris
It snowed in 1921. Francis Pélissier punctured but his hands were so cold he ripped the tyre of his rim with his teeth and rode on his wooden rim to win the race
1959 saw the addition of the first hill, the Mont des Allouettes
In the 1970s it started in Tours and finished in Versailles outside Paris
It later moved to route from Blois to Chaville
Only in 1988 did the race revert to Tours and it used the long, straight Avenue de Grammont. But a new tram has changed things and if the race still finishes on the same avenue, the finishing straight is just 800 metres long
Gustaf Daneels (1934, 1936, 1937), Paul Mayé (1941, 1942, 1945), Guido Reybroeck (1964, 1966, 1968) and Erik Zabel (1994, 2003, 2005) all share the record of three wins
Marco Marcato won in 2012 and with it, took the Ruban Jaune, the "yellow ribbon" prize for the highest average speed for a classic over 200km. The prize is measured only in pride and notoriety these days, there's no trophy, cash nor silk sash