The Bike Deconstructed: A Grand Tour of the Modern Bicycle by Richard Hallet
How many parts does your bike have? You can start counting the wheels, frame, bars, pedals and so on but it's all the small pieces you forget about. Take the seatpost, it's got clamping bits, bolts, fasteners and washers. Even a headset can have ten more component pieces when if you include any spacers and the compression nut and that's before you count the individual ball bearings. The point is that even the lightest race bike is made up of a very large number of parts. Too much? That's for later but first the book review.
Piece by piece, page by page. This book isn't so much a grand tour of a modern bicycle but an anatomy chart with every moving part listed and explored. As you'd expect it proceeds through the parts by theme, for example the wheel sees the rims, spokes, nipples, hubs, freehubs, skewers, tires and tubes. There's a look at wheel science from rim shapes to spoke patterns and tension. It won't tell you how to build a wheel but it does explain how the wheel works as a unit.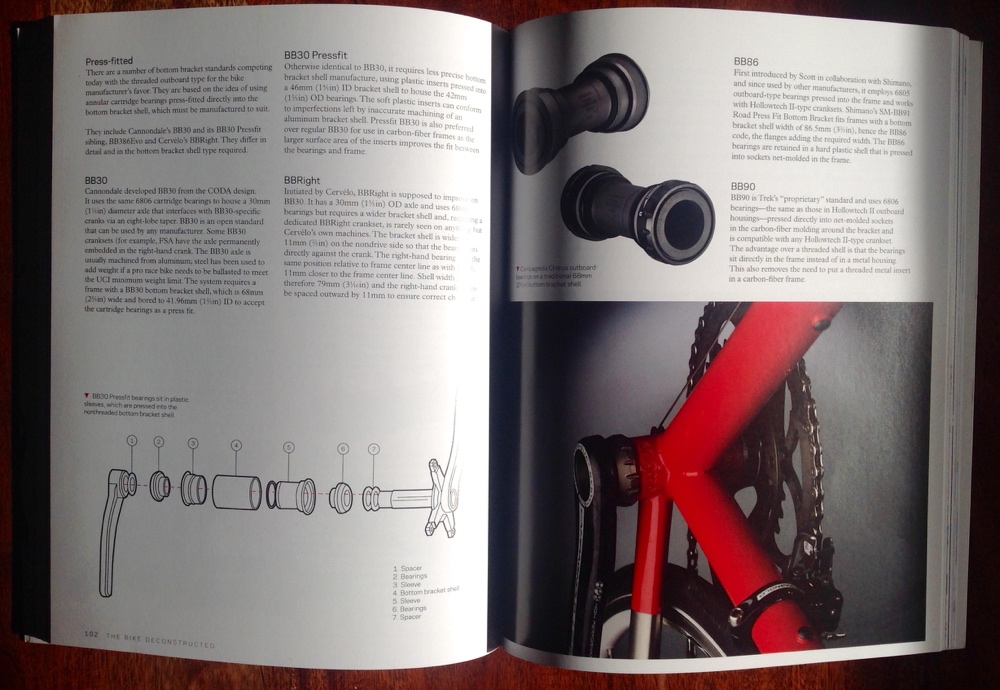 Each page is clearly set out with large photos as well as illustrations. It's not a book you'd sit down to read from start to finish like a novel but it's not a manual either, you'd browse it just for fun rather than having to open a page because you've got a broken part, it is not a troubleshooting guide. There's history, for example on tires or the evolution of braking systems but it's modern with the latest on disc brakes, electronic shifting and power meters.
Superficially it's a coffee table book for a bike shop but many new converts to the sport would do well to read this. It's one thing to look at an advisory video on Youtube that explains how to change a cable but this book gives a comprehensive book that will help you understand the bike as the sum of its parts.
Does a bike have too many parts?
I posed this question above and let's return to it. One case where the answer is yes is when it comes to the fit on the bike. Most bikes are adjustable for position in several ways. You rotate the bars up and down, the saddle can be titled and moved forwards or backwards. But if you have a settled position then all these adjustments are redundant.
Of course some of this has happened already and it stopped. Frames with integrated seatposts where the owner cuts the height haven't been a big success as they're hard to pick for travel and can make a crash even more expensive. But it's still a surprise that the premium end of a market you find custom carbon frames where everything can be adjusted. It's like getting fitted for an expensive suit with a tailor… and ordering a belt to hold the trousers up.
There's also the chance to go beyond the existing design confines. We're starting to see this with Shimano's Direct Mount brakes but it could be extended much further. Why clamp brake levers onto a bar with all fastenings when a set of carbon bars could include structural brake hoods into which you just slot the brake lever mechanism? There's a compromise to reach but it still feels like a bike is an assembly of hundreds of parts that could be streamlined. Until then this book will guide you though the moving parts and all those that silently sit there.
Note: a copy of this book was sent free for review
The book is published by Princeton Architectural Press. More book reviews at inrng.com/books