The most open contest in years? With a course that's hard to define it's up to the riders to determine their approach to the race and we should get a tense finale with sprinters and grand tour riders clashing.
Here's the preview for Sunday's race with the contenders and pretenders plus the TV schedule, weather and more.
The Route: there's no early jaunt across the surrounding area, just 14 laps of an 18.2km circuit. The roads are wide and freshly surfaced with no particular technical difficulties.
The two climbs are different, the first is gentle and if it has 8% sections these are over quickly. In general it's a fast climb where riders get sucked along by the slipstream, it's effect will be cumulative with the fatigue. The first descent has some fast corners and if a circuit race means riders start to corner on autopilot it'll be awkward in the wet and when riders are fatigued. The second climb is sharper and should force more of a selection in the finish. The following descent is faster but more awkward because it has slower sections, the kind where a rider can slingshot out of the slipstream to get a gap.
The Finish: flat and wide.
The Scenario: it might not be a savage circuit but the repetition and distance will take their toll. Even the gentle Copenhagen course in 2011 shrunk the field to about 100 riders, this will do more damage. So while some sprinters are tipped below there likely to emerge from a smaller group.
The Worlds tend to follow a predictable format where an an early break will go with a motley collection of chancers hoping to get on TV. Then the speed slowly goes up, each lap faster than the last and this circuit should see the same. With no real crunch point to break the field earlier it's all about attrition to dump the weaker riders out the back.
As for going clear many teams have an interest in a negative outcome, to lock down the race ahead in order to promote their sprinter or fast man on the last lap. But having enough riders left for the final half hour is a big ask, it's even bigger to assume they're all working for the same outcome. The second climb is an obvious place to attack just as we saw with Sven Erik Bystrøm's win in the U23 race… but the sneaky place could be on the descent where some flatter sections could see the pace ease up only for someone to barge clear.
Remember too the conflicting allegiances with riders wearing their national kit for a day when they're paid by pro teams and work with others for the rest of the year. It's always worth watching out for riders secretly following orders for their employer.
The Contenders
Fabian Cancellara was the bookmaker's pick a year ago but, heavily marked, he never got the chance to slip away. This time he's my prime pick because he's got a course to suit and when he sets his mind to a race he's very tough to beat. But he's first among equals, there's no obvious section where he can turn on the power and shake everyone off his wheel, the last climb is too well surfaced to equate to the Paterberg. If it comes to a sprint he can take a medal but you'd probably bet on others. To make it harder he's only got two team mates and one of them, Michael Albasini is an outsider for the race, could be working for Team Gerrans too and if he isn't the distance could be too much.
Simon Gerrans has what it takes to win and that's a problem. He can sprint with the best when needed especially after a hard course. He's also in form having taken a Canadian double and has a strong team backing him. It all sounds so good but he's got two challenges. First, he's won big several times but the Worlds have never worked out for him, this can be remedied. The bigger problem is his status, The Sniper can't catch people by surprise as he's an obvious contender. I think Australia's tactics will involve Gerrans trying to give the others the slip, to track an late escapes while Michael Matthews lurks in the bunch sweep up in case of a sprint.
Can this be Greg Van Avermaet's day? It's been a long year. The Belgian is an infrequent winner but a podium regular. It's strange because he doesn't throw races away although he can be generous with his efforts and he has a fast sprint. Harmony on the Belgian team matters with Tom Boonen as an outsider, he's quietly come into form and maybe it's the new haircut but he's looking very lean. Plus there's Philippe Gilbert a pick on status alone but he's been training for this; he's won the Amstel this year but otherwise it's been a quiet year.
Alejandro Valverde has stood on the Worlds podium five times but never won gold. He might be on home soil this time but winning looks a hard bet as the course simply isn't hard enough for him. Ditto Joaquim Rodriguez who is Spanish, collects podium places and needs a hillier course. What to do? Make the race hard, the Spaniards will have to take control of the race early in order to thin the bunch and treat the final climb as the finish line. All this built on the assumption that they'll race together as a team, a hypothesis in need of proof. I rate Valverde's chances much higher but he's had a long season with a busy spring then the the Tour de France, a win in San Sebastian, the Vuelta and now he could be cooked. But if he was flagging in the highest of the high mountains he was zippy in the medium mountains.
Dan Martin has been targeting this race but not got much media attention of late. He'd probably like more climbing but he's in the ideal position of being able to let larger teams soften up the race before going clear in a small group and despatching them in the sprint where those spindly legs are faster than you think, often thanks to a cool head. Compatriot Nicolas Roche shouldn't be ignored, a strong and versatile rider who has a beefy sprint when needed.
What about John Degenkolb? He was in hospital after the Vuelta and had several days without the bike. But rest after a grand tour is just what you need, it's all about whether the infection's knocked him back. He was imperious in the Vuelta and even if he's lost something he should be there. If not the German team might seem orphaned but André Greipel's handy on the hills and Paul Martens is a tough cookie.
It's not been Peter Sagan's year. He's got results others would covet but by his palmarès hasn't matched expectations. Is there a pot of gold at the end of the rainbow jersey? If there is a cash bonus from Mr Tinkov then this could be what's needed to slim down since the Vuelta. The Slovak got beaten by Michał Kwiatkowski in the Strade Bianche and the Pole had a great spring before suffering from a mid-season burn out. He's returning to form and has the class to win and can sprint when needed and comes to the race after a dedicated altitude training camp in Italy.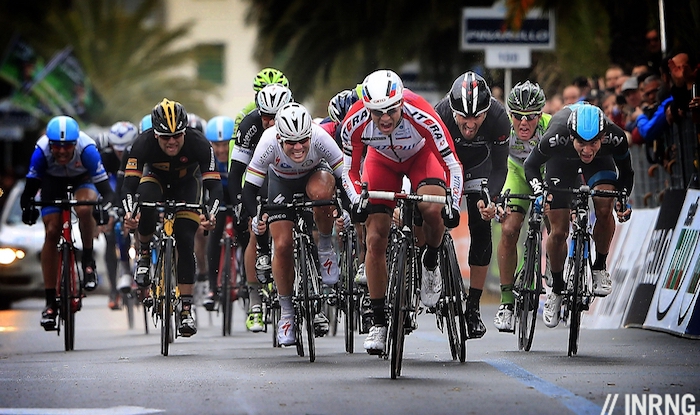 Alexander Kristoff used to be a rider who'd pop up when you didn't expect it but now he's there when you're waiting for him. The longer the race and the worse the conditions the better he seems and he's won when it mattered in the spring classics and the Tour de France.
My stealth pick is Britain's Ben Swift. The British team have been quietly working on Project Rainbow II with the aim of getting Swift into a winning position. It might sound far-fetched but he was on the podium in Milan-Sanremo and his success in the Tour of the Basque Country showed he can sprint when everyone else has been dropped. Look to the Brits to make the course very hard.
Tony Gallopin is probably France's best pick, he's been consistent at the highest level now and likes a hilly race before he deploys his fast finish, his downfall could be deciding between a sprint and attacking, using up too much energy to try both. By contrast there's only one plan for Nacer Bouhanni and that's le sprint. He's been building towards this race, he's one kilo lighter and has even removing the SRM powermeter from his bike to get it as close to the 6.8kg weight limit. But I put Gallopin first. Why? One of the reasons Bouhanni's quitting FDJ is because he didn't get to ride a big one day classic and he's unknown over this distance, he could well fade. The French have a very strong team but a lot of chiefs and few helpers.
Ramunas Navardauskas might not be tipped by many but he was fourth and third in the Canadian weekend and he packs a good sprint, especially from a smaller group, not with a jump but just long power.
Finally three outsiders. Alexandr Kolobnev is like an apple, he only ripens in September; often a threat but rarely a winner. The Italians have a bizarre team but Sonny Colbrelli is in form and finishing fast and the distance is not problem as he was sixth in Milan-Sanremo. And Rigoberto Uran, good if not better in one day races than stage races.
| | |
| --- | --- |
| | Fabian Cancellara |
| | Greg Van Avermaet, Alexander Kristoff |
| | Dan Martin, Simon Gerrans, Alejandro Valverde, Michał Kwiatkowski |
| | Ben Swift, Michael Matthews, Tony Gallopin, John Degenkolb |
| | Navardauskas, Colbrelli, Bouhanni, Greipel |
Weather: cool with rain forecast. Currently there's nothing torrential to encourage mass withdrawals like last year but it makes for a harder race that will drain more energy.
TV: don't tune in too early as the action is going to come late. By all means sit down to experience the rising tension but it's likely the action comes late. The finish is expected for 4.30pm Euro time.
If you haven't caught a race from Ponferrada so far this week then hunting down a TV channel is very dependent on your location. The PDF on the UCI website which has listings and if not there's the UCI channel on Youtube plus cyclingfans and steephill.tv for live streams and pirate feeds.