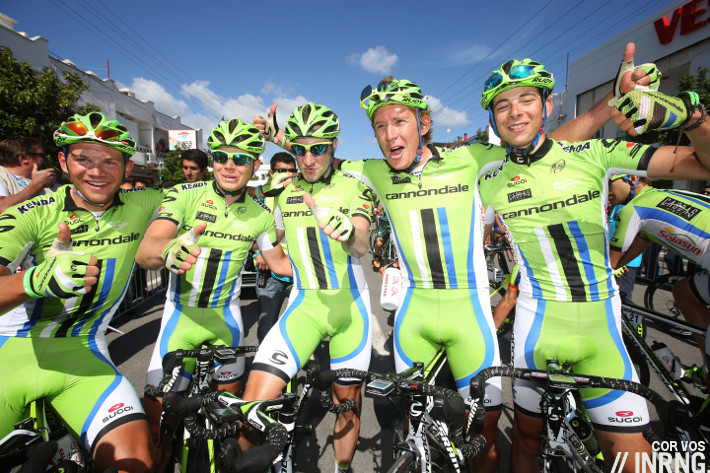 Each passing day brings a Cannondale rider signing for new team. Yesterday saw Fabio Sabatini heading off to OPQS for 2015. If the riders are hopefully finding work, the staff might not have it so easy. It marks the end of the team which began as Liquigas in 1999, starting out with black kit but in time adopting bright lime green tones which persist today.
But the end of one team is problem for the sport as a whole because it suggests a shortage of teams for 2015, notably 17 teams chasing 18 spots in the World Tour.
There's still time for the Alonso team to emerge, especially since it doesn't need to worry about a bidding war for riders with points, as long as it can sign enough riders and fill in the paperwork it can race. But there's almost no news nor rumour about a single rider signing so far. On the more worrying side Giant-Shimano's future isn't yet sealed even if there are encouraging noises.
Marginal Team Theory
It might sound obvious but whether there are 17 teams or 19 teams chasing 18 spots makes a profound difference. If there are 17 or 18 teams chasing 18 places then there are no problems. But the moment a 19th team appears everything changes. The big teams like Team Sky, Katusha and BMC Racing won't worry but it sets off panic among the smaller squads who have to start recruiting riders with points to secure their position. To make it harder, it's a moving target with teams trying to sign riders during the summer in the hope they've secured enough points come the licence review several months later. So one team signs a rider with points thinking they're safe but another responds by signing another rider with more points. And so on.
When teams need ranking points to qualify for the top league then riders with these points are in big demand but if teams are certain to stay in the top tier then points lose a lot of their value. It means the concept of points as pro cycling's currency is undermined as the value rises and falls. The worrying point is for teams, the volatility means they might sign a rider at a premium for their points only to find their use the next year is redundant. Vice versa a team coming into the sport today could find its budget blown out of the water should a bidding war start next year.
We had a similar situation last year. The UCI was trying to encourage teams, notably IAM and MTN-Qhubeka, to become World Tour squads but they refused… but Europcar decided to move up. There's a circular logic here. Rejecting a World Tour licence only increases a team's chance of a wildcard invitation.
Go wild
None of this changes the racing you'll see next year, it simply means more wildcards for 2015. Just as 2013 saw 19 World Tour teams because of the UCI's licence débâcle over Katusha and races moved to 19+3 wildcards, we should see 17+5 wildcards for the big races.
Promotion and Relegation
In other sports getting promotion is a big deal and often the only goal of teams in the second league. But in pro cycling the Pro Continental level is different, some teams don't want promotion and are happy to sit where they are.
Why bother?
Yes a team gets guaranteed entry to the top races which has been invaluable, the golden ticket to riding the Tour de France. But with three French teams already in the World Tour it means there's space for ASO to invite several non-French teams to the Tour. We saw IAM Cycling and NetApp-Endura this year and we're likely to see more in 2015. If MTN-Qhubeka have a good Vuelta they're likely to be invited, especially if bolstered by more signings. A similar story for Cofidis who with Nacer Bouhanni should find more invitations, probably for Milan-Sanremo and the Belgian spring classics. A World Tour licence can get a team into the Tour de France and other big races but so can careful recruitment. Better still for the smaller teams they can ride the Tour but without all the costs:
the licence costs
the higher bio passport costs
the need for a larger roster of riders to cover three grand tours and other races
the need for a roster strong enough to cope with simultaneous World Tour races, eg the Dauphiné and Tour de Suisse
This itself devalues the World Tour concept because it says out loud that you don't need a World Tour licence. It's like an airliner with 18 seats in the first class cabin which fills the seats with passengers from economy if it can't sell the premium seats. Some passengers will book cheap and show up well-dressed hoping to catch the eye of the airline staff and get upgraded.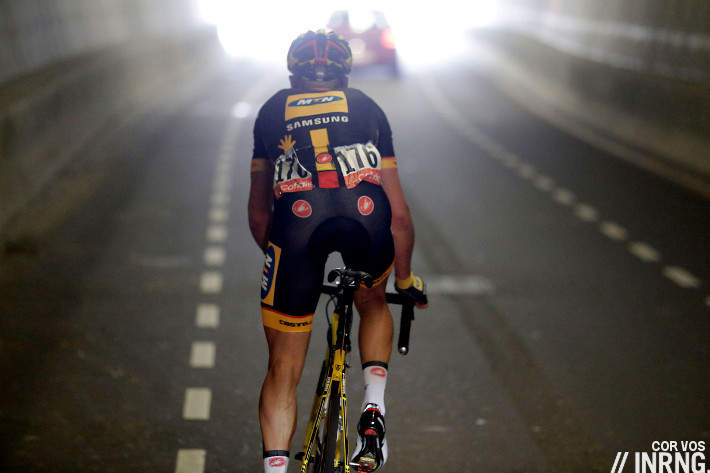 Conclusion
17 teams chasing the 18 places available sounds relaxed but there's something strange about a sport with a top tier that's short of teams. A World Tour licence is not the golden ticket it could be because some teams can exploit their status and ability to win wildcards.
Worse the weakness is comprehensive, it's not about one missing team at the margin. We see the whole second layer of teams appear content to operate on their current level, promotion isn't seen as important.
All this changes if the UCI can sell the idea of a licence to one team, whether Alonso or Cofidis but whether this happens or not a flaw in the team licence system is exposed. The shortage of teams this year shows an asymmetric position where the UCI has rules when there's an excess of teams competing for a place but there are no provisions when there's a shortage of candidates.