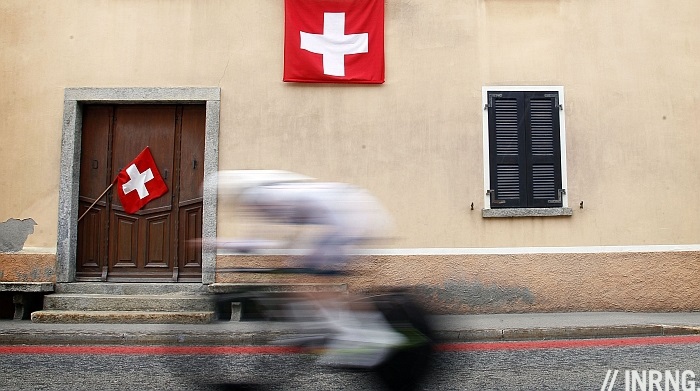 The Dauphiné brought great racing with the top contenders for the Tour de France in Alpine action. The Tour de Suisse promises more of the same but also racing of a different kind with riders struggling to be themselves, competing for the eye of their managers and with whole teams in racing against time to save their future.
Bradley Wiggins is the first case. A study in bio-mechanical perfection in the Tour of California where he seemed to ride for a week without moving his upper body once except to smile he's now finding his every move subject to scrutiny for body language and meaning, as if each day might give clues to his next move. Apparently ruled out for the Tour de France this week looks unlikely to offer a route to Yorkshire's Tour de France start. Any talk of grand départ is more likely to relate to his departure to another team.
If his Tour start was unlikely this week could be the chance to put some pressure or at least keep the public on his side but he's already down on GC. There's still a time trial stage to come and he could surprise at any other moment but if he finishes the race 65th then the kind of people who only take a casual interest in the sport might see the result and settle on the idea that his absence from the Tour is explainable and that he's not Sky's Plan B or even their Plan W. There's the air of a farewell tour, it's said he's been training on the track and his goal isn't to start the Tour de France but to finish the Commonwealth Games with some medals, if so touring Switzerland seems an oddity.
From attitude to altitude, the same team has the returning Sergio Henao. The Froomey vs Wiggo debate has raged so extensively that Henao's return after a team-imposed suspension has attracted very little attention. We still know next to nothing about why he was stopped nor why he can return. But Henao must feel he's on a mission to make a name for himself and to avenge half a year spent on the bench.
If you think Wiggins and Henao have a point to prove, imagine what Andy Schleck feels like. The Luxembourger's missed every stated rendez-vous this season and this race is the last chance to prove he's turned it around. Fail this week and the closest he'll get to the Tour de France is a roadside picnic with his family to watch the race ride past. This isn't a cruel joke, he had a sérieuse explication with Trek Factory Racing manager Luca Guercilena. In case you're wondering it's a euphemism for an argument and the team have given him two chances to prove himself. The first was the Tour of Luxembourg (50th overall, highest placing 41st in the prologue) and the second is the Tour de Suisse. In other words his career is on the line this week. You can sense resignation already.
Rui Costa hasn't won a race since the Worlds last year. If he can't do it this week he never will. He's won the Tour de Suisse twice and this year has said his focus is on the stage races and the upcoming Tour de France. If so it means he'll have been working on his climbing and TT riding and so this is a week to deliver. Or will the rainbow jersey find himself strutting around Switzerland unable to win for a change?
Cadel Evans is riding the national tour of his adopted home country. He had a good Giro but he started to slip down the GC during the second half of the race. Recovery hasn't been obvious given 63rd place in the prologue. Rightly he said it's an intense effort and not suited to someone coming out of the Giro but the rest of the week might be equally fatiguing.
Another Aussie with an as yet uncertain future: Matthew Goss. He's likely to ride the Tour de France but so is Michael Matthews. This week will determine his role in July but is also another chance to get a result for himself before subordinating himself in support of Matthews. Note he was two minutes down in the prologue and the team website doesn't mention a crash. Some sprinters double as prologue specialists, Goss isn't one of them but he was further down than usual.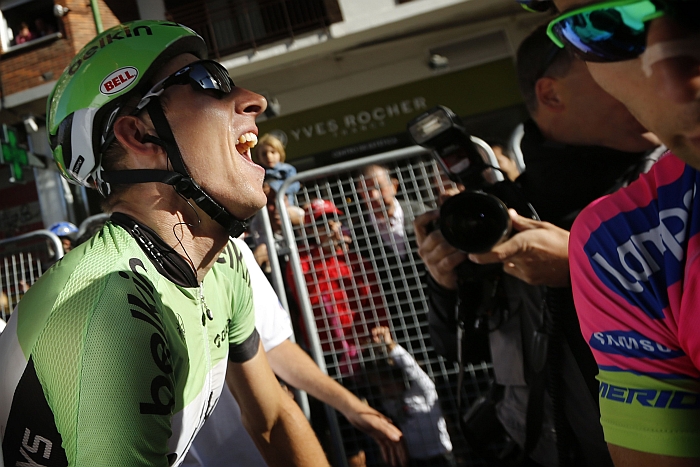 What of Belkin? The team got the news this morning that the Californian sponsor is to stop backing the team at the end of the year: totally disconnected you might say. It only came on board this time last year. It doesn't reflect well on the sport that someone comes in and out so briefly but the team was part-funded by the Rabobank payoff following the Dutch bank's hurried exit from the sport and the Belkin deal was never a long term commitment, two years with an option to leave after one.
They're not the only Dutch team in this predicament. Giant-Shimano also have sponsorship issues with their eponymous backers only coming in to save the team for 2014, the future beyond this is uncertain.
It means two sets of management pitching a similar concept to the Dutch corporate sector. There's also Catch-22 scenario for the management. In order to attract a sponsor a team needs a roster packed with stars who will deliver the wins and publicity. But if a team has no sponsor then there's going to be an athlete exodus with riders signing for other teams. There's little pressure on the star names but in a shrinking market their salaries can take a hit. While the domestiques will be stressed just to keep a job. All while the bigger pressure falls on team managers to keep the whole show on the road.
Finally there's the Tour de Suisse itself. Great roads, stunning scenery, a wealthy country this event should have it all. But it risks being overshadowed by the Dauphiné because of the Tour de France's dominance and the ASO connections. For unknown reasons the races overlap and they're in direct competition. If there was no overlap there'd still be rivalry because riders have to select their calendar with care in between the Giro and Tour, a point worth remembering with all the talk of calendar reform. We will always have preparation races and these will always have some big names missing.
Summary
Peter Sagan seems to be the only certainty this week, as usual the Slovak's full of power for the stage finish and empty words for the ensuing press conference. But others in the race are like animals in a travelling circus, caged animals on show to the public. Some resemble study in body language while others are desperate to let their legs do the talking. Meanwhile several teams have to face the future with agents circling and riders getting early morning emails to say the team sponsor's vanishing. For a country that trades on an image of stability and wealth, this year's Tour de Suisse sees a peloton packed with anxiety and insecurity.