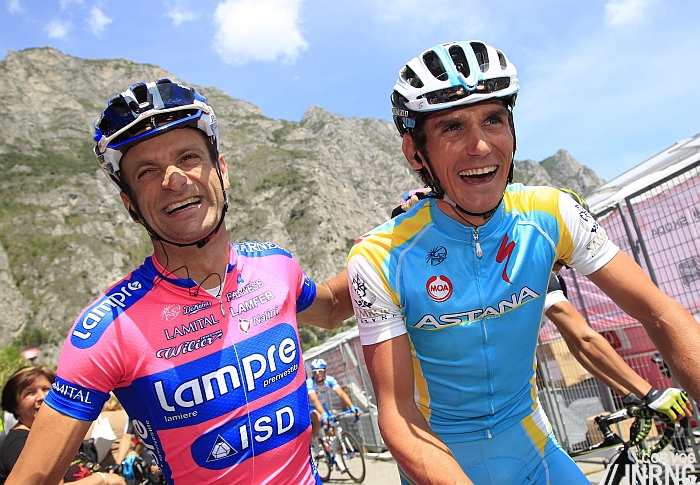 Look at the picture above and what do Michele Scarponi and Roman Kreuziger have in common? Yes they're riding the 2012 Giro, smiling and both wear Specialized helmets. Bonus points if you remember they have both hired Doctor Michele Ferrari for "training plans".
There's another connection. Scarponi's got ISD on his jersey and Kreuziger's with Astana. Both teams can trace links to the Ukraine, in particular to its steel industry. In fact five teams in the Giro share links back to Ukrainian steel. Today Ukraine is in political crisis and there's a bizarre cycling connection to events.
Let's start the Donetsk region in Ukraine. It's the new flashpoint in Ukraine's political crisis and yesterday saw an unofficial referendum held as pro-Russian separatists agitate to prise the region away from Ukraine and into independence and possible Russian rule. The Ukraine government in Kiev knew this was a sensitive area and in March acting President Oleksandr Turchynov dismissed the governor of the Donetsk Region. He appointed Ukrainian oligarch Sergey Taruta, man who looks halfway between Sean Penn and Woody Allen.
Taruta is Chairman of the Board at the Industrial Union of Donbass in Ukraine, a large steel and coal company. In Russian this business is known as Индустриальный Союз Донбасса and its Cyrillic initials, ИСД, are ISD in the Latin alphabet. It's here these initials might be familiar.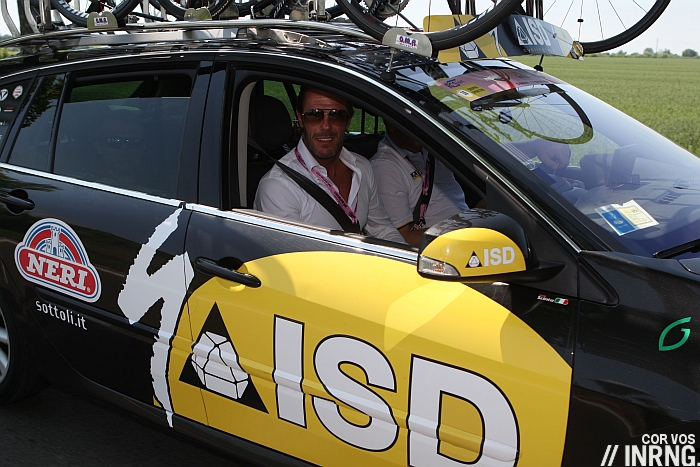 Taruta started a cycling team under the ISD name in 2007 and it grew into a Pro Continental level team with an Italian base. By 2009 the ISD-Neri team rode the Giro d'Italia and today's Neri team is its successor. Come 2011 and Taruta switched sponsorship to the Lampre team, and was the co-sponsor of the Lampre team, known as Lampre-ISD, from 2011-2012.
Born in 1955, Taruta is a billionaire and reputedly Ukraine's second richest man. He started ISD in 1995 with Vitaly Gaiduk and the two metallurgists took over steel mills in the east of Ukraine. Many deals done in the collapse of the Soviet Union involved barter as a means of exchange, the owner of a steel mill needed energy to power the factory but did not have the working capital in cash to buy the goods on the open market. This was the case at ISD who struck a deal to sell Ukrainian steel in exchange for gas from Turkmenistan with a certain Igor Makarov, the Russian oligarch who today runs the Katusha team, the Russian Cycling Federation and sits on the UCI's board.
We can link two more teams to the steel mills of Ukraine. Before Taruta snapped up the assets they were part of the Soviet Union's planning system and a young Kazakh called Nursultan Nazarbayev worked during his student days in a steel mill in Dniprodzerzhynsk in the Ukraine. Today the same steel plant is owned ISD and Nazarbayev is the President of Kazakhstan… and patron of the Astana team.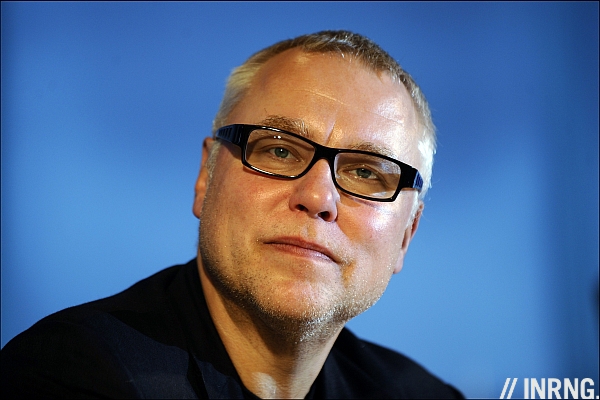 We can also link Omega Pharma-Quick Step. The team is part-owned by Czech billionaire Zdeněk Bakala, pictured above, who has business dealings with ISD too. He fled Czechoslovakia, enrolled at business school in the US and in time returned to Prague to open the office of a Swiss-American investment bank in the 1990s. Onwards and his biggest deal saw him trade with ISD. Business New Europe described the deal in their September 2008 edition:
Zdenek Bakala… is widely regarded as having pulled off one of the deals of the decade by doing a leveraged buyout of the coal miner for a reputed €400m in November of 2004, then set about stripping out assets worth around €2bn, and then flogging off the remains to an eager market that valued the firm at €4.5bn.
Astana, Katusha, Lampre, Neri, OPQS: Five teams all with links to the Ukrainian steel industry. It sounds odd, it can all be explained. Nazarbayev was simply on a student exchange programme that formed part of the USSR's system and he's the Astana team patron simply because he's the Kazakh President. Meanwhile Taruta, Makarov and Bakala were all doing business in the region. Steel is one of Ukraine's largest industries and fortunes were made from the inputs and outputs alike. Some of the money has flowed into sport just as its also gone into London real estate, the art market or sales of private jets.
You can't help feel Taruta's withdrawal from cycling came too early. Katusha is Team Kremlin and the team's board member Sergey Chemezov has been slapped with sanctions by the US government as punishment for Moscow's role in the Ukraine crisis. Taruta could have had an ISD-sponsored team in the Giro racing against Katusha, a softer conflict than the current proxy war for control of the region. Some say sport and politics don't mix but they certainly did in the Sotchi Winter Olympics and on a much lower budget cyclists pedalled around the city of Mykolaiv to signal allegiance to Ukraine yesterday. But with armed insurgents, yesterday's "referendum" and more, Sergey Taruta is surely busy to watch a bicycle race. His holiday house in Crimea is now out of bounds too.
Bigger Picture
A lot of money was made in the collapse of the Soviet Union and many billionaires have emerged from Russia and Ukraine. Some spent their money on sport and cycling's been included. But these fast fortunes also signalled a problem, the money wasn't made by inventing anything new instead much of it came from political cronyism or sheer luck. The problems persist today. Ukrainian politics has been funded in large part by dodgy energy deals and the country's institutional weakness is partly-explained by the rule of oligarchs as opposed to the rule of law. Russian interest isn't just about recovering lost lands or securing sea access, Ukraine is the conduit between the world's second largest natural gas field and Europe, the world's largest market. Read about RosUkrEnergo for tales of gas and gangsters.
Summary
Five teams in the Giro can trace links to a Ukrainian steel mill. It's not a revelation, more a curious coincidence, a quirk of history. You can probably link Kevin Bacon to Marcel Kittel in under six steps but the money from isn't so far removed from pro cycling, it's gone into several teams today sees Katusha ride the Giro as a promotional exercise for Russian gas giant Gazprom.
With events in Donetsk over the weekend I thought it was worth mentioning how things have changed for Sergey Taruta. Five years ago Taruta was posing for photos with Mario Cipollini to promote his ISD cycling team as they got a ride in the Giro. Two years ago he was cheering on the Lampre-ISD squad as they rode to the "Fast Team" prize and Michele Scarponi finished fifth in the 2012 Giro. Now the new governor of Donetsk is probably too busy to watch the Giro.