Lanterne Rouge by Max Leonard
Cycling's a sport of losers. Even the most successful riders lose far more races than they win and the majority of riders in the peloton won't win a single race all year. But this is all part of what makes cycling such a rich and sophisticated sport to follow. Without winning, many will mark a race and after a grand tour each rider has plenty of stories to tell. So what of the last rider? Last isn't least, often they have struggled the most just to finish. Plus as Svein Tuft has just shown in the Giro you can go from lanterne rouge to the limelight.
Lanterne Rouge is a book about riders who have finished last in the Tour de France, the efforts it took to achieve this and a reflection on victory, loss and endurance.
Lanterne Rouge? It's French for "red lantern" and the book helpfully includes the obvious explanation of where the term comes from – a railway thing where the last carriage on a train had a red lantern and red because its low frequency means it is visible from afar at night. It's this detail that appears again and again. A lot of research has gone into the book and it shows. But not just in the details, instead some parts of the book are in the first person with Leonard explains his quest for information, his encounters with ex-pros riders and more. When the prose switched to the first person alarm bells started to ring. The danger was this would become more about the writer's time, travel and world view but it proved to be false alarm. It works here in the same way that Richard Moore's "In Search of Robert Millar" does, because to visit locations and people is to create a wider background to look at the subject.
The lanterne rouge isn't a static concept. It was coined in 1919 meaning several editions of the Tour de France took place before the phrase had appeared. Leonard tells the tale of the 1919 Tour when even finishing the race was a triumph, how the field was reduced to 17 riders and 10 men completed the race. Ten.
Like all sports history books a worry is losing yourself in a collection of past anecdotes where a rider did this and that: he suffered, he crashed, he struggled and finished last. Fortunately it's better written, the accounts from the past include some useful myth-busting on the tale of Abdel-Kader Zaaf, and the entertaining tale of the last man coming first when lanterne rouge Pierre Matignon wins on the fearsome Puy-de-Dôme ahead of Eddy Merckx. The anecdotes are rich and often unique as opposed to the old chestnuts that get served up every July.

"I'll never be first so I might as well be last.
Don Allan, 1974″
For a good while being last was noticeable and certainly paid dividends in the post-Tour criterium scene where a rider stood to earn multiples of their small salaries in appearance money. In time the role has changed where now it's a calculated position, not a target but the result of careful racing where some riders may sit up to save themselves.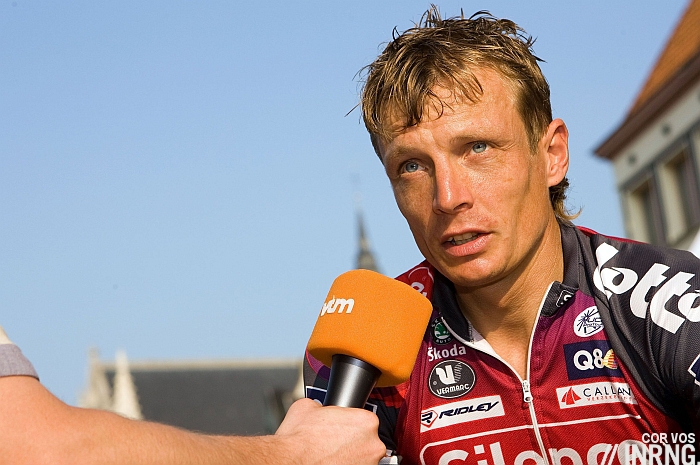 But it still can be lucrative. That's Wim Vansevenant pictured at the post-Tour Aalst criterium and he'd made a name for himself as a three time lanterne rouge. Leonard interviews him on his form where – via a study in Flemish body language – Vansevenant explains how he would work hard for his sprinter Robbie McEwen but, job done, he'd let other Lotto team mates take over. He'd sit up and coast in on the flat days. It makes sense to conserve energy but as a result he'd build an early "lead" in the lanterne rouge competition.
"Lanterne rouge is not a position you go for. It comes for you."
Wim Vansevenant
Race reporting shares a lot with war reporting whether the mythology of the early days, the language with peloton ("platoon") and you don't accelerate, you attack and today we even have "embedded" journalists. If so this is the tale of the footsoldier and not the victorious general. The back of the race is free from mythology and exaggeration you meet the more ordinary types locked in their personal combats. In 1938 Amédée Fournier was left to hunt for washers from spectators' bikes after giving his wheel to his team leader.
If you take time in reading this – what other book demands to be read so slowly? – it's also a reflection on what it is to ride behind the pack and even what it is to lose in sport rather than the tale of several Tour de France finishers who just happened to finish dead last. The role of being last man has changed from something that was celebrated – with an actual lantern for symbolism – to something that's derided by some today. The Tour shuns the notion, apparently FDJ's Marc Madiot will not allow one of his riders to be last while the French federation has a rule that prohibits prizes for being last. What was once celebrated is today almost forgotten but this book does a fine job in reviving it.

As the book goes on it's clear this isn't the tale of losers. Philippe Gaumont's tragedy stands out but otherwise we meet riders at ease with themselves. Finishing last was both a satisfaction and an education as well as a (cash) bonus in a career typically spent in the shadows.For many it's not the coming last, it's the finishing: the pride of lapping the Champs Elysées despite the torment of injury and illness during a race where the action at the front was covered but the tales behind were not.
Conclusion
Many will want to devour books about the greats but this is a valuable book with some great stories. Deeply-researched and well-written, it's an enjoyable read that shouldn't be rushed. Don't buy this if you're brand new to the sport, there are broader introductions to the history and lore of the Tour de France. But if you want to add to a collection of cycling history or some alternative reading for the summer this is a great addition with original stories and a personal take. Read it and I suspect you'll forever scroll down to check who sits in last place.
Note: this copy was sent free for review. It is published by Yellow Jersey and available in print and electronically.
A list of previews book reviews can be found at inrng.com/books