Marcel Kittel wins the Scheldeprijs. Three is the magic number today because he wins the race for the third year in a row and because it's the team's third win today with Jonas Ahlstrand winning Stage 2 of the Circuit de la Sarthe and Kirsten Wild taking the win in the Energiewacht Tour.
For the men's team the victory count rises to 17. The team is loaded with sprinters with Ahlstrand, Nikias Arndt, John Degenkolb, Kittel, Luka Mezgec, Reinardt Janse van Rensburg and Ramon Sinkeldam all capable of winning a sprint. I've probably forgotten some others. It's a contrast to FDJ where the team is having to be careful with Arnaud Démare and Nacer Bouhanni. Giant-Shimano's strategy works for especially well for a bike sponsor because you and me follow these wins all year rather than just tuning in once a year for, say, the Tour de France. In other words not many people will notice the Circuit de la Sarthe but cycling fans will register the win.
Giro Dilemma, Part I
Team Sky's mood can't be as good as Giant-Shimano. Richie Porte won't be riding the Giro after his season start hasn't worked out. It seems illness meant his training for the Giro hasn't gone to plan at all. But he didn't any of the customary Sky programme of leadership prior to a grand tour, where he wears the leader's jersey in a race and learns to deal with the media, a system deployed for Bradley Wiggins and Chris Froome prior to their Tour de France wins. It leaves Dario Cataldo as their top man. Aged 29 he's a very complete rider but has been one of Sky's luxury helpers. Sergio Henao's absence is being felt.
Giro Dilemma, Part II
A late entry to the Italian stage race is Pierre Rolland. He's still aiming to ride the Tour de France and team manager Jean-René Bernaudeau told L'Equipe Rolland's got the stamina, "the harder the race, the more it suits him". That maybe so but there are limits and he risks being tired for the Tour de France.
Crash prevention
Several websites are running with a report from Belgian cycling federation president Tom Van Damme calling for dangerous riders to get yellow and red cards, like they use in soccer. Those noted for risky riding could be suspended from the next race. It all sounds familiar, in fact ex-pro and now cycling journalist Thijs Zonneveld wrote exactly the same thing on Monday. Zonneveld's suggestions are wide-ranging and thought-provoking.
Acquarone speaks out
A crash of a different kind. Former Giro race director Michele Acquarone speaks out in an interview with Sports Pro Media. Worth reading if you want more on the case. What happened to the missing money is starting to look clearer, at least based on what Acquarone is saying. Put aside the fraud investigation for a moment and RCS have lost a visionary who was taking great steps to improve some of Italy's best racing. He alone wasn't responsible for this – predecessor Angelo Zomegan started a lot of the work – but it's crucial the good work is kept up.
Sporza Salute
A chapeau to Flemish TV channel Sporza who deliver some of the best coverage going. Take last Sunday's Tour of Flanders, where the live footage was great but topped and tailed with a good introduction from the start in Brugge and then live footage of the start. The main race broadcast was followed by excellent post-race analysis from Karl Vannieuwkerke. By contrast French TV won't be showing the start of Paris-Roubaix and will be going off air almost as soon as the race is finished at 5.10p. Last year they cut the coverage before the podium ceremony and there was no post-race analysis.
Radio Silence
Sporza's excellent coverage doesn't get everywhere. The OPQS team car had double trouble in the Tour of Flanders when the in-car TV stopped working and their radios stopped too. Trek and Cannondale also reported problems with their race radios.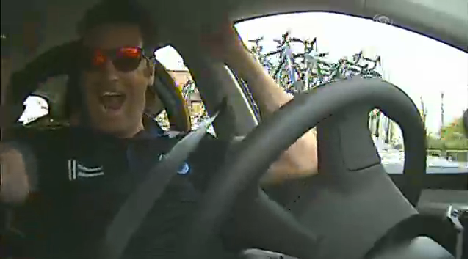 Car Cams
If the in-car TV displays didn't work, the cameras did. The Sporza footage inside the team cars brought a little extra to the TV production. There's nothing unique but scenes from the Cannondale car with orders to hit the front pre-empted images of the lime green team leading the chase to the Oude Kwaremont for the last time. It just offers extra coverage to space out the images of riders pedalling.
Bike cams?
We have in-car cams so when are on-bike cameras coming? Soon could be the answer with widespread coverage today after a speech by Brian Cookson. But it's not a new policy announcement, this has been under review for longer along with other technological ideas for improved TV production.
I'm not sold on bike cams. Helmet cams are out because they're dangerous in a crash, helmets are not designed for an impact while a camera's attached. On bike cams are fine but they wobble and often deliver low-fi footage. But it's all about production values and how often they're used. But if it gets people talking and exploring new ideas, it's about time.
"How is it possible that at Milan-Sanremo, after the Poggio, the viewers received no information about the composition of the leading group? Nowadays even touring cyclists can be followed all over the world thanks to a small chip. Why not use this to know the order in which the riders topped a climb. The technicians tell us this is very easy to achieve. During the road World Championships, the riders' names appear on the screen each time they pass through the line. Why don't they do that also at the top of the Poggio, the Paterberg, the Wallers cobblestones sector and the Keutenberg for example?"
Raymond Kerckhoffs, president AIJC
Dutch journalist Kerckhoffs makes an obvious point and more. Too much of cycling's coverage is reduced to filming men pedal and simple tech can improve things for everyone.
No magic spanners?
Sometimes the TV cameras do film hidden things. Gianni Meersman's Paris-Nice motorpacing is just one example where live TV films something the race would rather keep private. I've covered the subject of sticky bottles and magic spanners on here before but can now reveal the UCI is examining a rule change to expressly forbid a rider from receiving any mechanical assistance from a moving team car with disqualification for those who break it. You heard it here first.
Calendar Reminder
The links at the top of the page don't get used much and there are more and more new readers. So a nudge to those who want to download the iCal or subscribe to a calendar of every major men's and women's pro race : inrng.com/calendar