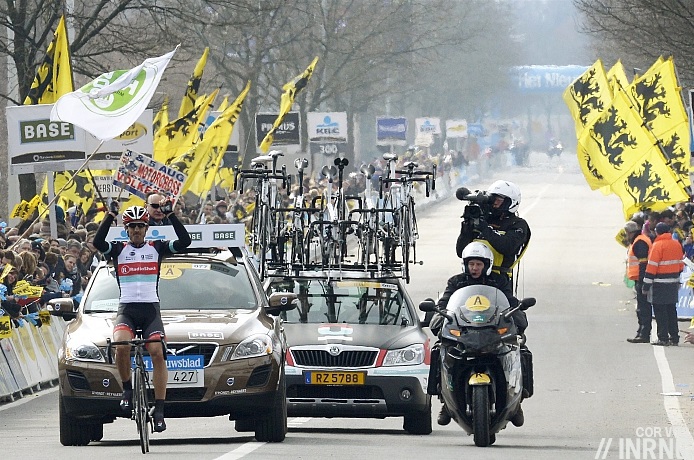 The greatest one day race in the world takes place this Sunday. Fabian Cancellara and Tom Boonen look to make history with Peter Sagan wanting to join them as a winner of De Ronde. But it's far more than a triangular contest. There's a revised route that's harder than and giant crowds help make this race one of the highlights of the year.
Here's the preview for De Ronde with the route, contenders, pretenders, weather, TV and more.

The Route

Bruges and Oudenaarde are only 60km apart but the race resembles a ball of wool, first a long strand south to Kortrijk then on to Waregem and then the final 150km is a full of knots and loops as the race is contained in a narrow area to maximise the cobbled climbs.
The route gets tweaked every year but this year's revisions matter. Look at the first feedzone on the profile hereafter the profile looks like an electrocardiogram from a trauma ward. The highlight of the changes is the Koppenberg which has been drag n' dropped 25km later into the race meaning this fierce climb becomes even more important. Note the longest flat section is at the end, from the Paterberg to the finish line.

The Cobbles and the Climbs: the difficulty of each section of cobbles and every climb varies and the harder they are, the harder the racing. It's all about positioning and everyone wants to be at the front because if a rider ahead has a mechanical, crash or just slows it takes a lot of effort to overtake, accelerating on cobbles or uphill means using a lot of energy. The racing is fierce just to reach the start of these strategic sections yet alone the top. It can be similar to a bunch sprint bearing down on a sharp bend with a kilometre to go only it's all on narrow and irregular farm tracks. You will see riders rubbing shoulders and taking great risks. The approach is just as hard as the difficulty itself.
The Koppenberg (45km to go): celebrated and feared this climb was only "discovered" in 1976 when local resident Hubert Hoffman informed race organisers about a narrow cobbled climb with a 22% gradient. It was used every year until 1987 when Jesper Skibby crashed and the race car had to drive over his bike with the Dane's feet still locked into the pedals. It was dropped until repairs were done and its now a regular and decisive feature in the race. It's the steepest climb of the day.
Oude Kwaremont (109km, 54km and 16km to go): the odd berg out because it's not short and steep. Instead it's 2.2km long and a meagre 4.2% although it touches 11% midway. It drags up before it starts and if 2.2km doesn't sound like much, it's an effort of more than five minutes of pounding cobbles for the pros.
It starts with asphalt for 600m then you have 1600m of cobbles. Above all, instead of a steep ramp, the "Old Quarter Hill" is longer and steadier. The cobbles are better maintained too. Normally there's a gutter to aim for on the left but last year they put barriers in the way and they're back again. It's not for the mountain goats but it can allow lighter riders to make a sustained push.
Paterberg (51km to go, 13km to go): less than four kilometres after the Kwaremont, the Paterberg is an awkward climb. At just 400m, averaging 12% and maxing at 20% it is short, steep and very cobbled. It is also exposed with almost no cover from hedges, embankments or trees. Instead barriers and fans provide the only shelter. The final climb of the race, it was where Fabian Cancellara dropped Peter Sagan last year to go solo for the win.
The Finish
The last section from Kerkhove to the Minderbroedersstraat in Oudenaarde is over eight kilometres long, a wide straight line all the way to the finish. It is the most unremarkable of roads, there are no sharp corners, roundabouts or hills. The featureless nature matters, any rider up the road with a small gap will be visible to chasers. It is also the chance for dropped riders to come back to what's left of the peloton. The final kilometre is flat and straight with the tiniest of rises to the finish line.
The Contenders
Peter Sagan is the prime pick. Doubts about his form have been dispelled by recent rides. Even when he tried to lose a race this week he ended up winning. Second last year he's back to make amends and won't rely on his sprint, he's willing to attack and shape the race. Again his team is the weakness but Oscar Gatto has suddenly picked up in form and is invaluable.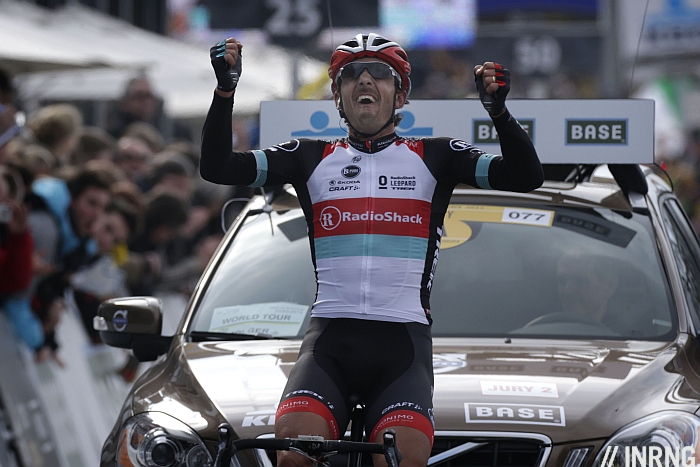 Fabian Cancellara comes a close second. He's followed the usual pattern of racing and then returning home, everything is as he likes it. His condition seems excellent but note the conditional, as strong as he looked in the E3 Harelbeke his efforts didn't achieve much except warning other riders to mark him. This time no towing the bunch, he'll need to make an incisive attack. But what if Trek Factory Racing teammate Stijn Devolder has already gone up the road? The Belgian champion is back in business and should be a useful decoy.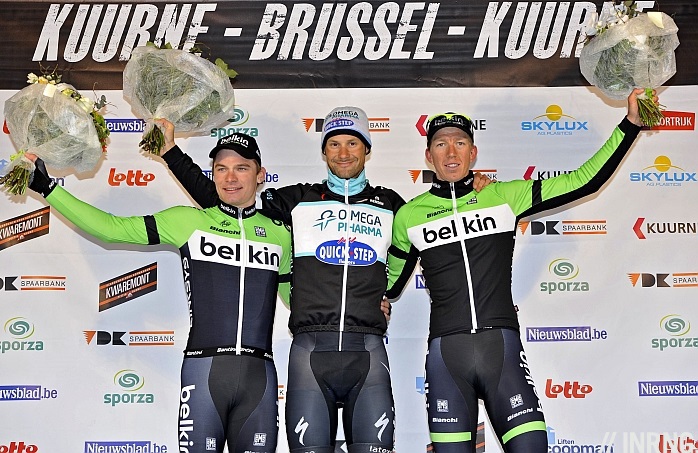 It wasn't long ago that Tom Boonen was the top pick for this race but personal life plus a thumb injury means he's lacking momentum. The team say he's ready and the crowds will roar him on but there's still a doubt. He's got a strong team, OPQS have more options than the Brussels stock exchange but Patrick Lefevere and Wilfried Peeters are worried about riders going rogue and putting personal ambitions ahead of the team. Niki Terpstra is their second man and ideal to fire up the road with 20km to go. It puts him in front, an option on the podium and forces others to chase. Meanwhile the team has other giants in Stijn Vandenbergh, Guillaume Van Keirsbulck and Zdeněk Štybar who could all be team leaders elsewhere. GVK's just won the Three Days of De Panne, Štybar's been quieter results-wise but seventh in Milan-Sanremo shows this crossman's happy to handle such a long race but Vandenbergh's been on antibiotics.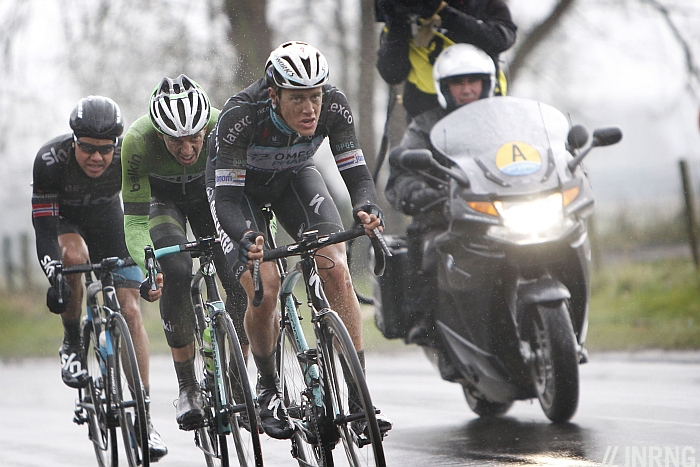 Belkin's Sep Vanmarcke has looked great this season with probing attacks and a strong team in support. But to borrow from Inspector Colombo, just one more question: what's he won this season? Nothing and it's time to deliver. He's a good all-rounder and has a fast sprint and a sharp brain and would make a worthy winner. I can't see him going solo but he could well outfox a small group.
Team Sky lost Ian Stannard but gained Bradley Wiggins a surprise late entrant to the race. But really, was he hoping to ride Paris-Roubaix without doing a big cobbled race before? The mystery goes on but Wiggins brings extra interest to the race, the only grand tour winner in Flanders. But Sky's got more certain values with Geraint Thomas and Edvald Boasson Hagen. Thomas is looking sharp and his relative light build could be a real advantage on the hellingen, especially the Oude Kwaremont. But on a normal day he can't outsprint the likes of Sagan and Boonen nor can he ride Fabian Cancellara or Niki Terpstra off his wheel so finding a way to win outright is hard.
Alexander Kristoff is a good pick too. He's more than a sprinter and thrives when the going gets tough. He'll likely play the waiting game with Katusha team mate Luca Paolini as a foil. Maybe not a win for him but if Cancellara goes solo he could clean up the bunch sprint.
What of the others? Third last year Jurgen Roelandts is Lotto-Belisol's leader while much of the team has taken its lottery sponsorship with riders resembling human scratchcards this year. Last year's result was based on going up the road early and he might have to risk this again; this year Tony Gallopin's been sixth in E3 Harelbeke, he could make the top-10 again. BMC come with another strong team with Greg Van Avermaet as their best hope, rarely a winner but why not this time if it's a sprint from a group?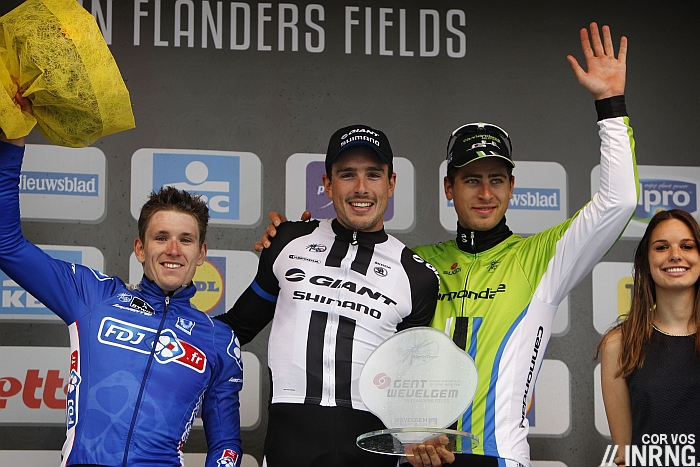 John Degenkolb is in confident mood and ready to prove he's more than "just" a sprinter, he's excited by the classics; a similar story with FDJ's Arnaud Démare who is backed by a willing team although one prone to wasting energy at the wrong moment; note Démare missed Sagan's attack in the opening stage of De Panne and tried to bridge across, taking Luke Durbridge and seemingly outriding the Aussie. Filippo Pozzato can't be ignored, there's no time for joking and he's been a feature in this race for years, a podium outsider with Sacha Modolo as back-up, arguably the better pick going on form.
Some other actors. Ag2r have Séb Turgot and Damien Gaudin, they might feature in the last hour but yet to show form to be a factor in the final 20 minutes. Movistar's Costa Rican Andrey Amador is often visible. Sylvain Chavanel loves this race and has come close to winning before but he's 34 and the clock is ticking, still his IAM Cycling team have a strong selection. Garmin-Sharp's Sebastian Langeveld is their best bet. Meanwhile Orica-Greenedge try the Pirandello playbook with five protected riders in search of a leader.
The Scenario
An early break goes and then as the race hits the cobbled climbs a selection begins in the bunch which gets whittled down to a small galaxy of star names. From this attacks fly and the last time up the Kwaremont-Paterberg combo the winning move goes clear. That's probable but it'll be tense watching this happen.
However the tactics are complicated. Peter Sagan's too fast in the sprint. Fabian Cancellara's itching to go solo. These two riders alone condition the tactical response for many others in the race. How do you avoid these two? Well you have to pre-empt their moves, to go early up the road. This doesn't mean the morning breakaway, more say an attack between 50-25km to go, a point when the big names are still sitting tight. Ideally this long range bid needs an OPQS rider or two plus Stijn Devolder. This means no chase from the Belgian superteam plus Cancellara is forced to sit tight.
Another factor is the weather. It'll be overcast and cool and the forecast says a shower is possible. The recent warm weather's gone and this means a reduced chance of a bunch sprint. The wind will reach 25km/h, just enough for some teams to exploit the crosswinds to their advantages and a tailwind for the long finishing straight.
| | |
| --- | --- |
| | Peter Sagan, Fabian Cancellara |
| | Tom Boonen |
| | Sep Vanmarcke, Niki Terpstra, Stijn Devolder, Alexander Kristoff |
| | Geraint Thomas, John Degenkolb, Greg Van Avermaet |
| | Démare, Boasson Hagen, Paolini, Štybar |
TV: Belgium's Sporza will be covering almost all of the race with the signing-on and live start included. There's a small break but most of the race is live. The Oude Kwaremont will be climbed for the first time at 1.00pm CET and the finish is expected around for 4.40pm CET.
It's on local TV, Eurosport and BeIn depending where you live. You'll find schedules and pirate feeds at cyclingfans.com and steephill.tv. Note the team cars will be equipped with cameras to add to the TV coverage.
History
First run in 1913 by Carolus Ludovicus Steyaert, a journalist who used the nom de plume Karel Van Wijnendaele. It was run during the Nazi occupation of Belgium, making it one of the few races to continue during this period and it is said German soldiers helped control the route. This apparent collaboration saw race organiser Van Wijnendaele banned from journalism following the end of the war but he had given shelter to fallen British aircraft crews and was subsequently cleared.
Alberic "Briek" Schotte started the race no less than 20 times, finished 16 and won twice. He died on the day of the 2004 race. Belgians Achiel Buysse, Eric Leman, Johan Museeuw, Tom Boonen and Italian Fiorenzo Magni have each won the race three times and Boonen is aware of what he can achieve. Two others in the race can join the club of triple winners, Stijn Devolder and Fabian Cancellara.
The Greatest Race in the World?
I started with this claim and want to explain why. Milan-Sanremo is tense, Paris-Roubaix is crazier, Liège-Bastogne-Liège is a greater athletic test and Il Lombardia is heart-achingly beautiful but the Ronde van Vlaanderen tops the lot with a course that's tough, selective just the right side of madness. Best of all no other race is celebrated to the same extent by the locals, whether the build-up by the media in Belgium now or the huge crowds who'll stand by the road. This doesn't mean we ignore other races, we should celebrate them all but this is just the greatest one day race of the year.