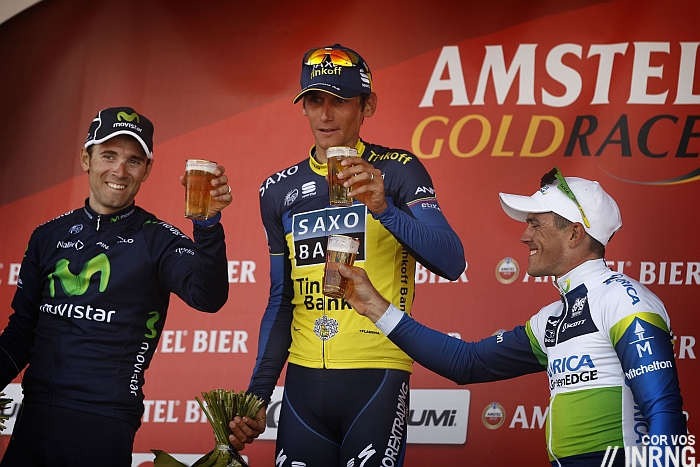 With the Amstel Gold Race this weekend, proof that cycling is linked to beer. It's not just a one-off, recent races in Belgium have been sponsored by Kwaremont, a brand of beer that's exploited the sport and it's not that long ago that a major team was sponsored by a large brewery.
Amstel Gold is a brand of beer belonging to Heineken International, the world's third largest brewer. The Dutch multinational might own the race but it can't own the route. Sunday's race passes through the aptly-named village of Gulpen with its Gulpener brewery.
Right Here, Right Now
For cyclists who like beer, April has to be the best month. The Netherlands and Belgium offer some of Europe's best brewing. There's plenty to choose from in the Netherlands but Belgium surely wins for diversity and eccentricity. While German brewers today must follow strict purity laws set down in medieval times, Belgium's brewers have gone in the opposite direction, mixing in new ingredients and trying new techniques to the point where each beer comes with a special glass whose particular shape is designed to ensure it's served correctly. Whether it's the open air "lambic" beer from Brussels or the fruity varieties from Flanders, there are over a thousand brewers in Belgium proudly resisting the global forces of consolidation and economies of scale… words surely dear to AB Invev, the world's largest brewer. It's bought its way to the top and today the Belgium firm owns brands like Budweiser and Labatts.
Sponsorship
Beer and wine companies may sponsor a bike race or team but a spirits brand cannot. Hidden in the UCI rulebook is a paragraph stating
"no brand of tobacco, spirits, pornographic products bis or any other products that might damage the image of the UCI or the sport of cycling in general shall be associated directly or indirectly with a licence-holder, a UCI team or a national or international cycling competition. As defined in the present article, a spirit is a beverage with a content in alcohol of 15% or more."
So beer and wine are ok but not brandy, vodka or anything stronger. As well as the Amstel Gold deal, some recent races in Belgium have had Kwaremont beer as a sponsor. The beer plays on its links to cycling and used the spring classics to help with a relaunch. It's not beer but in recent times the Tour Down Under used to be sponsored by Jacob's Creek, a brand belonging to French company Pernod Richard and Orica-Greenedge today has a deal with Michelton Wines. Playing on links to Belgium US brand "New Belgium Brewing" has been an active cycling sponsor in the US and the US Pro Cycling Challenge is sponsored by Sierra Nevada Brewing.
Excluding Tinkoff Restaurants which sold own label beers as part Oleg Tinkov's plan, the last sponsorship deal between a brewer and pro cycling was the Buckler team in the early 1990s which several sponsors later is Belkin Pro Cycling today. Only Buckler is a brand of zero alcohol beer, a sign of the times perhaps as alcohol and the open road went their separate ways. I don't know if Buckler wanted to associate with the healthy-living side of pro cycling or just wanted big publicity in July.
Before this there were several teams sponsored by beer. The Internet says British brewer Watney planned to sell its beer to the Belgians and hatched a plan to sponsor a pro team as a way of cracking the market but it does sound like selling ice to Eskimos and the plan didn't work. Most famous at the time was the Pelforth team from France in the 1960s with the likes of Raymond Poulidor and Henri Anglade. To bring it full circle, Pelforth is still making beer today but is another brand owned by Heineken.
Nutrition?
You wouldn't and shouldn't put in your water bottle during a ride but it's ok after. It can hydrate, offers calories and is a decent source of silicon which can help with healthy bones. In times past beer was consumed by cyclists but typically because local water fountains were risky but many riders would down wine instead. Some were known to enjoy the taste of champagne in their "finish bottle", it's said the fizz and sugars gave them extra energy.
Destiny?
Last year's winner of the Amstel Gold Race was Roman Kreuziger. He is from Plzeň, also known as Pilsen in the Czech republic. The town is the birthplace of the Pilsener beer.