550 days have passed since the US Anti-Doping Agency (USADA) issued Lance Armstrong with a lifetime ban. But the case was never just about Armstrong, it was the "US Postal Conspiracy" and involved a range of characters.
Johan Bruyneel's name appeared 129 times in the USADA reasoned decision and a ban always looked inevitable but the case went to arbitration and was delayed until a hearing last December and today the verdict is out. Bruyneel gets a 10 year ban while former US Postal/Discovery team staff Pedro Celaya and Jose "Pepe" Martí each get an eight year ban.
In a sense this marks the end of the road for the US Postal case although not the end of the story. Plus the USADA report reveals Martí was working for Team Saxo-Tinkoff which could prove awkward for the Danish team and Alberto Contador.
"there are certain elements of my career that I wish had been different"
That's a line from Johan Bruyneel's blog today. This is the only hint of regret but it's oblique even within the context of a piece about a doping sanction. It could relate to anything, from wishing for a cleaner sport right down to harbouring the regret about a meal choice he made one day. Maybe he regrets not taking more steps to avoid being caught?
If regret and apology are near-invisible, the bulk of the message is about the judgement he believes to be unfair. Bruyneel disputes the jurisdiction saying since he's a Belgian living in London the US agency shouldn't rule over him; he didn't even show up for the hearing. The UCI under Pat McQuaid's presidency tried a similar argument but WADA reminded us of Article 15.3 which allows a recognised Anti-Doping Agency to pursue a case. Remember it was the Swiss agency that gave Germany's Jan Ullrich a ban, that Italy's CONI caught Spaniard Alejandro Valverde to justice, French anti-doping agency the AFLD banned German resident Stefan Schumacher et cetera.
Call the CAS?
Bruyneel could take this to the Court of Arbitration for Justice (CAS) but it would be a big ask especially as he "only" got 10 years; a reduction is unlikely.As for jurisdiction he knowingly signed up to these rules before and with one or two exceptions – Pakistan cricket – USADA's jurisdiction over the matter is accepted. I suspect the idea of an appeal is alluring as it offers him a lever of control during a downfall over which he has none. But why appeal? A ban seems almost pointless. Bruyneel is out of the sport and wasn't coming back, there are too many burned bridges. I suppose the ban matters for image, whether trying to enjoy lucrative corporate speaking engagements or just trying to explain it all to the kids.
Justice?
There is a recurring theme to many who have been caught, they express a feeling of injustice. We can't imagine buying EPO in bulk or ferrying pouches of blood around Europe but for years many in pro cycling couldn't imagine anything else. So to get caught is to feel a victim because they've been punished while others have not. Here's another line from Bruyneel today:
a very small minority of us has been used as scapegoats for an entire generation
Bruyneel's got a point when he gets a 10 year ban while Bjarne Riis gets applause for cashing out of his team and several other managers from the past continue today. But if Bruyneel is a scapegoat, he joins a sizeable herd of caprine culprits. Manolo Saiz provided the model for Bruyneel to copy is now persona non grata. Jan Ullrich's "Rudicio" Pévenage is gone. Festina's Bruno Roussel is a real estate agent. Hans-Michael Holczer is teaching maths again. Plus if Bruyneel feels the system was rotten hopefully he'll work with the UCI's Commission for Independent Reform to discreetly provide a more comprehensive picture.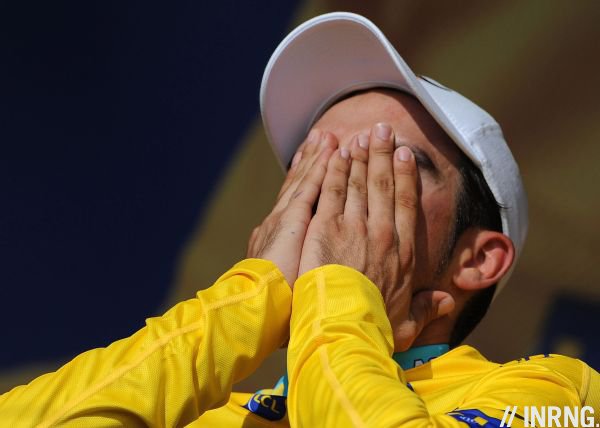 Questions for Contador
But enough of the past. As Bruyneel fades into the distance others are are right in plain view. Take Alberto Contador who's already a prime contender for this summer's Tour de France because if Bruyneel has been banned, so has Jose "Pepe" Martí. Alberto Contador had worked with Martí at Discovery and Astana and when it was said he wanted Martí to follow him to Saxo.
A year later in 2011 Floyd Landis told German TV channel ARD that Martí was "nothing more than a known drug-trafficker". Contador's spokesman responded with a statement to Spanish paper AS to distance his rider from Martí (cyclingnews.com translation, my emphasis):
"Alberto knew Martí when he was at Discovery. As he was then a coach at the team, he was in charge of training. He also fulfilled that role at Astana as he moved into the Kazakh set-up after the North American team folded… …This year, the only people responsible for Alberto's calendar and preparation are the members of the Saxo Bank team and Bjarne Riis. What he says about Martí is false".
So there you go, a public declaration that Martí wasn't working with the team or Contador dated 15 August 2011. Only today's USADA statement also says the following (my emphasis):
Martí worked with the USPS and Discovery Channel Cycling Teams during the period from 1999 through 2007 and thereafter worked with the Astana Cycling Team. Most recently, Martí worked with one or more riders on Team Saxo Bank-Tinkoff Bank team until after USADA's case was initiated.
Note the USADA case was initiated in June 2012. USADA appears to be contradicting statements from Contador and the Saxo team that Martí was not working for the team. Was Martí working in secret or maybe USADA have got it all wrong. Who is telling the truth? *

Conclusion
We'll never be done with the past but a lot of the procedural matters relating to the US Postal conspiracy case are reaching their conclusion. If you're tired of all this then you'll get some relief now as more and more of this fades into the past. But it's important to catch team managers, in fact it often matters more than the riders because the managers are supposed to be in charge.
But one folder that just won't close belongs to Alberto Contador and Bjarne Riis. They have real questions to answer regarding any links to Jose Martí given it was denied back in 2011 only for USADA to state today he was working for the team. This isn't a "smoking gun" but if, and it's conditional, USADA have it right they do expose Contador and Riis to some embarrassment.
UPDATE: USADA have changed their statement. It read "Most recently, Martí had worked for the Team Saxo Bank-Tinkoff Bank team" this morning but 12 hours later pixel time it had been changed  to say "Martí worked with one or more riders on Team Saxo Bank-Tinkoff Bank team". This suggests Martí might have been working privately with riders rather than by the team