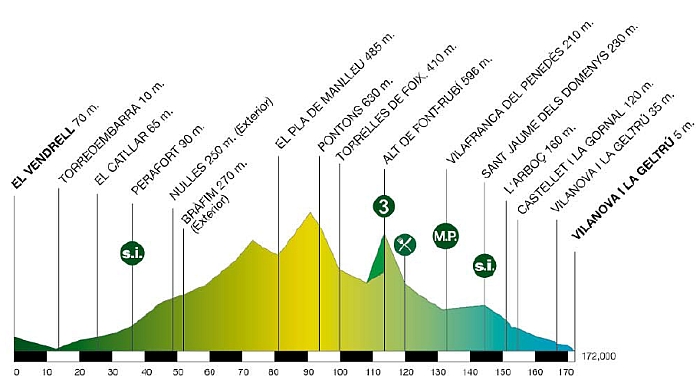 There were only two nailed on sprint finishes in this race and today is one of them. This hasn't stopped Giant-Shimano's Luka Mezgec winning three stages so far and the route today is ideal for him.
But there's an uninvited guest today: the wind. With Flanders enjoying balmy spring conditions, Catalonia is colder and windier and today's stage could see crosswinds do some damage.
Stage 5 Wrap: a busy of breakaways but all their efforts came to nothing with a bunch sprint. The first hour was wild and later in the race Alberto Contador tried a move but was chased down by raced Joaquim Rodriguez. It was another win for Mezgec, he's making it look easy. Interestingly Contador was sixth, he's hunting for time bonuses.
Stage 6 Preview: 172km and yes there's climbing but nothing big with only one registered rise and that's a short slope of 3.8%. The finish is flat and on the seafront in Vilanova. The map above matters because they will be a strong wind from the west. As you can see the route regularly changes direction
The Scenario: a good chance of a breakaway again because teams are scrambling for a stage win and faced with Luka Mezgec they have to send riders up the road. Mezgec is still the default pick for the stage but even if he's been winning so far, maybe three is enough? It's an outside chance but what if OPQS did what they do best and split the bunch with Julian Alaphillipe getting his first win?
Weather: it's warmer in Wevelgem right now. The stage will see cloudy skies, a top temperature of 17ºC and crucially a 45km/h wind from the west.
TV: 90 minutes starting from 3.30pm to 5.00pm Euro time. It's on TV in Spain and Eurosport around the world but if you can't find it on TV cyclingfans.com and steephill.tv are the go-to sites for TV schedules and feeds.

Daily Diaz on Catalan society: 16 % of Spanish population lives inside Catalonia. Most Catalans have been born outside Catalonia or to foreign parents (hundreds of thousands of Catalans have Andalusian origines, for example). This immigration can be explained by the economic development of Barcelona and its metropolitan area. Of course there is a rural Catalonia which can't be forgotten, but nearly half the population lives in Greater Barcelona.
Gràcies to cycling podcaster and history teacher Manuel Pérez Díaz for the local information. You can follow him on Twitter as perezdiazmanuel and he is also covering the race in Catalan for the Només Ciclisme blog