John Degenkolb throws his bike to the line to beat Arnaud Démare. After 233km there was only half a wheel between the pair. This was the moment the race was won.
The day started with warmer weather in Belgium than Barcelona and thereby making a bunch sprint almost inevitable. This race doesn't have the most selective parcours and without crosswinds to split the bunch there was little an enterprising team could do to thwart the sprinters. But enough of the weather, the big issue of the day was Tom Boonen's thumb. Not since the fictional Hans Brinker stopped the Netherlands being flooded has a nation been so interested in the digit of one of its sons. Boonen started with his thumb strapped after a crash on the way to Harelbeke and finished ith a thumbs up after fifth place in the sprint. He might want better but it'll be ok for next Sunday.
Live coverage started early and you saluted the endurance of Sporza's Michel Wuyts, able to talk for hours about a race without much action. Things really picked up on the second climb of the Kemmelberg when Peter Sagan tried to pull a group clear but if the move had plenty of big names it didn't have enough small ones to help drive the pace and so the likes of Sagan and Cancellara were left looking at each other while others hitched a ride. It did force a selection but only via the back as it got rid of some stragglers.
Zapp
Today was a tribute to Eugene Polley, the inventor of the TV remote control. First the Critérium International finished with Jean-Christophe Péraud winning his first stage race as IAM's Mathias Frank took stage three. Then Lieuwe Westra won in Barcelona as Joaquim Rodriguez won the Volta outright. It allowed the action to be paced, leaving time to tune back in for the final 20km.
Speciale camera voor Gent Wevelgem. Levert unieke beelden op. Morgen op Canvas. pic.twitter.com/UV17Jzugze

— Philippe Lombaerts (@PLombaerts) March 29, 2014

TV
As for Belgian TV the Sporza production had two extras. First the car-mounted cam. Some have said it's not new but it seemed rare, the stability provided by a four wheel vehicle provided a superior image. It doesn't replace moto cams but it does complement the production.
Another is the in-car cameras to record what the directors are doing. And what are they doing? Swearing. Despite the cosmopolitan composition of the cars the word of the day was resolutely anglo-saxon and began with the letter-F. Team managers might be dressed in the uniform of their sponsors and riding inside branded vehicles but they've yet to adapt to the presence of cameras and microphones, behaving instead like angry cab drivers caught in rush hour traffic. A lot of the footage is dull but it does add to the coverage, more camera angles to use when things are quiet. How long until the teams ensure more logos are visible with branded seat belts etc?
Gent-Wevelgem route
One reason to channel hop was that the race wasn't compelling to watch until late in the race. The E3 Harelbeke has a better course that prompts more action and selection… but Gent-Wevelgem is on a Sunday and attracts a bigger audience who tune in only to watch not much happening. The problem for race owner Flanders Classics is that they can't make Gent-Wevelgem too much of a copy of their big asset, next weekend's Ronde.
Fall parties
But back to the race. The local word for a crash is valpartij, a "fall party" and if it wasn't enjoyable the race was a crash fest. Ian Stannard was taken to hospital, there was a big crash on the second approach to the Kemmelberg and with 10km to go another crash took out Tyler Farrar and André Greipel when both could have featured in the sprint. Instead Greipel climbed into his team car, his jersey looking like it had been fed into an office shredder and nursing a broken collarbone.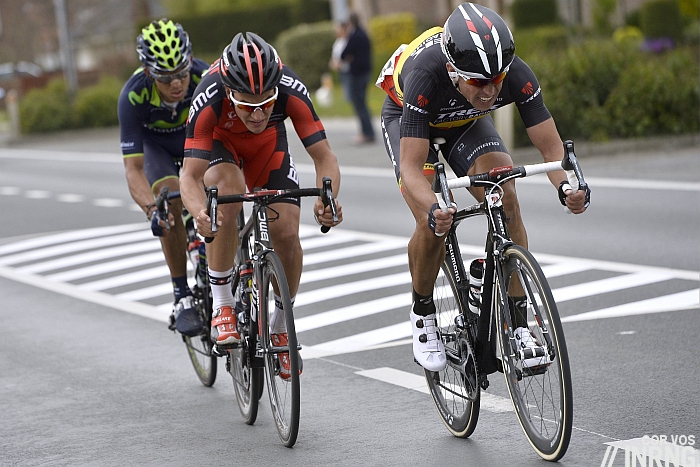 Devolder
Meanwhile Stijn Devolder was on the rampage. He didn't win anything but left a giant clue as to his form. Already strong in the E3 Harelbeke, now he was able to hold off the chasing bunch. Assisted by impressive neo-pro Silvain Dillier and Movistar's Andrey Amador, the Belgian champion has to be a strong pick for the Ronde Van Vlaanderen next Sunday. Note he's currently 66-1 for Sunday, don't bet a centime on it but the price is odd given he could barge up the road and never get caught again. How Trek manage him and Fabian Cancellara will be fascinating.
Laatste kilometer
After so many crashes just making the final kilometre might have seemed a relief for riders hoping to fight another day but celebrations would be premature as there was another stack in the sprint to the line. Like the finish in Milan-Sanremo this was a finish that suited sprinters but devoid of the science we typically see in a controlled run to the finish in a grand tour. Only the survivors were left. Like Sanremo the sprint was all over the road but Degenkolb came through the middle to win, pushed close by Arnaud Démare with Sagan in third.
The Verdict
An intense finish but viewers did better to zap from race to race across Europe in search of action;inevitable for this sprint-friendly classic on warm day without much of a breeze. The tension went up in the final 20km thanks to Devolder's efforts and sadly spiced up by some crashes too. John Degenkolb took his first major win, at least a level beyond stages in the Giro, Vuelta and the Hamburg Cyclcassics. We knew he could win those kind of races but now he's a player in the cobbled classics too.
Looking ahead, Devolder's already been mentioned. So who else?
A great sprint for Sep Vanmarcke who took fourth place
Sagan's on the podium again, great consistency but he was down to two team mates for the finish on this "easy" course
Topsport's Tom Van Asbroeck had another good day with sixth place. He can pick his team for next year
Thor Hushovd appeared in the top-10? Is this a promising result ahead of Paris-Roubaix… or would he have made the podium in times past?
A bad day for Sky with Thomas in a tangle and Stannard in hospital. Edvald Boasson Hagen was their best in 23rd; he seems strong in support of others
Finally the race was rembranded "Gent-Wevelgem – In Flanders Fields" in remembrance of World War I but this was a podium turned to the future where the oldest rider was Degenkolb at just 25 with Sagan 24 and Démare still 22. It's a step up for the German. A puncture denied him the chance to sprint in Sanremo so this confirms his form. He's versatile and thinking about Paris-Roubaix too.